Hum log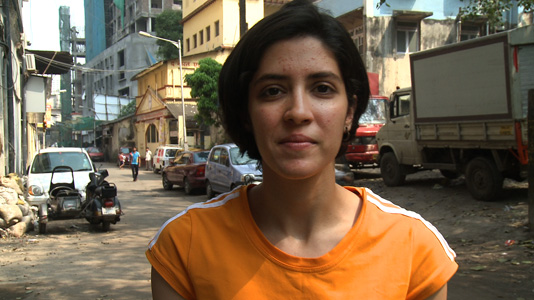 Published on October 11th, 2012
0
Her quest for Olympic gold
Twenty-six-year-old Ayesha Billimoria, one of Maharashtra's star athletes, battles a disinterested system that she says does not respect its sportspersons.
by Vrushali Lad | vrushali@themetrognome.in
Blood. Sweat. Tears. And a world of pain. As an athlete, you pound the track and practice alone, come inclement weather or clear skies. You clear one milestone and set another. You work every day and you live by the rules. You listen to your body and respect its protests. And with every tumble, you pick yourself up, ignore your bloody knees, and you run again.
Ayesha Billimoria did all this and more. She raced in scorching heat. She swallowed her pride and trained under a bully of a coach. She broke records. She bruised and pushed her body beyond its limits. And when nobody was with her, and even after those she had begun training professionally with had quit the sport, she still ran. And ran some more.
"In June this year, I took silver at the state-meet (at Balewadi, Pune). If conditions had been right, I would have won gold. They're going to find a very different Ayesha at the meet next year," the petite, pretty 25-year-old warns, a hint of murder in her eyes. "I hate losing, and for the first time in my life, I actually said that the girl who won the gold had won it for the last time. Normally, I let my running talk for me." So what happened this time? "Everything. They kept the first race at 12.30 in the afternoon, followed by a two-hour break and the 400 metre race at 2.30 p.m. Who runs at that time in the day? And then the races were delayed. I ran on an empty stomach and I blacked out in the heat, though I completed both races. I'm going to be better prepared next year," she says.
The life and times of Ayesha Billimoria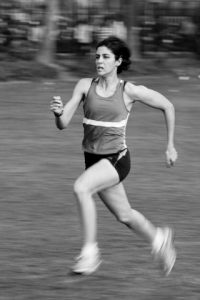 Ayesha took to serious running at age 14,  when she ran her first school race and won gold. Savio D'Souza, who later coached her, spotted the talent in her and told her to give running a serious thought. She did, with the result that the very next year, in 2001, she won her first gold medal at the ICSE National Meet in Bangalore. "I was running in earnest, and my only objective was to run for the Olympics. That dream sustains me even today," she smiles.
We've sitting in her home in Khetwadi, a typically large Parsi house that Ayesha has only moments ago welcomed me in with a big smile. She's spent the morning giving a massage to a client – she is a sports masseuse in her spare time, apart from being an occasional model – and is very open about her life has shaped up. "I've always wanted to be an Olympic medallist," she says. "I've put everything on the line to be an athlete, and would you believe, till I was 21, I was so removed from things that were not track-related, I did not even know how to operate a computer or email! I've faced so much rejection, so many people have said they won't sponsor me, and so many more have pulled me down. Others who used to train with me left the sport years ago. But I am determined to run at the Commonwealth Games in 2014. After that, I will represent India at the Olympics in 2016," she says, as nonchalantly as one would say that their next big goal was to order a Chinese takeout.
What must one do to qualify for CWG, I ask. "Nothing, apart from perform. And I will," she states.
Since her first race in 2000, she has added a bevy of medals (most of them gold) and award trophies to her prize cabinet at home, the last being her silver medal win at the Pune state meet this year. By now, she is firmly sitting pretty as Maharashtra's number one athlete in the 100 metre, 200 metre and 400 metre categories. But she is bitter and quite often during the interview, seriously annoyed. She confesses that a couple of early false starts on her part, and almost no professional guidance from those in the know, resulted in her being plagued by running injuries and a loss of form after her initial good run. "From being number one, I was suddenly the girl who always stood fourth," she frowns. "I was made to train at a level I was not ready for, and by 2005, my form had dropped very badly. So much so, that even my father, who had been very supportive from the start, began to lose interest in my dream."
In 2006 – "the lowest point of my life" –a car accident gave her several new injuries, the worst being a tail bone fracture. "People thought I wouldn't run the way I used to. 'She is finished', they said. The worst of it was, I was back on my feet without any guidance on how to retrain," she says.
She rolls her eyes as she explains how she has had to make do with the "really pathetic" running track at Priyadarshini Park, the city's only synthetic track for athletic training, and how she has run everywhere in all climatic conditions, just to train. "The problem in India is that nobody guides you about running to your natural rhythm, training after injuries, working out enough to supplement your ability on the track. I was constantly told to pump my arms, run a certain way. That makes me lose focus," she explains, adding that athletes in India not only train in bad conditions, but that they are "put down all the time, there is no motivation to pick yourself up, you are often mocked when not performing well, and though people are friendly to your face, they're bitching you out behind your back."
After three torturous years of making it back on her feet without a coach or proper therapy, she took up a job as a trainer at south Mumbai's QI gym in 2009, where she met physiotherapist John Gloster (who trained the Indian cricket team). "John worked at the gym, and he started training me for rehab. I hadn't realised that I had been running with major injuries for three years. One day I told him about my Olympics ambition. He told me to go to Australia and train if I was serious about running."
Help me!
Gloster put her in touch with his friend, Gavin Fernandes, a 200o Olympics gold medallist and a trainer in Australia. "I wrote to him in 2010, and he and I had a chain of emails where I would increasingly beg and plead with him to train me and he would refuse because he was busy. After two months of constant pestering, he finally gave in, saying I could come to Australia in May," Ayesha laughs.
Her Australian coach proved to be a god-send . "He put me down several times, but he did that so I could realise how shallow my thinking was, how many excuses I was constantly making, how much negativity was in my head when I ran," she admits. "Soon I was running well, peacefully and without stress, in an environment that respects sport and treats it like a fun activity. I was in my first race there within a month of reaching Australia, and I clocked my personal best of 58.08 seconds. I felt like a new person – the run was enjoyable and I was able to give my best." She decided at that moment that she would train under Gavin's guidance and only in Australia. "After my silver medal win in June, several Indian coaches have wanted to train me, but I've refused them all," she says, adding that she pays for her Australia sojourns from the money she makes from her massage and modelling work.
Funds needed
Surprisingly, though she doesn't have the monetary means to do it, she reiterates that she's going to the CWG in 2014 and also to the Olympics in 2016. "You know why international sportspeople do well? They have a unique bond with their coaches, and they trust them completely. Besides, being an Olympian requires a certain attitude that I find lacking among Indian athletes, barring a few. Gavin told me at the start that an Olympic athlete knows that the 400 metre race is not about physical ability, it's a mental game that's won even before the race begins." She adds that she met a few Indian Olympic hockey team players at Balewadi this year. "You should have heard them talk. 'Haan, Olympics ja rahe hain. Dekhte hain kya hota hai,' they said. That attitude will never win you anything," she shrugs.
For now, she is focussed on getting together enough funds to leave for a longer training session in Australia in January next year. "I need a sponsor for my training, and I've gone to so many companies so far, but everybody's refused," she says. "They all ask: 'Have you won nationally? If not, we can't sponsor you."
She says she needs a sponsorship of at least Rs 6,00,000, but she wonders where to get it from. And though she will find a sponsor once she wins on the National platform, the funds are needed to aid a professional training process before her big success. "And once I win, all those who put me down will be the first to come out and say that they always knew I could do well," she smirks. "Only I know what it has taken me, still takes me, to get up every morning and run. All I can do is train and be mentally ready for the Olympics, and in the meantime, be around people who truly believe in me."
(pictures by www.martinriebeek.nl, Abner Fernandes)