Hum log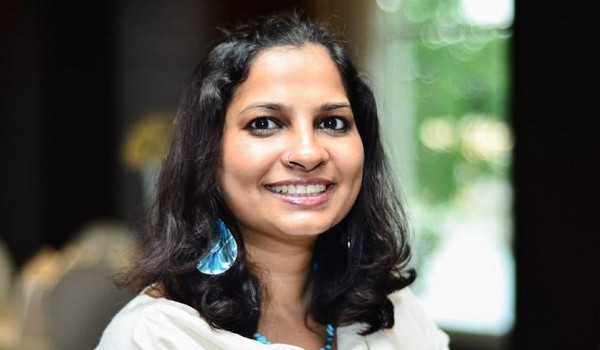 Published on June 19th, 2015
0
Finding the new 'Normal'
Arathi Menon was divorced at 35, and wrote about the experience in a humorous book which dispels the 'taboo' from divorce.
by Ritika Bhandari Parekh
Mumbai-based, Bangalore-bred Arathi Menon doesn't strike one as lady who would write about her bad experiences. Everything about her spells 'happy', from the pixie haircut to the cute elephant earrings matching her red dress. Her debut novel Leaving Home With Half A Fridge' has received uniformly positive reviews and it was launched recently at a Kemps Corner bookstore with much ceremony.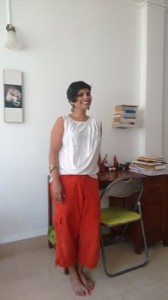 Armed with a post-graduate degree in Journalism, 38-year old Arathi started as a copywriter in advertising. Her last job was in corporate communications at The Times of India. The only child of her parents, Arathi found her way into writing through short stories and poetry. But during the trying times of her divorce, she realised that there was little literature on the sensitive subject. "I did not find any books that could help me through it. I had to figure out a lot of things on my own. I simply wanted someone to say that divorce is not all that melodramatic as our society and television makes it to be," she says softly. "Sometimes bitterness happens in real life and though all of us feel sad, how is one to deal with it in a normal way?"
"So after I reached my 'happy place', I decided that I wanted the society to know that divorce is kind-of the new Normal," she declares.
Writing the book
Two years after her divorce, she started off with a column for LiveMint.com. Readers' feedback helped her realise that she should write a book on her divorce. She saw that if ever another person needed to talk or read about this 'social taboo', Leaving Home With Half A Fridge would be of tremendous help.
"I made sure that the content was not duplicated so the book got more structured. It starts off when I was contemplating getting a divorce and moves on to when I find a lawyer, then a place of my own. It talks about the many emotions a divorce puts you through like dating again after marriage, with all its complications," she explains. "And then the point where I am happy, whether alone or with someone."
She laughingly says, "People don't realise the pain a divorced person goes through and one should spare them a moral judgement on the topic." Her writing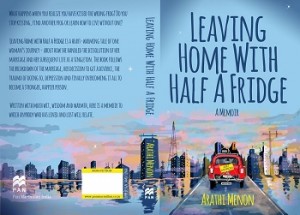 handles the sensitive topic with a feather's caress and that is what readers are currently hooked on to. "I didn't want to write any nasty things about my ex, because he is a nice person and though things didn't work between us, he was not the villain," she emphasises. "It was always about if you ever get stuck in such a situation, how you can move from the point of divorce to the point of happiness."
Being a not-psycho 
Talking about the quirky title, she says, "If you go to any house, there is one fridge, one television, one washing machine, one microwave. So when you are leaving it, you cannot take half of these things, can you? While a divorce is emotional, it is also chokingly practical. You look at bed sheets and you wonder how many to leave behind and how many to take…So I just kept everything behind!" But she acknowledges that she wrote the book in a healthy frame of mind. "I had fought my demons and two years later, I decided that the book is for someone who might be going through the same nonsense."
The author admits to being quite honest in the book. "I have spoken about how I stalked my ex or did mean things to his stuff, because I just wanted to say that it is normal to do something like this. No, I am not a psycho but I was not happy back then."
In the process of writing the memoir, Arathi started writing a set number of words every day. "It is not a time thing, as initially I thought of writing from 10 am to 1 pm. But that didn't happen, as I keep dreaming and the time would go. So now I write regularly."
She posts a fantasy story on her blog Nothing Beastly About It, every Wednesday. Arathi reveals, "As publishing takes a lot of time, instead of waiting for this book to come out – I just started writing my second book. So I am done with that and I am working on my third book now. As most of my topics are dark, I wanted a 'happy' space which is where my blog comes in the picture."
What inspires her? She says, "If you want to be an artist, there is nothing like inspiration. It is simply hard work. You get up every day and you sit at your table and you do your work. I think anybody who says 'I wait for inspiration' is lazy. It doesn't work for me!"
She believes working in advertising has made her more professional, while being artistic was intrinsic, and that being in Mumbai has given her a sense of freedom. "I loved Bombay the minute I set my foot here. The city allows you to be anything you want." She credits her editor Pranav Kumar Singh for handling the book with sensitivity and kindness. The author finds Akhil Sharma's Family Life to be her recent favourite book and counts Flannery O'Connor and Alice Munro as her much-loved authors.
As I skim through her book before buying it, I chance upon the last chapter titled '12 steps to a divorcee's tango' – and I realise that Arathi is not just the survivor who told her tale, but the one who danced and happily sang the sad, but true note.