Hum log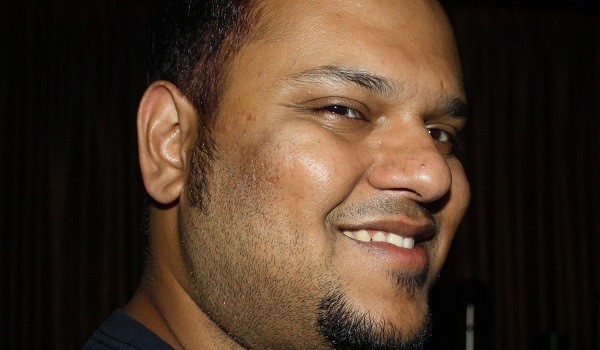 Published on November 20th, 2013
1
Comic capers with Abhijeet Kini
This Santacruz resident and self-taught cartoonist feels that the city and the country provide great, constant material for all cartoonists.
by Salil Jayakar
I've known Abhijeet Kini (30) for well over a decade now, which makes it surprising that I've never ever interviewed him in all these years. More so since, as a journalist I have done stories on offbeat careers and his career choice would have been a perfect fit – 'full-time freelancer cartoonist.' But as they say, better late than never…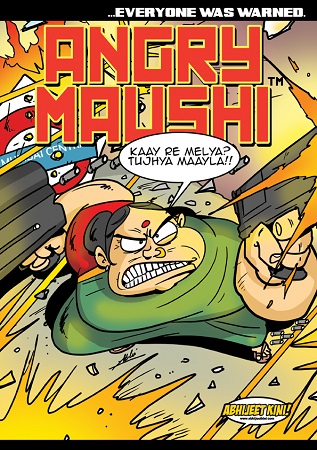 Abhijeet's love affair with the world of cartoons and comic books started as a four-year-old, browsing through newspaper comics every day, even if he could not make much sense of them back then. "I always loved the visual medium, drawn, panel by panel," the Santacruz resident says. It helped that his parents encouraged him from an early age, never saying 'no' to his demands for comics and not Nancy Drew or Hardy Boys. Aged seven, he was gifted Tintin's Blue Lotus issue (which he still has in mint condition) and there was no looking back. He started collecting comics – from Tintin and Asterix to Tinkle, DC and Marvel. That in itself was a huge inspiration for him to take up the pencil and start sketching.
Completely self taught, with no art training, Abhijeet says he always wanted to be a cartoonist. The decision wasn't difficult because of his supportive parents who never pressurised him into taking up engineering or medicine. When he was 12 (or 13), Abhijeet's mom took him to meet Ram Mohan and Bhimsen, the pioneers of Indian animation. He carried his artworks to show them and remembers them saying nice things about his work. Naturally, it instilled confidence in his young impressionable mind. "Then in 1997, when I was 15, mom took me to meet the great Anant Pai, editor of Tinkle comics. I always wanted to meet him and eventually draw for the comic, and I am fortunate that I am doing that since 2004."
Working as a cartoonist
At Abhijeet's insistence, I shamelessly take some credit for his 'big break' with Mid Day Multimedia in 1999. I was freelancing with Mid Day (which was launching chalomumbai.com) and they were looking out for freelance illustrators. I recommended Abhijeet, and the rest is history.
Remembers Abhijeet, "I gave it a shot and my work was liked. Before Mid Day, I freelanced for a few youth magazines and did some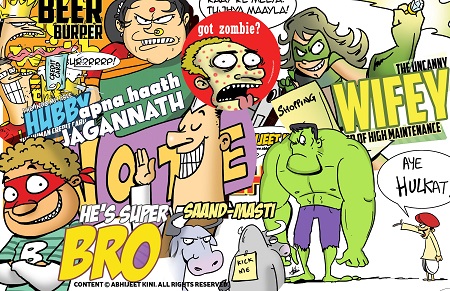 commission based art for a book. This was when I was fresh out of high school and in junior college. But Mid Day added a lot of weight to my portfolio and other magazines followed based on that."
Abhijeet idolises certain national and international artists and believes some of their styles and techniques have heavily influenced him as a youngster. Sanjeev Waeerkar's work in Tinkle in the early 90s and Sergio Aragones of Mad magazine being the most prominent ones. "Mad has had a huge influence on me and my sense of humour but Sergio's work was something else," he reveals. Other favourites include Ram Waeerkar, Don Martin, Mario Miranda and Jim Lee. In his current work, Abhijeet uses different styles from comic to comic. So while his merchandise line is more slapstick, his Tinkle style is more children friendly, there is a cartoon-violence/young adult style for 'Angry Maushi' and a serious style showcased in 'Milk & Quickies'.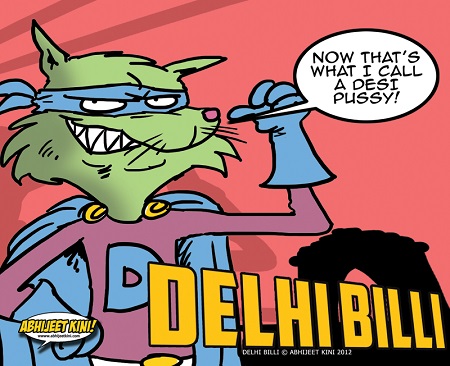 According to Abhijeet, comics such as Tinkle and Amar Chitra Katha are going very strong today, too. To him, these are the comics which represent India, just like Manga is for Japan. Other comic book titles range from mythology to superhero storylines. In that sense, yes, the evolution is evident when it comes to the new genres coming up. But he believes there should be more of a social angle in all these. "I do not mean a 'preachy' or 'socially correct/social cause' kind of theme. Take Mumbai city as an example. If one was to make a comic on Mumbai, imagine the range of topics one has to pick and choose from… and I'm talking humour as a genre," he explains. Which is why Abhijeet's 'Angry Maushi' series is heavily Mumbai-based. It is about an angry Mumbai lady waging war against corrupt politicians, robots and zombies in the funniest violent way possible.
Money matters
So much money does a "full-time freelance cartoonist" like Abhijeet make? He laughs. "In my field, there's always a disclaimer (in not so fine print) saying 'Money may or may not come'. People like me are suckers for creative satisfaction or doing what we love to do, loving what we do to live. Sure, money does come, but maybe in bursts, or trickles. I am thankful that India today has Comic Cons going. My wife Diksha and I participate in Comic Cons all over the country and our merchandise products are quite a hit. Many of my characters today, like 'Angry Maushi' and 'Delhi Billi', were created for the merchandise first, and comics later."
For those who want to make a career as a cartoonist, Abhijeet says, "I have learnt that it doesn't matter what people think about what you do. If you are confident of your work and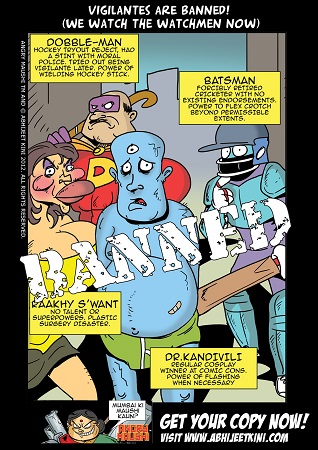 have a strong art portfolio, even if you are self-taught like me, you have a strong chance to make it. The industry is very young in India but it's a great place to be, especially if you are able to convert your ideas to reality. Oh, and if you have big dollar dreams, please leave the room quietly right now!"
(Pictures courtesy Abhijeet Kini)