grey space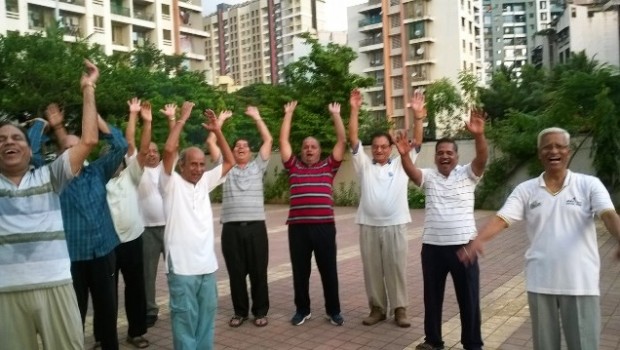 Published on July 6th, 2015
1
Why seniors should laugh more often
A laughter club in Mira Road has seen amazing health benefits for its members – and urges others to join in.
by Mansukhlal Ruparelia, Chief Patron, All India Confederation of Senior Citizens (AISCCON)
Laughter is not only a medicine for helping senior citizens recover from various physical and mental ailments but also a God given free method to create good spirits and happiness in one's life.It clears each of your nerves from stress when you laugh in a group. Senior citizens may adopt laughing at any age and get various benefits in return.
We have a group of senior citizens of a Laughter Club, Mira Road, which meets daily (except on Sundays). We begin our laughter precisely at 6.15 am and continue till 6.40 pm – this routine has been undisturbed for the last 10 years or more, whether it is summer, winter or the monsoon season. Many members have benefited through laughter and reported an improvement in their physical and mental status.
One Mr Bhende of 80 noticed that his blood sugar levels were dramatically reduced as compared to the earlier years. He still comes to the club regularly though it is difficult for him to walk, and he brings his wife along. One Mr Rana is now 78 years old. He is overweight and not able to walk, but comes every morning in an autorickshaw. Another Mr PL Gupta of 90, though settled at Goregaon four years ago, comes on his birthday every year with his son, takes part in the laughter session and distributes sweets and packets of sweet lassi to all members every year.
Why do all these people, who cannot even walk and move freely, still come here regularly? Is it just because of the shared activity? Or is it because they see the change in their health and mental frame due to the laughter?
I am proud to say that this group has participated in three TV programmes, too, one by IBN 7 for their Zindgi Live, while the others were India TV for Big Mumbaikar Award and the Independence Day special by ITN. It is astonishing to see how active and dedicated these senior citizens are, and their stories are truly inspirational.
Today, there are many senior citizens doing outstanding work for the welfare of Elders. Social Organizations should collect CD/Videos of good encouraging programmes of such persons from T V Channels or individuals, if they have and show to as many Senior Citizens as possible to enthuse them.