Diaries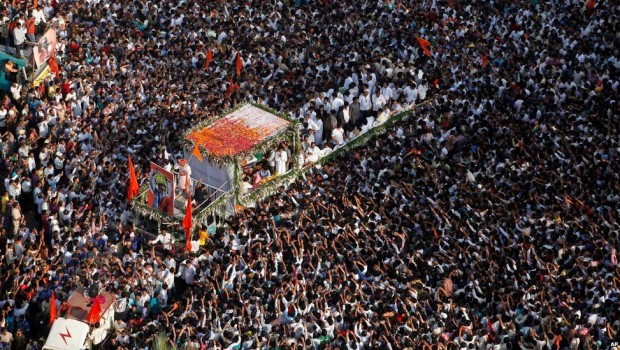 Published on December 22nd, 2012
0
Event of the year
The biggest funeral in Maharashtra this year, after Dr Babasaheb Ambedkar's in 1956, came with its fair share of controversies.
by The Editors | editor@themetrognome.in
Part 2 of our Yearender Diaries 
It was expected to be a funeral of somewhat large proportions. The city of Mumbai was to pay a silent homage, and was told to be off the streets. Some unkind people even said that if you had the money and the muscle power, it wasn't that tough to get a big crowd together. That fear of retribution would force people to attend the funeral, just as fear had compelled every Mumbaikar to silently take whatever the dead man had thrown at the city all his life.
Bal Thackeray, founder of the Shiv Sena, passed away on November 17, 2012. It was a Saturday, and when the announcement was finally made from his residence, Matoshree, it was 3 pm. In a few minutes, the city began to shut down – first the shops, then its offices, then its transport. As the grieving at Matoshree began, so did another momentous phenomenon: a bandh which the late leader had not called for, for the first time the Sena's life.
It was probably a fitting tribute to Thackeray; bandhs had characterised his party's workings for a better part of forty-odd years, and a bandh it was that saw him through on his last journey.
Everything remained shut till Sunday night, by which time the late leader's funeral had already taken place at Shivaji Park. But those two days of a total lockdown were difficult to get past – most people, accustomed to doing their shopping on Saturday evening, found they had no milk, vegetables or anything to eat. Sunday dawned without respite, and in some places, without newspapers. By evening of that day, all entertainment channels on TV had been blocked. So all one could do was watch the funeral live.
On the other side, there was a genuine outpouring of grief. Not after Dr BR Ambedkar's funeral in 1956 had Maharashtra witnessed such a deluge of mourners descending on the city in such a short span of time. It would be churlish to say that all of those gathered were Shiv Sainiks and their families alone – the crowd largely comprised Sena voters and Bal Thackeray admirers – and nobody was ordered to be part of the funeral procession.
And even before his mortal remains had reached the cremation grounds, rumblings over what the party would do without his stewardship began. Questions about the Uddhav-Raj equation resurfaced. Declarations of 'The Shiv Sena is finished!' were made, sometimes on TV. But all the screaming rhetoric quietened as the body was finally laid to rest. When the funeral pyre was lit, everybody cried.
It has been over a month since his death, but the man is anything but forgotten, and not just because of controversies linked to where his memorial should be, or if people should be arrested merely for stating an opinion on a social networking site. It is said that the measure of a man's life is made by the numbers of people who show up at his funeral. If the numbers at Bal Thackeray's funeral were anything to go by, he lived a very successful life indeed.
'Diaries' is a series of stories on one theme. The Yearender Diaries seeks to capture the most telling moments, happenings and people in the city this year. Watch out for News Event of the Year tomorrow.
(Picture courtesy bbc.co.uk)