Diaries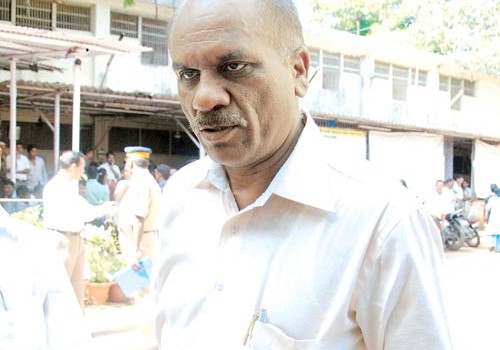 Published on December 29th, 2012
0
Controversy of the year
Vasant Dhoble played Bad Cop to the hilt this year, riling Mumbai citizens but gaining popularity with the anti-pub brigade.
by The Editors | editor@themetrognome.in
Part 9 of the Yearender Diaries
As policing went, this was a strange year for Mumbai. Crimes against women went through the roof in 2012, but while the police showed ineptitude in preventing these crimes, there were a few notable and quick arrests within days of most of these crimes occurring. Similarly, the police had some success in nabbing certain chain-snatching gangs, house-breaking units, Nigerian drug peddlers, and Bangladeshi immigrants living in Mumbai without valid paperwork.
On the other hand, there was Vasant Dhoble.
Dhoble (57), heading the Social Service Branch (SSB) of the Mumbai Police, made a terrific noise this year, armed with his 'special' brand of discipline using a hockey stick and video cameras. He conducted raids at several city hotspots this year, Cafe Zoe and Shiro being the most notable examples, while also allegedly attacking the manager of Amar Juice Centre at Juhu with a hockey stick for conducting his business after midnight.
As far as logic went, Dhoble's was simple – "We are only enforcing the law. We have not told anybody not to enjoy the nightlife. But nobody, citizens or establishment owners, must break the law," he said, when we spoke to him earlier this year. "And if I am to be blamed for enforcing archaic laws, what can I do? As a member of the police force, I have to lay down the laws that are framed, I cannot change the laws on my own."
So the city's popular night spots witnessed raids on grounds of playing loud music and disturbing the peace, DJs playing music without the licence to do so, establishments admitting more patrons than allowed to, patrons consuming alcohol without valid liquor permits, and so on. On some occasions, patrons were rounded up for questioning, and in one case, two women who were rounded up with several others after a Dhoble raid, later pressed charges for defamation. "The women were soliciting customers at the bar," Dhoble said, even as protests erupted about the women being wrongly detained and defamed as being prostitutes.
The cop's seemingly high moral compass – he famously said early this year that it was the police's job to protect the young from corrupt influences such as drink and drugs – would even have been grudgingly appreciated save for the glaring blemishes on Dhoble's career. He was suspended from service in 1989 for accepting a bribe while on a posting in Pune. Five years later, his role in a custodial death landed him with seven years in prison and a Rs 1,00,000 fine, but he got away without serving the jail sentence. Dismissed from the force that year, he was reinstated two years later. A few months later, he was also accused of being lax with an important file related with a Dawood Ibrahim investigation.
Most officers in the police force did not agree with Dhoble's methods, especially the hockey stick he carried on most raids. When asked why he kept a hockey stick in his office, he shrugged and said, "I like to play hockey." However, then Police Commissioner Arup Patnaik was a staunch supporter of Dhoble, who is also said to be extremely well-connected in political circles. Which was why, despite Mumbai outraging over every successive Dhoble raid, there was no reactive response from the Police or the State Government.
Before the city woke up to the cop's antics in earnest, Dhoble even gave a few interviews in which he spoke against the youth adopting lifestyles that were against Indian culture, wearing clothes that demeaned their parents and took up habits that corrupted society, and that he would not allow the young to be "influenced" and that they must be "saved". However, following the backlash to these comments, he quickly adopted a man-of-few-words stance, replying to reporters' questions in practiced one-liners, not revealing details of raids conducted, and explaining in detail only the laws and sections of the law that he and his team tried to uphold.
Even as protests against him grew, especially on social media, there emerged an equally strong lobby for Dhoble. This largely comprised members of housing associations that have been campaigning for years against the nuisance caused by pubs and bars in residential areas of the city.
Then Patnaik was shunted out following the Azad Maidan riot this year, and the new Police Commissioner, Dr Satyapal Singh, wasted no time in getting Dhoble out of his SSB posting. Dhoble is now ACP of the Vakola Division.
(Picture courtesy mid-day.c0m)
'Diaries' is a series of stories on one theme. The Yearender Diaries seek to capture the most telling moments, happenings and people in the city this year. Look out for Trend of the Year tomorrow.