Diaries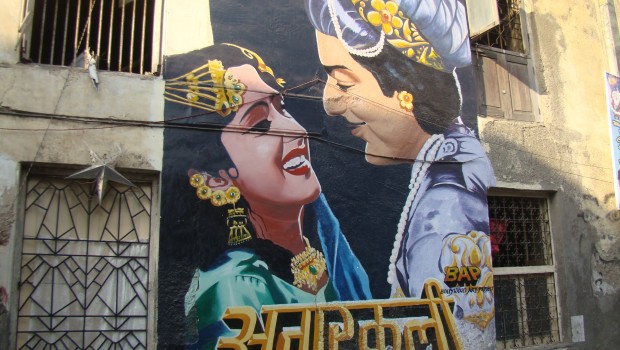 Published on December 31st, 2012
0
Celebration of the year
Nothing celebrates Mumbai like cinema can. The Bollywood Art Project does just that, with an emphasis on community visual art.
by The Editors | editor@themetrognome.in
Concluding part of the Yearender Diaries
You can't really divorce Mumbai from its film industry. It's like one is a function of the other, inviting every person for a tantalising glimpse of the fabled world that is a remote as it is seemingly within grasp. And whatever the degree of trouble we're in, or whatever the level of our happiness, we are diverted fully by the escapism of Bollywood. Heck, sometimes we're even totally divorced from our own realities by those in Hindi films.
So what better way to celebrate the city than to celebrate Bollywood?
That's how the Bollywood Art Project (BAP) was born.
Started this year by artist Ranjit Dahiya (read up on him here), the BAP is "a social community project which aims to remind, recognise and exhibit Bollywood in various art forms." Speaking to The Metrognome, Ranjit said, "I came to Mumbai in 2008 and started living here and working with a website. I was always in awe of Bollywood, and I loved the brand of escapism our films provided – only in our films could you find a hero who would still be alive after being shot five times!"
Ranjit was invited to Paris in 2009 as part of a cultural fest, in which the Hindi film industry was to be honoured. Later, he had a Bollywood showing in another French city. "This made me understand the impact that our films have even on people outside India, because at both places, there was a lot of interest and knowledge about Hindi films and its actors and directors. When I returned home, I felt that we should celebrate Bollywood in Mumbai before we take it to the world," recalls Ranjit.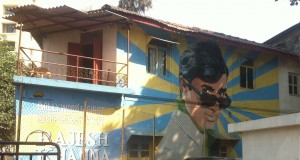 The idea for this celebration came only this year. "Since the film industry celebrates 100 years of cinema next year, I decided to do something to contribute to the celebration in my own way," Ranjit says. The specific idea for this, however, came after the death of yesteryear superstar Rajesh Khanna in July this year, when Ranjit painted a full wall depicting Khanna in all his glory, at Bandstand, Bandra (see pic on left). "It was well-received, and several people remarked that nobody was painting film posters any more," he muses. "The city lacks the sort of visual art culture that it rightly deserves. Apart from The Wall Project, there is not much happening in terms of visual art anywhere in Mumbai. Besides, there is an instant connect between the city and popular faces in cinema. And when I paint on walls in public spaces, the area comes alive."
The BAP aims to create visual spaces for people to come and glimpse popular moments and people in Hindi cinema, and hopefully, offer a few minutes of nostalgia as well. "The only film-related landmarks in the city are stars' homes and film studios, and the general public can't access both. So the BAP aims to make cinema instantly accessible to the people, and to promote a culture of discussion about cinema on the streets. It's a community project, so everybody's invited to come take a look and
participate," Ranjit says. "When I had finished painting Anarkali (featuring Beena Rai and Pradeep Kumar), a Muslim woman stood staring at the painting and whispered, 'Mashallah! Yeh aapne banaya? (Did you make this?)' It feels great to have people stop and watch, it adds a whole new vibe to an area," he says.
For know the latest work under BAP and to sponsor the project, check out www.facebook.com/BollywoodArtProject.
(Pictures courtesy Ranjit Dahiya. Featured image by The Metrognome)
'Diaries' is a series of stories on one theme. The Yearender Diaries seek to capture the most telling moments, happenings and people in the city this year.