Swaad 'Anu'saar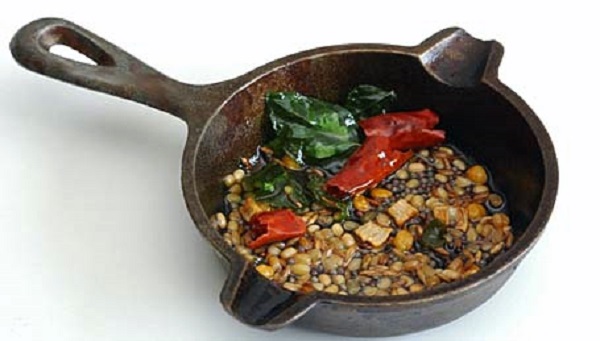 Published on September 3rd, 2013
0
Tadakta bhadakta tadka
A good temper is essential in Indian cooking! Here's presenting three great tadka recipes for you to try out today.
by Anurita Gupta
Simple si life mein tadka lagna zaroori hai! Tempering or 'tadka' does add so much flavour to a dish that it's difficult to imagine its true culinary value without tempering.
Call it what you want – chaunk in Hindi, tadka in Punjabi, baghaar in Urdu, phoron in Bengali, thaalithal in Tamil, oggaraṇe in Kannada, fodni in Marathi, thalimpu or popu in Telugu – tempering is a cooking method which is clearly the soul of Indian cuisine. After all, what is dal without tadka? Or aloo posto without paanch phoron?
Technically, tempering is a process where some whole spices like cinnamon, cloves, star anise, cumin, mustard seeds etc. are fried in ghee or oil to augment the flavours of these strong ingredients, to further add to the taste of a dish. In some variants, there is ginger, garlic and curry leaves as well. Tadka is usually made separately from the main dish that is later added to it. In fact, we add tempering to everything from dal, to veggies to chutneys.
Let's take a look at some of the popularly tempered dishes in Indian food.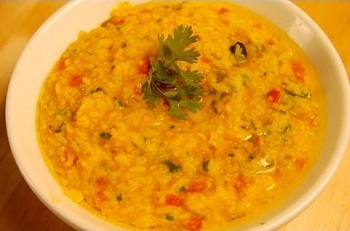 Tadkewali dal: Immensely popular in the North of India, tadkewali dal is a household phenomenon that exudes aromas that waft through the neighborhood. It is a comfort food for us Indians and is thoroughly enjoyed with freshly-made wheat phulkas or sticky, steamed rice.
You can prepare dal tadka with any yellow dal. Simply take 1 cup of mixed tur and masoor dal. Add it to 2 cups of water in the pressure cooker along with one each of chopped onion and tomato, two slit green chillies, 1 inch ginger, a dash of asafoetida and some haldi (turmeric powder). Turn off the flame after 4 to 5 whistles and then beat the dal to a creamy consistency. At this time, add some salt and garam masala as per your liking and then get the tadka ready.
For the tadka, take a pan and put two tablespoons of oil or ghee and heat it. Now add 1 tsp cumin seeds and let it splutter. Once done, add thinly chopped 5-6 cloves of garlic and fry until they release the aroma. Then add 2 dried red chillies and in the end add half a tsp of asafoetida. The tadka is ready. Add this to the hot dal just before serving and garnish with a few sprigs of coriander. Voila, tadke wali dal is ready to be devoured with rice or roti.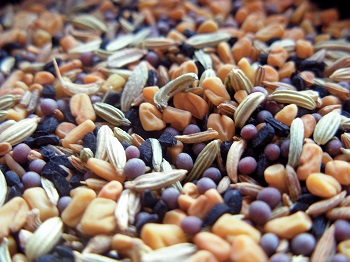 Paanch phoron aloo: The Bengali version of tadka is known as panch phoron and is basically a combination of five whole spices. All the spices in the phoron are seeds. The mix is usually that of methi daana (fenugreek seeds), kalounji (onion or nigella seeds), black mustard seeds, jeera (cumin seeds) and saunf (fennel seeds) in equal proportions. This particular tempering is used in making many Bengali dishes including jhinga posto and aloo jhal.  Here's the recipe for the universally popular paanch phoron aloo.
In a thick-bottomed pan, add 2 tbsp of mustard oil and heat it until the colour turns green. Now add a tablespoon of the paanch phoron masala and a thinly chopped green chilly. Then add a bit of turmeric powder and cook for a bit. Now add boiled potato cubes to the kadhai and mix well. Once the potatoes are well coated with the masala, shut off the flame and garnish with coriander and green chillies before serving. This serves as a brilliant side dish with a plain dal or can be enjoyed with the Bengali fluffy bread called loochi.
Kaudi (mussels) curry: This recipe is based on the Kannada tempering called oggaraṇe. This one is a really special recipe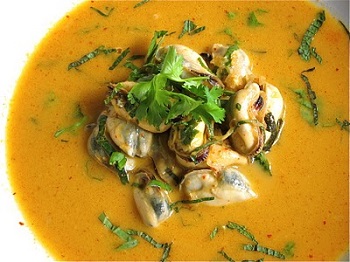 because it has been given to me by my aunt who is married in a Mangalorean household and enjoys cooking their cuisine a lot.
For this curry you need, 1 kilo of mussels, nicely scrubbed. Put the mussels in cold water so that they open in about 20 minutes. Drain the water and then remove the unopened mussels. Now debeard them by pulling out the hairy thread, scrub them well and place them back in cold water until they are ready to use.
Now prepare the oggarane. To 2 tbsp of oil add 1 tsp of mustard seeds and a few curry leaves. Now add one thinly sliced onion and cook until they leave colour. To this, add 2 slit green chillies, 3 inches thinly cut ginger, a pinch of haldi and 2 tbsp of south Indian curry powder and stir for a minute until the aromas are released.
To this tadka add half a cup of water or broth and boil. Now you can add 250 ml of coconut milk and a stalk of pounded lemongrass. Add salt to taste. This is the time when you add the kaudi or mussels (after taking them out of the cold water) and simmer for 7-8 minutes on a medium flame with a lid on top. Before serving, check for partially closed mussels and toss them out. Now take out the mussels in respective bowls and pour over the thin broth type curry. Garnish with a slice of lemon and a sprig of coriander. Enjoy with freshly made appams or neer dosai. I love this curry with overboiled rice.
So here's hoping that these recipes actually add some tadka to your gastronomical existence, and you do manage to have the chutzpah to stand tall in the kitchen! Try them out today.
Anurita Gupta is a media professional who is passionate about two things – food and radio. Her love for all things food makes her a foodie with a cause.
(Pictures courtesy www.tajagroproducts.com, www.stainlesssteelthumb.com, www.nandyala.org)