Swaad 'Anu'saar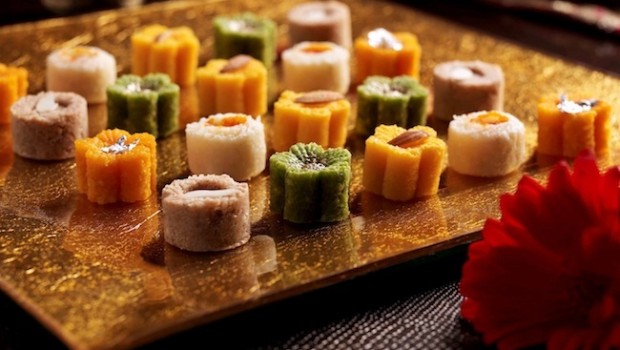 Published on May 18th, 2013
0
Kuchh meetha ho jaaye
Indian desserts are easier to make than Western ones. Our food columnist presents five quick, easy to make dessert recipes.
by Anurita Gupta
'Life is uncertain.  Eat dessert first'  said Ernestine Ulmer. Now, I don't quite know who Mr. Ulmer is, but what he has said surely makes him a sensible man in my eyes.
After many a dinner date or lunch break, dil kehta hai 'kuchh meetha ho jaaye'! Although this is a popular tagline for a chocolate brand, the true meetha of our country is thankfully not chocolate but a ton of desi mithais that are true to the Indian palette and find place in its history.
For instance, our famous white rassagolla, one of the most popular sweetmeats in India has been funnily attributed to the Bengalis. But did you know that this golden ball of sin was created in the town of Puri, also famous for the popular Puri Temple in the eastern part of Orissa? Rassagolla has been enjoyed in Indian households since medieval times and if you want to enjoy this juicy cottage cheese mithai in all its glory then you ought to make a trip to Salepur near Cuttack. Ab wahan tak nahin jaana hai toh you can stop by at your nearest Sweet Bengal!
Western India has the popular shrikhand and aam ras, the only two things I wait for in a Gujarati thali (this thali is usually not my favourite choice for dinner or lunch). North India's balushahi, jalebi, malpua, ras malai, mohan thal, besan ka laddu and motichoor ke laddu are pure delights for the sweet tooth. And how can one forget the legendary paan? The gulkund ki khushboo and the meethi supaari – everything just makes the whole experience so shahi and complete, without the calories!
In the cold department, nothing beats pista, anjeer, and elaichi kulfi which now comes with various fruit flavours at many stands, especially with Gupta Kulfiwallahs. For sure, the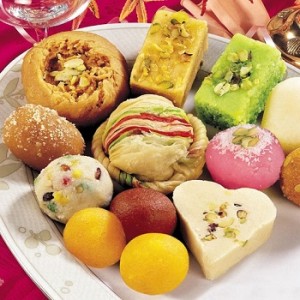 Western world has gifted us the very special ice cream that satiates many varied palettes, what with flavours ranging from vanilla to jackfruit, but trust me, it can only be a great accompaniment to our royal gulab jamun.
Why am I doing this to you, by the way? Am I a sadistic foodie whose sweet tooth on a piece of soan papdi? Not really. All I am trying to do is tell a fairy tale of mithaas that has gotten lost in the pool of firang chocolates and yoghurts. It's a fact that Indian sweets have lost their lustre in comparison to all the gelato and yoghurt shops mushrooming everywhere, and the easily-available 'home-made' chocolates. Why is it that we are carrying the 'white man's burden' into our desserts as well?
Have you noticed that it takes such little time to make desi mithai than actual western sweet concoctions? Let me help you with a few:
Shahi tukda: The shahi tukda can be made with a bag of bread that simply needs to be fried and put in sugary chashni. Sprinkle some
 elaichi on top and serve (see pic on right).
Aata ka halwa: Aate ka halwa is an age-old favourite for me, also because my late daadi used to love it so much that she used to make it in a jiffy! All you need is nicely-roasted aata on a non-stick pan and some boiled water with jaggery in it as a healthier alternative to sugar.
Kulfi: There is such little effort that goes into making kulfi in comparison to churning a load of ice cream! All you have to do is evaporate milk for an hour as you simmer it over a low flame so as to reduce it to a quarter of its original quantity. Add sugar and mango puree, and maybe some mango pieces in a bowl. Mix together with hand and refrigerate. Serve and enjoy!
Kheer, payasam: The delectable kheer or payasam is pretty much the most heavenly way to make use of stale rice at home. Take one and a half cups of stale rice and put it in a pressure cooker with half a cup of water, 3 cups of sugar (caramelised or jaggery, in case of payasam) and cardamom powder along with double the quantity of milk. Give it a couple of whistles, and your kheer/payasam is ready! To complete this delectable dessert, fry some kaaju-badam in ghee and use as garnish.
Gujarati shrikhand: This one's a summer delight. Use plain dahi and drain excess water by tying it in a cheese cloth. Let it rest for a couple of hours in the fridge. Take the thick curd and add some saffron soaked in two spoons of milk, along with sugar, cardamom powder and nuts. Wait for it to chill, then wallop with a vengeance! You can also add chopped mangoes or a seasonal fruit to enhance its flavour.
It's time to quit phoren sweetmeats for the asli meetha. Let's revive the malai ka khaja instead of crème brulee, malpua in place of pancakes, mawa cake over muffins, nan khatayi instead of cookies. After all, what fun it is to see the jalebi getting made from scratch in an old beaten down black kadhai and then watching it soak up kesar chashni…slurp!!
Anurita Gupta is a media professional who is passionate about two things – food and radio. Her love for all things food makes her a foodie with a cause.
(Pictures courtesy marrymeweddings.in, chefinyou.com, www.ahomemakersdiary.com, www.leicestershirediabetes.org.uk)