Swaad 'Anu'saar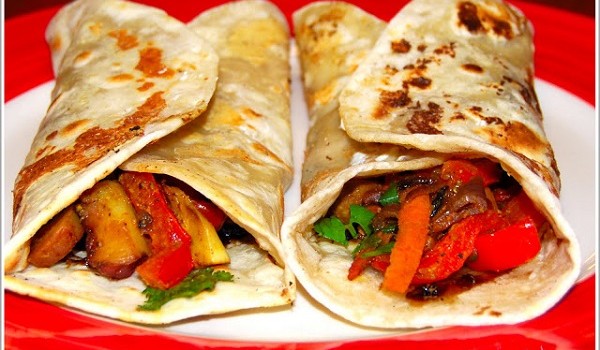 Published on June 22nd, 2013
0
Eating out, Mumbai ishtyle – Part III
The last of the three-part series on Mumbai's most preferred food joints, their specialties and the real swaad of Mumbai.
by Anurita Gupta
In Part I and Part II, I spoke about the city's heavenly eating out experiences and food joints. Today, I conclude my thoughts on the awesomeness that is eating out in Mumbai.
Bombay Sandwich joints: The hard-working Mumbaikar literally lives 'between breads'. Mumbai's favourite quick fix snack is most definitely a sandwich. The Bombay sandwich is usually loaded with fresh beetroot, cucumber and tomato slices with grated cheese and served with green and red chutney. Its many variations are 'chutney sandwich', the 'grilled cheese sandwich' and 'chutney cheese toast'. In a fancier avatar, many international and local chains serve the sandwich in the form of oven baked breads packed with cold cuts and Swiss cheese.
Hot tip: For the true blue Mumbai-sandwich experience, try Swastik Sandwizza, Santacruz Market. Their veggie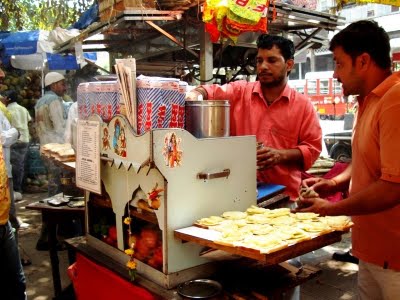 sandwich has crowds swarming outside this tiny shop to get a bite. Right Place at Warden Road is another hot spot for grilled cheese sandwich with a 'secret' recipe sauce. The humble chutney sandwich at Candies, Bandra is quite a hit too.
For an international experience, try the cheesy, corned beef sandwich called 'Ruben's' at Between Breads, opposite Hawaiin Shack, Bandra (West). The 'Sloppy joe' at Indigo Deli, Phoenix Mills is a hot number, too. Sante at Pali Mala Road, Bandra serves the yummiest 'Ham and Brie' sandwich.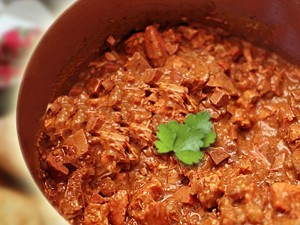 Goan food restaurants: Goan cuisine is primarily made with the three tropical ingredients of seafood, coconut milk, and local Goan spices. The flavours are super intense with extensive amount of kokum used to counter the spiciness. Interestingly, this cuisine has many influences of not just the Portuguese era but also has undercurrents of Hindu and international cuisines by virtue of its flourishing tourism.
Goan food that is really popular in Mumbai is Goan fish and prawn curry, Pork Vindaloo, Goan pork sausages, Pork Sorpotel, Prawns balchao and Xacuti (non-veg and veg). Interestingly, the Sorpotel (see pic on left) comprises pig blood as well. Its unique flavour is enhanced when you have it with par-boiled white rice or bread. The most famous is Pork Vindaloo, a combination of spices, red chillies and a huge amount of vinegar.  Non vegetarian aside, the vegetarian Goan food comprises of beans, cashew nuts, potatoes and jaggery.
Hot tip: Enjoy the vegetarian rajma tondak, rich in cashew, Goan pork sausages and Goan Fish curry (mackerel recommended) at Goa Portuguesa at Mahim, near Hinduja Hospital. Jaihind Lunch Home at Bandra and Lower Parel serves a mean Goan Prawns curry. You can also visit the Goa Bhawan canteen, JVPD, Juhu for very reasonably-priced, authentic Goan food.
Mangalorean restaurants: Almost always confused with Malvani cuisine, the one big difference between Mangalorean gassi and a Malvani curry is the ingredient that is responsible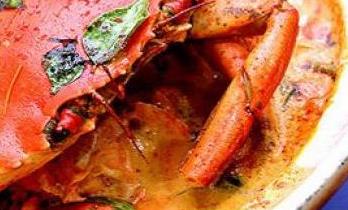 for the khataas factor.  There is tamarind in the gassi and kokum makes the Malvani or Gomantak curry nice and sour. Typically known as the cuisine of 'Tulu Nadu' (parts of Kerala and Karnataka that speak Tulu), Mangalorean cuisine is massively influenced by the South Indian cooking style as well. Made with coconut, dried red chillis, ginger and curry leaves, Mangalorean delicacies are usually spicy with fresh seafood being a major component in them.
The most popular dishes in Mumbai are gassi (prawn, fish and vegetable), appam (rice pancakes), Malabari parotta, Mangalorean fish curry, neer dosa (lacy rice crepes), ghee roast chicken, cashew upkari, sannas (Mangalorean version of idlis) and the famous Mangalorean crab curry. Another very popular dish that doesn't belong to South India or even India, is the 'butter garlic crab' (see pic on right) which is on offer at most Mangalorean and Malvani food hubs. It is a such delight to enjoy the soft, sweet crab meat doused in butter garlic sauce!
Hot tip: Enjoy a mean crab curry with hot neer dosa at Mahesh Lunch home, Fort; butter garlic crab and squid gassi can be devoured at Trishna, Kala Ghoda; Jai Prakash, Goregaon (East) has the most amazing prawn and chicken gassi and prawns tawa fry.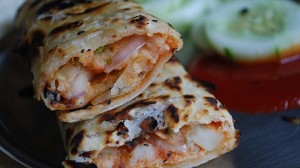 Mayo rolls and frankie joints: Let's rock and roll with what can be proudly associated with only Mumbai and no other state – the famous 'chicken mayonnaise roll'. Diced chicken is sautéed and then mixed with mayonnaise, spiked with a bit of mustard and black pepper and stacked generously between a hotdog roll, minus the sausage. In the same gastronomic scheme is the 'Bombay frankie', originally introduced by Tibbs, and which is especially popular with the college crowd. Catering to masala sensibilities are the chicken and egg frankie, chicken curry frankie and the 'Veg frankie'.  All in all, rolls are indeed a quick pickup food for unstoppable Mumbai.
Hot tip: Try Tibbs chicken frankie at their various outlets. I personally prefer the Shivaji Park one. Hangla's, Goregoan (East) has the most amazing Calcutta rolls. Try their double chicken double egg roll. The most splendid chicken mayo roll is available at Excelsior, Fort and at Sherry's in Matunga next to Ruia College. Try the lamb and chicken Shawarma rolls at Maroosh, Phoenix Mills, Lower parel and Inorbit Mall, Malad.
With that I conclude the 'Eating out – Mumbai Ishtyle' diaries. If you do take my tips seriously, we are sure to bump into each other some day at one of the food joints where we may happily get our hands dirty enjoying heavenly butter garlic crabs with a shot of toddy!
Anurita Gupta is a media professional who is passionate about two things – food and radio. Her love for all things food makes her a foodie with a cause.
(Pictures courtesy mumbai-magic.blogspot.com, www.pelauts.com, www.paulscooking.com, bengalicuisine.net, ibnlive.in.com)