Swaad 'Anu'saar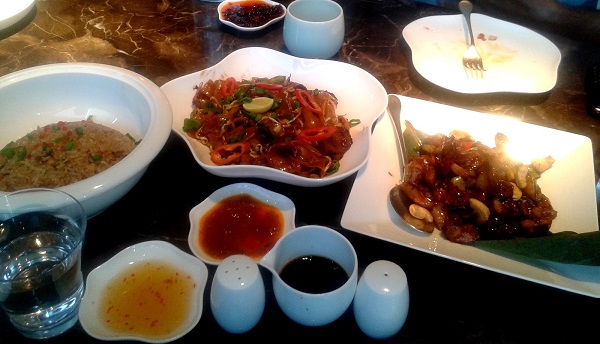 Published on June 15th, 2013
0
Eating out, Mumbai ishtyle – Part II
We continue tracing Mumbai's gastronomic map, and present four true-to-the-city kinds of eating joints that serve the food we love.
by Anurita Gupta
Last week, we checked out five very Mumbaiyya eating styles and joints that have Mumbaikars scurrying to eat out at every opportunity. Today, I continue on the food trail across Mumbai with four more types of joints.
Indian Chinese food joints – Street side, take-away or restaurant, Mumbai boasts of the most amazing Chinese food that is remotely inspired by China but which suits the Indian palette. The most famous street-side Chinese is known as galla Chinese, and I've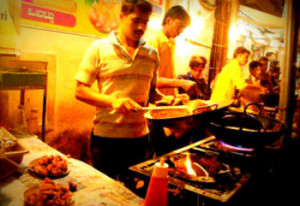 rechristened the food available in restaurants as 'Chinjabi' (a combination of Chinese cuisine and Punjabi style of cooking, such as chowmein). We Indians are so happy with our brand of 'Chinese' food comprising chilly, garlic, ginger, Schezwan, and Manchurian that I doubt we would relish the bland 'steamboat' of Shanghai. Nelson Wang (of China Garden fame) is said to have started this Indo-Chinese blend – it seems like he put together the Indian ingredients of onion, ginger and garlic, but instead of adding garam masala he added soya sauce and cornstarch to the chicken. This is probably how gobi Manchurian came into existence!
Hot tip:  Enjoy galla Chinese at China Man opposite St. Joseph High School, Wadala and Sherry's next to Ruia College, Matunga that serves fabulous 'triple schezwan rice' and 'crispy chicken'. Order Chinese meal combos from Mr. Chow at Worli. For a high-end food experience, visit China Garden in town that serves yummy Kungpao prawns and beef tepanyaki, while Royal China in Fort serves a delectable Peking duck in orange sauce.
Street side Mughlai food – Coming from the rich history of the Mughals, the Mughlai food we enjoy today is a rendition of the cooking styles typically found in Hyderabad, UP and Delhi, with Pakistani and Persian influences. Its street version is extremely popular in Mumbai.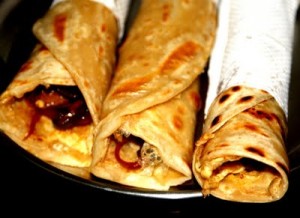 Top of the charts are kebabs. Cooked on a charcoal grill, kebabs are made from minced meat and served with thinly-sliced onions and coriander chutney.  The Punjabi version of the cuisine, butter chicken and tandoori chicken, are hot favourites, too.
Hot tip: Enjoy succulent beef and mutton kebabs at Sarvi's at Byculla, (best ordered in or 'parcelled'). Mohammad Ali Road in town is perfect for kheeri kaleji (kidney and liver). Bade Miyan's baida roti is to die for. Harpal's biryani is the best for ordering in, and ITC Grand Maratha's Peshawari has the best butter chicken and dal bhukhara.
Some of the less famous mughlai food gems are Maaroosh at Phoenix Mills for chicken tikka and tandoori chicken; Kebab Stall at Union park (next to MOD) for boti kebabs and Universal Kebab Kona outside Wallace Apartments, Slater Road, Tardeo. This last has two guys with very colourful personalities serving yummy 'pockets' of fresh bread with mutton or chicken kebab, and green chutney slathered with various cheeses that they make themselves.
South Indian joints: Thambi food joints find their origins in the British Raj when the South Indian 'tiffin' service was incredibly popular. Tracing its beginnings to the 1930s, the 'tiffin' meant a light meal between meals which used to be typically steamed idlis or crisp vadas made with a batter of rice and lentil, and enjoyed with coconut chutney and sambhar (a spicy and sour mix of lentils and vegetables boiled with tamarind and masala).
The tiffin trend is still a rage. Other than idli-vada, the most sought after are the dosa and uthappam. Many Udipi restaurants have the 'Meals ready' facility as well, which means that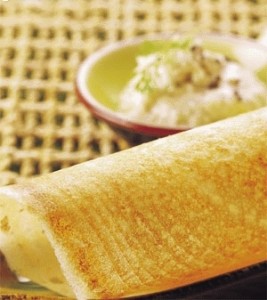 they have a set vegetarian menu comprising vegetables, sambhar, rice, dahi (curd) and rasam.
Hot Tip: Try the dosaye (dosa) at Anand Bhawan and the Kanchipuram idli at Mysore Café (both at Matunga), which is also famous because Mukesh Ambani heavily endorses it as his favourite breakfast joint. Nearby is the 70-year-old Ramanayak Udipi that offers ready meals.  Madras Café in the same vicinity is supremely popular for its tiffin and South Indian kaapi (coffee).
Mumbai meetha joints: Think sweet in Mumbai, and you think of Shahi Falooda. Made with vermicelli, tapioca pearls, sabza (basil seeds), a bit of rose syrup and milk or vanilla ice cream, the falooda finds its origins in Persia where it was known as faloodeh and became famous here with the Mughal Empire. Another wonderful dessert is the malai  kulfi and its various seasonal fruit versions. The most popular are sitaphal (custard apple), anjeer (figs) and mango. And of course, you can't get enough of Mumbai's trademark fruit with cream and ice cream.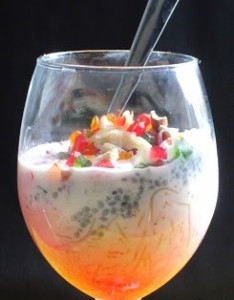 Hot tip: Visit Bachelor's opposite Chawpatty for the legendary strawberry cream and ice cream, and their mango and kiwi with cream. Badshah's (at Crawford Market) Shahi falooda is very famous, but the best I have had is at Baba Falooda, Mahim which also serves yummy kesar pista ice cream. Kulfi is synonymous with Gupta Kulfiwallah all over Mumbai, but the best comes from the Kulfi Centre at Girgaum Chowpatty. Serving close to 20 different kulfi varieties, their Zaffran (saffron) flavour is the most popular one but their chocolate kulfi is really special. Haji Ali Juice Centre is also great for Ramadani laddoo and sitaphal cream and ice cream.
Next: We'll enjoy the unique 'Bombay sandwich', explore our love for butter garlic crabs, relish the homely touch of zunka bhakar kendras, roll with Mumbai rolls and rediscover our love for pork sorpotel and other Goan delicacies that Mumbai loves.
Anurita Gupta is a media professional who is passionate about two things – food and radio. Her love for all things food makes her a foodie with a cause.
(Pictures courtesy www.desi-living.com, icetrail.blogspot.com, tarladalal.com, tamalapaku.blogspot.com, mumbai-magic.blogspot.com)