Swaad 'Anu'saar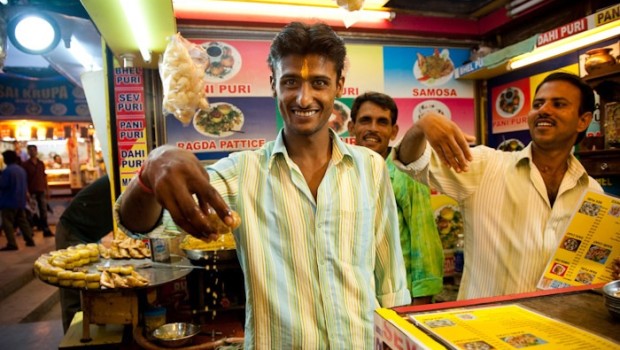 Published on June 8th, 2013
1
Eating out, Mumbai ishtyle – Part I
What makes Mumbai's tummy tick? Presenting five special, unique cooking styles that make the city eat out with a vengeance.
by Anurita Gupta
"Mumbai ki bhelpuri ka jawaab nahin!" exclaims everyone who visits or proudly stays in this fast paced, glittering Bollywood town. The corners of Mumbai streets are ensconced in history with Irani cafes still serving up their trademark brun maska and kheema pao.  Mumbai has evolvedi in all its glory over the years, thanks to the mixing pot of inhabitants who came to this sapnon ka sheher and got along their gastronomic treasure trove as well. No wonder then, we have a special variety of food places satiating our unique Mumbaiya hunger for the food that is 'exclusive' to us.
– Gujarati Thali restaurants – Before the dissolving of the 'Bombay' State on May 1, 1960, Gujarat and Maharashtra were one. This pretty much explains the presence of the colorful Gujarathi community in Mumbai and the city's love for Gujarati food. From khamman dhokla and farsaan to aamras puri, the legendary Gujarati thali is not just a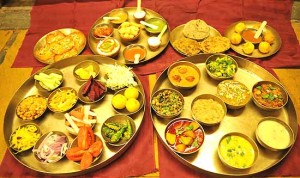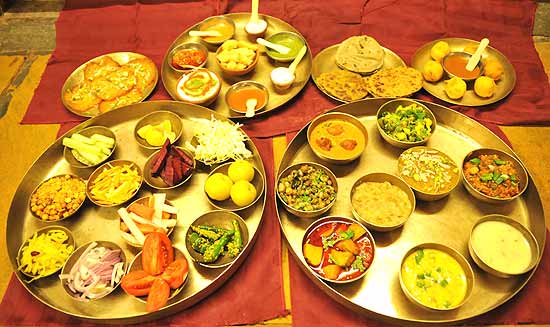 favourite with the ghee-loving foodie Gujaratis but everyone in Mumbai as well. Sweet on the palette, Gujarati thali comprises of starters in the form of sev, gathiya, patrel and chhunda achaar and the mains of dal-bhat-rotli-shaak (lentil-rice-bread-vegetable). This pretty much means three kinds of bhaaji (with special emphasis on batata bhaaji), puri, kadhi, meethi dal and khichdi.
The desserts follow in the end with a bowl full of sutarfeni, sheero (halwa) and gulab jambu. The specialty is not just the food but the service as well. This eat-all-you-want feast has waiters drizzling liberal amounts of ghee on rotli and khichdi and refilling vaatis without you asking for it.
Hot tip: You can enjoy sumptious Gujarati thalis at Preeksha, Shantidoot Hotel in Parel, and at Status Hotel, Nariman point, next to Trident hotel.
– Malvani and Konkani cuisine restaurants – Tracing its roots to the mid-17th Century, when the history of Mumbai started out as a mass of Koli fishing villages, Malvan and Konkan region's style of cooking have been extremely popular preparations for sea food. That is the reason why Malvani food joints are exclusive to Mumbai (and Maharashtra) and a foodie's delight.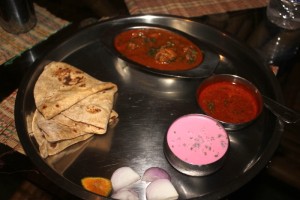 The most popular dish on the menu is Bombil fry. Bombil is a fish which is also commonly known as 'Bombay Duck'. While there are some who like its dehydrated version with sticky rice (it stinks!), the fried form is a hot favourite!
Bombil is dipped in gram flour (besan) batter, rolled in semolina (rawa) and deep fried. It's special because it's crisp on the outside and soft inside, and makes for a brilliant appetizer. In the same list, there is kothimbir vadi' (fried cakes of coriander and gram flour) and a hit appetizing drink is sol kadhi (a pink concoction of kokum and coconut milk). The most popular non veg dish after Malvani fish curry is Kombdi Vade. Also known as 'Murgh Malvani', it's a conventional Malvani chicken curry served with vade which is like a puri made with ragi and wheat flour.
On the vegetarian side there is phanasachi bhaaji that has phanas i.e. jackfruit, chillies and spices.
Hot tip: Personally, I love the kombdi vade at Malvan restaurant at Thane, Paanch Rasta; Bombil fry at Jai hind, Parel and Bandra; Sol kadhi and lots more is brilliant at Gomantak, Dadar (West); Basa Fry at Gajalee at Phoenix Mills and Vile Parle; Mutton sukka, Prawn koliwada & non-veg thali at Sadeechha, Bandra (East) next to MIG club.
– Irani Cafes: Originally started by the Persian and Iranian communities in Mumbai in the early 19th Century, the eeroon or Irani cafés have their own old world charm. It's amazing how most of them retain the same kind of colonial look that is marked by high ceilings, with checkered table cloths and antique look furniture.
The glass jars holding jam tarts and rusks are also a classic. Along with that what's most cherished is the food on the menu (which is also typically stuck under the glass table top) – brun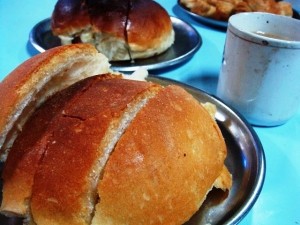 maska (see pic on right), kheema or chicken patties, 'Wrestler's omelette' (of five eggs), and the very famous Parsi breakfast of akoori. Akoori is the Persian, masala version of scrambled eggs which you can wallop with a dollop of butter and chopped kothmir on top.
For drinks there is the 'phudina leeli choi' and 'Rogers raspberry'. While paying the bill, your pleasure of having a good meal may just be enhanced with a bawa anecdote from the owner himself. Dwindling in number, there are only 25 Irani cafes today in the city in comparison to 350 about 65 years back.
Hot tip: Enjoy the jam tarts and mutton patties at the 102-year-old Kayani & Co. café in town, wrestler's omelette at Coolers at Kings Circle, the unique berry pulao and sali chicken at Brittania, Kala Ghoda and relish the best mawa cakes at B Merwan's, Grant road.
– Poli bhaji kendra– Catering to the typically fast life of Mumbai, the purpose of these food hubs is to serve cheap, homemade food on the go. If you travel long distances by train, you can hop into a poli bhaji kendra strategically placed right next to the railway station and pick up fresh food of your choice for office or back home.
Typically put in big tagaras (vessels) in a row you can pick from dal, chawal, roti and bhaaji of the day for a nominal price. Although there is nothing fancy on offer, the vegetarian food is very high on the 'home feel' quotient. The popular ones are Annapurna poli bhaji kendra in Thane (West), Zakas and Yash in Kandivali, and Om Chetanya in Parel.
– Street-side chaat corner – Mumbai ki bhel, sev puri, dahi batata puri and the super famous, talked-about in Bollywood films – ragda 'pattice' – are unmatched. While Delhi may take pride in its golgappas, papdi chaat and tikki chhole, it can never make a mean bhelpuri like you find on Juhu chowpatty.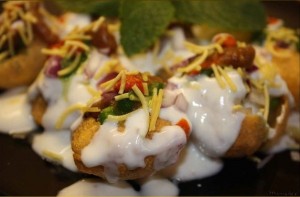 There is probably no street in Mumbai that doesn't boast of a patented bhelwallah who does his maximum business in the evening when everyone is looking for a quick chatpata snack. Made from murmure (puffed rice), fried puri, chana daal, onions, boiled potatoes, raw mangoes and red and green chutney with a liberal sprinkling of sev, the Mumbai bhelpuri is a must to close the hectic day before dinner.
Hot tip: While you can't quite go wrong with the bhelpuri in the city, you must try the ragda patties of the chaat centre next to Matunga Station. Khau galli, Ghatkopar has the most delicious, butter-soaked pav bhaji and  you have to try the batata vadas at Shrikrishna, near Chabildas High School, Dadar Market. The stalls at chowpatty have the best sev puri and kaala khatta. Juhu beach promises the ultimate dahi puri if you can fight the traffic leading to it and the crowds there as well.
Next: South Indian tiffin and Udipi joints, Maharashtrian bhojanalays, Mangalorean lunch homes, Mumbai's galla Chinese and street-side Mughlai food hubs.
Anurita Gupta is a media professional who is passionate about two things – food and radio. Her love for all things food makes her a foodie with a cause.
(Pictures courtesy www.outlookindia.com, redscarabtravelandmedia.wordpress.com, amirashah.wordpress.com, www.sephi.com, www.in.com, www.outlookindia.com, innainindia.blogspot.com, erecipeguide.com, www.akshayapaatram.com, www.monsoonspice.com)