Swaad 'Anu'saar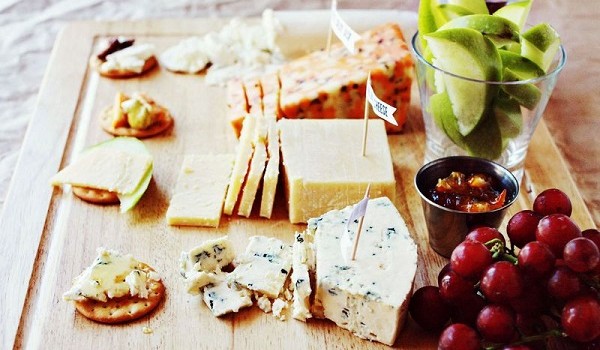 Published on November 26th, 2013
0
Dil cheese kya hai…
It is universally known for being yummy, but it is also possible to create fantastic dishes using a little cheese.
by Anurita Gupta
'Dil 'cheese' kya hai, aap thoda kha hi lijiye!' is a line inspired by the famous Umrao Jaan song, where the courtesan offers her heart (and later her life!) on a platter. But I like the parody better, especially to satiate the permanent 'cheesy cravings' I have.
I am truly mad about cheese. My dear friend Anvita is famous for saying 'Cheese is the perfect food!'  Combined with wine, fruit and salad, it is the perfect nutrition package.  It is, in fact, a very high quality of protein that consists of the correct quantities of amino acids and calcium, Vitamin A and folic acid. It also has one most dreaded ingredient – Fat. That's why the weight-conscious steer clear of it. Honestly, a little bit of cheese does of a lot of good – but only a little bit!
On that note, let's take a look at some delicious cheesy starters:
Cheese platter: Putting lots of cheese together for a party is a good idea. While you can experiment with various kinds of cheese, the safest bet is to put together the known ones like aged cheddar, some Brie, blue cheese and the regular processed milk cheese with flavours. But if you love cheese, like me, then you can experiment with many varieties – be it aged, soft, firm or blue.
Whatever you choose, make sure you have some accompaniments that go very well with the cheeses. For instance, nicely cut green apples, black grapes, cut tangerines, lavash sticks, wheat crackers, pitted black and green olives, some caramelised nuts, a berry jam and may be nice Swiss mini chocolates as well are good ideas. I have been keeping these platters on a special tray that has black board paint on it, where I can write the cheeses' names and description. It's a lot of fun putting this one together!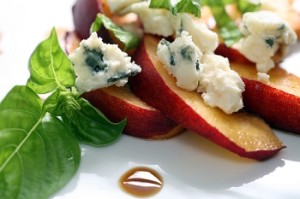 Blue cheese and peach salad: One of the most controversial, but also a much loved, crumbly member of the cheese family, blue cheese is the main ingredient of this salad (in pic on right). Complimented with peaches, it makes for a dieter's delight. All you need is 1 tbsp each of Dijon mustard, maple syrup, 2 tbsp of balsamic vinegar, ½ a cup of canola oil, 2 hearts of fresh Romaine lettuce, 2 peaches cut in wedges, ½ cup of crumbled good quality blue cheese and some nicely chopped chives.
To make the vinaigrette, whisk together the maple syrup, balsamic vinegar and mustard and then slowly keep drizzling canola oil while whisking regularly. Then season the vinaigrette with salt and pepper to taste. Keep aside. In a bowl, put together peaches, lettuce and extra virgin olive oil. Add a bit of salt and pepper. Drizzle the vinaigrette and then finally add the crumbled blue cheese and chives. The non-veg option is to add 4 slices of good quality bacon to the salad. Yummy!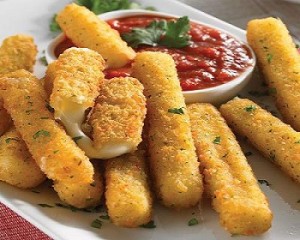 Mozzarella cheese sticks: Perfect for any party, these 'sticks of heaven' (in pic on left) are the best starting points for any conversation. After all, it couldn't get cheesier J. All you need is Mozzarella cheese (cut into sticks), vegetable oil for deep frying, 1 cup of all purpose flour, 1 tsp of paprika, ½ cup milk, 1 egg, pinch of baking soda, and salt and pepper to taste.
Freeze the cheese sticks for an hour so that when you start frying them, the cheese doesn't melt and make a mess. Beat the remaining ingredients together until a smooth batter is ready. Now all you have to do is dunk the cheese sticks in the batter and fry immediately. Serve with a nice salsa sauce. Crunch crunch!
Apple goat cheese bruschetta: This one's dedicated to my recent trip to Paris with my bestie. The French are truly in love with goat cheese that goes exceptionally well with a firm French loaf and fresh green salad leaves. This bread starter is a good precursor to the main meal. You will need: 1/4th cup crumbled goat cheese, 1 peeled and chopped apple, a little fresh thyme, fresh oregano, some ground pepper and thin slices of French bread.
Toss together all the ingredients except for the bread, and keep aside. On an oven tray, place the French bread slices, drizzle some olive oil and toast for 3-4 minutes until they become golden brown.  Now put the goat cheese mixture on top and place it in the oven for a minute or until the cheese is soft.
All in all, there is a lot of cheese to go around in the world and if you are still looking for 'low fat cheese' then it's about time you look for 'meatless mutton'!
Anurita Gupta is a media professional who is passionate about two things – food and radio. Her love for all things food makes her a foodie with a cause.
(Pictures courtesy www.abeautifulmess.com, www.abeautifulmess.com, www.abeautifulmess.com)