Soft Coroner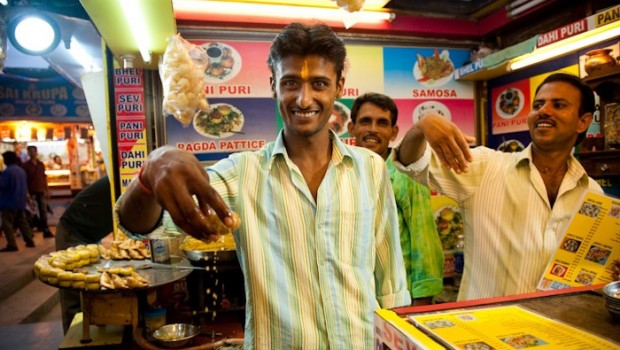 Published on October 18th, 2012
1
A little more. And a little more.
Our national penchant for something 'extra' will have us become shameless and expect freebies in every situation.
by Prashant Shankarnarayan | prashant@themetrognome.in
The situation – A matrimonial ad seeking an extra-brilliant groom
The observation – There were the usual clichés – the girl's father needed a groom from a good family. Expecting a brilliant son-in-law seems perfectly rational. Who wouldn't want to flaunt an IIM son-in-law or an IIT son-in-law or an Ivy League son-in-law? But what caught my eye at first seemed like an error. This family wanted an 'extra' brilliant groom!
What on Earth does that mean? Is it a level between brilliant and genius? Was Einstein brilliant or extra brilliant?
To be honest, we do understand that the girl's father wanted a smart and educated groom, but what it signified is just an Indian trait to expect something extra out of every situation. This demand for 'extra' brilliance is just a reflection of our culture where an extra could mean different things at different times. Yes, I know the first thing that comes to mind is the extra something that we pay under the table, but that is just one of the things ingrained in the Indian psyche. Don't believe me? Read on.
Habit: The hand drops the last pani puri in the mouth and the throat gulps it, the lips sip off the leftover pani off the plate and even before the tangy concoction reaches the tummy, the hand shoots out at the vendor to rightfully demand…an extra puri! Or an extra peppered alu with sandwich. Sometimes, it's extra sheng chana with paanch rupay ka bhel. Even I remember coolly picking up a few extra sheng chanas and walking off nonchalantly, even as the chanawala gave me a nasty 'bloody shameless freeloader' look. It's in our blood to demand extra.
Class: The idea of demanding extra also reeks of class consciousness. The same person (me) who would demand an extra puri at a chaat stall will abstain from doing so in a restaurant. No one does it. It looks cheap. Instead, I will tip the waiter lest he thinks I am a cheapskate. In fact, the tip is directly proportional to the status of the restaurant and/or the amount in the bill. On one hand, I tip the waiter and on the other hand, I take an extra puri from the street vendor irrespective of the possibility that both might be from the same economic strata.
And not to forget the local trains in Mumbai. It's perfectly fine to rest one bum and then slowly push and prod to create a fourth seat in a second class compartment. The 'extra' seat is a part of the system. But try doing the same in a first class compartment and…well actually you just can't do it there! It's an unwritten rule – no fourth seat here because we pay more. And as a true blue Mumbaikar, even I completely agree and follow this maxim. First class commuters might be unaccommodating, but then what is the point of paying more than three times the second class fare if we have to travel cattle class.
Peer pressure: What started as an innocuous filler to pep up boring CVs has become a scary proposition; it goes by the name of extra curricular activities. Agreed that all work and no play makes Jack a dull boy, but all work and all play makes Jack's father pay through his nose even though Jack will still grow up and most probably slog like his predecessors. Extra curricular activities are a must and should be encouraged. I have carved my career in a discipline which was not a part of my school or college curriculum. But when my 12-year-old neighbour goes to the USA as part of her 'school trip', I do shudder. We used to go to Chhota Kashmir at Aarey Milk Colony in Goregaon for a picnic. While it is heartening to know that schools have taken on the mantle to create super students, I don't know how many of these kids will grow up to be rocket scientists-cum-horse riders-cum classical violinists who represent their country in Judo or Karate even as they win dancing and singing talent shows on television – when they're not busy with Vedic maths, that is.
Our generation turned out okay. I hope future generations turn out better. Desperately piling extra curricular activities on the kid doesn't seem the apt way to go about it. Still, if the parents believe that it works for their kids, then I wish them 'extra' luck.
Tradition: This is bit light-hearted. It's the act of adding 1 to every transaction. 11 coconuts to bribe the gods. Rs 11 in an envelope as shagun from relatives. Rs 111 in an envelope to make a relative more endearing. Festival celebrations in the colony means it's time to shell out Rs 501. This harmless extra numeral stems from the belief that 0 puts a full stop to a transaction, whereas 1 adds perpetuity to auspiciousness. Weird logic, but works for me.
Oppression: This I mention on behalf of all those struggling writers, including yours truly. It is one of the main reasons why many professionals prefer a full time job that assures a stipulated salary, as compared to having one's own set-up. Dear clients: when you say 'pilot', we hear 'free'. It's like the housewife telling the vegetable vendor to thrown in extra kotmir with the lot. Freelancing professionals hate this extra work that is thrown in by clients even as they dangle the usual carrot – we'll rope you in next time for sure. The more desperate you are, the more 'extra' work you do even as an 'extra' carrot keeps getting added to the dangling list. And I'm sure this gets replicated in every industry. What matches this 'extra' oppression in its ruthlessness is our next aspect – double standards.
Double standards: We've heard it before. How one needs to report on time; something which I sincerely follow. How one needs to be presentable at work. How employees in developed countries are thorough professionals and we need to match up with them. Our bosses want us to be like them, but in our own way, which boils down to extra working hours without extra pay. Our stickiness to copy 'foreign ishtyle' corporate culture ends there, simply because there are 20,000 people in line waiting to grab your job.
Sporting conscience: No surprise that the sport that Indians follow passionately is often defined by its extras.  Think it doesn't matter much? Cut to the match when Sri Lankan spinner Suraj Randiv bowled that no ball, leaving Sehwag stranded on an unbeaten 99. More than India's victory, the columns were filled with lectures on the spirit of the game and a denied century. True to our style, we even prefer sports with freebies.
p.s.: Although I have just touched the tip of the iceberg as far as our natural penchant for an extra something is concerned, I will vouch that no extra is more beautiful, deserving, fulfilling and quintessentially desi than that 'extra' half mark doled out by a generous soul that helps you touch the most important barrier in life –35 out of 100.
Prashant is a mediaperson who is constantly on the lookout for content and auto rickshaws in Mumbai. The Soft Coroner attempts to dissect situations that look innocuous at the surface but reveal uncomfortable complexities after a thorough post mortem.