Overdose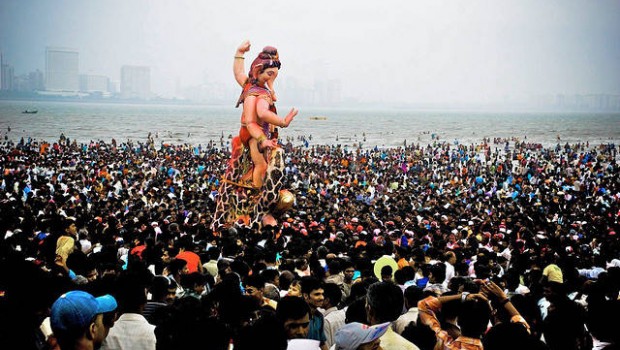 Published on October 29th, 2012
3
Fooling the Gods
Jatin Sharma wonders why people are taking the convenient route to celebrating festivals. After all, our rituals mean something, right?
So did you dance to Aye Ganpat, Chal Daru La while getting your Ganesha idol home?
Or did you re-tune Beedi jalaile to Agarbatti jalaile during Mata ki Chowki in Navratri?
Or were you the one who made the rule that during Shravan , you wouldn't eat non-vegetarian food ONLY at home? Having non-vegetarian food outside was fine.
If you belong to one or more of the above categories, or know someone who belongs to one, welcome to this column.
I was recently at an arti during the recent Ganpati festival, when I heard this exchange of thoughts.  "Mera Ganpati dekh, poore gyarah hazaar ka hai," boasted a man. "Kanjoos, paap lagega! Mera Ganpati dekh, maine Siddhivinayak se banvaaye hai, poore pachchees hazaar ek ka hai," replied the other. Listening to them and seeing that price tags were being attached to a God, was quite amusing, and at the same time an eye-opener for me. People are not interested in devotion but are only interested in the promotion of how good their arti was, or how their idol was more expensive than others.
Convenience is this generation's favourite word. 'If it is inconvenient, it does not stay with me,' is what we believe. And the poor Gods have to bear the brunt of this thinking, too!
We are the i-generation. We feel deeply only about 'i', and mend and break rules laid by the society and the Gods according to our own 'i-book'. Take the example of the Ganeshotsav. People are supposed to bring the Ganesha idol home, and do seva of Lord Ganesha for 11 days, but now they have shortened the duration of his stay as per their convenience. The stipulated 11 days first turned to one and a half days, and now we see variants of three days, five days, seven days and nine days.
Also during the Ganeshotsav, people are supposed to not eat non-vegetarian food and not drink alcohol. But people have referred to their i-book again, and now they eat non-vegetarian food and drink alcohol if they are not doing so in their house where the Ganesha idol is kept.
Also, visarjan. Earlier, people danced to Ganpati songs  and would take the beloved God to the immersion site singing songs about his valour and bravery, but now Ganpati is bid adieu in the midst of a cacophony of Sheilas and Munnis and Jalebi bais.
Hindu culture also has myriad rituals to help people prosper and garner wealth. And such rituals are a sight, too. Pandits with their proficiency in Sanskrit, but an apathy towards explaining what they are saying, have successfully managed to change all these rituals into a good business. They have shortened the rituals in order to let businessmen feel good about conducting the poojas, while being able to attend their business meetings on time, too. Also, several artis these days are performed thus: the arti plays out from a music player, and then a septuagenarian ambles along to say a few words that make some religious sense.
The Navratri festival sees many people organising Mata ki chowki. Nine days of celebration have, these days, just turned into one big round of dress up. No one reaches for the arti on time, in fact, no one even knows where the idol of the Goddess is during the Navratri. And the songs are more about someone's jawaani and someone else's dil that has been broken, rather than the goddess who saved the world.
The plot is being lost. I am not talking about religion. But I feel that there is a purpose behind these rituals, and I think we are losing the purpose somewhere. We talk about making our festivals more entertaining and thus, more acceptable, but are we doing that by doing all this? We have become far more superior than our ancestors, but does that mean that we mock at everything that has been created by them?
I am not questioning people and their choices. They are free to do whatever they want. But I do feel for these festivals. I do feel that when we are not honest with the world around us, even when God is in our midst, it just pollutes and corrupts the future for everybody.
Jatin Sharma is 26, works in the media, and doesn't ever want to grow up, because he feels that growing up will make him like everybody else. 
(Picture courtesy goindia.about.com)