Overdose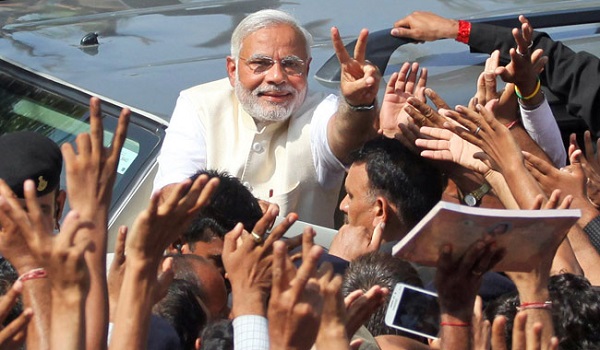 Published on May 19th, 2014
1
Ab ki baar…kaam kar lo yaar!
A disturbing victory speech notwithstanding, there's just one small request for PM Narendra Modi – don't forget us non-Vadodara guys.
by Jatin Sharma | @jatiin_sharma on Twitter
Finally, the elections are over. The world's biggest democracy has given its verdict and it has not come as a big surprise as we all knew that 'Ab ki baar Modi sarkar' would hold true. The Congress has been beaten out of power, and how! Clearly India was fed up of talking to the hand.
However, there are some pretty interesting observations to make about this general election. According to me, people didn't vote for the BJP, neither did they vote for Modi. This time, they voted for a leader, for a single name that they could rely on. The Congress was digging its grave all this time with the number of scams, controversies and irresponsible interviews and speeches showered by their PM-hopeful. There was no alternative for people till Modi came and sold his Gujarat success story. Modi, no doubt, is a mastermind when it campaign strategy, and has showed unusual panache when turning foes into friends.
This election has been historical as the country has shooed away all the big and corrupt players. Modi was a clear-cut winner in the backdrop of the chaos that the country was witnessing. I felt that Modi's campaign was well-planned, and having stayed in Gujarat, I know that he has a great success story to share.
And then I heard his first address to the media post his win, and realised how self-obsessed the man is.
Narendra Modi delivered his victory speech in Vadodara, and he thanked Vadodara for his win. But then he also said that he couldn't give a lot of time to Varanasi, "Aur unhone
toh Modi ke maun par hi mohar laga di." I declared in my head that my new PM was pompous, that the support of the nation had gone to his head. He is accused of dividing the country and has always been looked upon as a monster. But with his success in Gujarat, people have chosen to forget his past ills and have trusted him with the country, because everyone wants success.
The biggest challenge for Narendra Modi is to realise that although he is the biggest face in India when it comes to leadership, he is there to serve people. He may have turned things around in Gujarat, but he cannot forget that the Gujaratis' entrepreneurial skills are also at work. While the credit can be given to the CM, let's not forget that the people have made his vision come true. Now Modi has to widen his vision and think of all of India. He needs to move on to the bigger game now, and for that, he has to stop being a leader obsessed with his own name and talents.
Modi came on stage and delivered a speech that very much looked like a film set, with him playing the hero. He delivered dialogues with punchlines, but very few of his words said anything about India. For the first 10 minutes he couldnt get over Vadodara, while the whole nation was expecting their New PM (who could speak very well, or at least could speak) to address them all. Instead, they got a speech that thanked just one region for his stupendous success. The thousands of speeches he made while campaigning all over the country were set aside, and all one heard from the man were epithets about his own glory.
The new PM will have to grow up fast and recreate his Gujarat success on a much bigger platform. There is no place for complacency at all – people have voted out the Congress in the past too, but have gone back to them because they have realised that all other parties are even bigger jokes than the nation's oldest party. Narendra Modi now needs to focus more on everyone's development, not just his own. The time for dialoguebaazi has come to an end.
Instead of harping on the developed roads in Gujarat, the terrible roads of Mumbai need to find a place in his speeches. Instead of talking endlessly about Gujarat's development, he must come out with a plan to develop all of India. We are seriously tired of windbags, and for now, we have placed our collective faith in Modi. If he does anything to dent that faith, he should be prepared for what will come his way. After all, the country just wants a strong leadership that doesn't cheat.
Ab ki baar, kaam kar lo yaar!
Jatin Sharma is a media professional who doesn't want to grow up, because if he grows up, he will be like everybody else. 'Overdose' is his weekly take on people's quirks and quibbles.
(Pictures courtesy indiatoday.intoday.in)