Overdose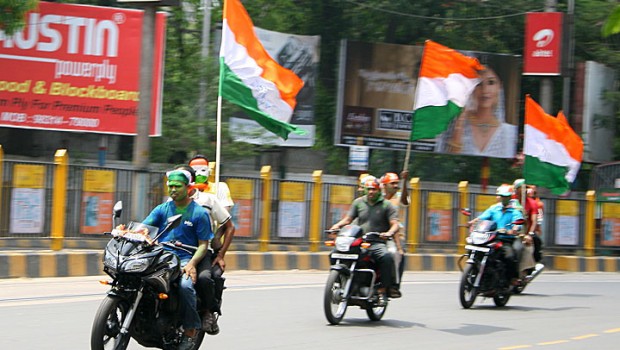 Published on December 10th, 2012
2
A Bihari in Bharat
We're all Indians, right? Then why do we always mentally compartmentalise people based on their community or where they come from?
by Jatin Sharma
"I hate this hatred that we have over Marathis and non-Marathis, and Mumbaikars and non-Mumbaikars," said a man sitting near the window in a local train.
"I hate all the politicians who infiltrate people's minds on the basis of such separatist ideology. They are supposed to be our leaders!", replied a man who was vada-paoed between two others in the train.
One man was listening to these comments with a lot of curiosity. He was 'new' to this old city of prosperity and wealth. He had heard a million gems of wisdom while his mother packed his bag with laddoos and people gave him a lot of advice about how he should behave in Mumbai. After all, he was a Bihari. He had been sufficiently warned about not getting into an argument with any person wearing a saffron scarf or a saffron tikka.
So the aforementioned conversation, which actually challenged what he had been told about, was like a sweet melody to his 'new' ears. And while he was still digesting this conversation, he suddenly realised that he was reaching closer to his destination. The train was screeching to a halt at the platform. Springing up from his seat, he bravely plunged himself in the crowd of unorganised, frustrated and tired Mumbaikars standing in his way, to try and reach the door.
Suddenly someone asked him, "Kahan jaana hai? (where do you want to go?)"
He replied, "Bhayander."
Someone else replied, mocking his Bihari accent, "Bhayander. Toh bhai tum andar hi rehna."
He pleaded, "Mujhe jaane do, utarna hai." His voice was peaceful, his tone still calm.
But the other popped a question, "Bihari ho?, Laloo ke desh se?"
He knew where this conversation was headed. And probably with the earlier conversation he'd heard still ringing in his ears, he very proudly replied, "Nahin, Bhartiya hoon, Gandhiji ke desh se."
If this had been a film, we would have whistled and cheered and clapped at this rather excellent reply. But the tragedy was that this wasn't a film, and after this dialogue, all we heard were punches and the man's screams. No one came forward to save a Bihari then, not even the people who hated the fact that the leaders were infesting our minds with the poison of regionalism. Everyone was silent, and even plain logic was muted on the spot.
And please don't even try to fool yourselves saying that you are not like that. You may not bash up Biharis or anybody else, but mentally, I am sure you bash some community or the other. We have developed this habit of asking people their names, and then following it up with, "Oh, Harsh Shah, so you are a Gujju," or "Oh, Bejan Batliwala. So you are a Parsi." We have been associating people with their faith for such a long time now, and somewhere along the way, we have all demeaned the whole idea of co-existence.
To add up to the woes of our nation, we remain silent when we see something going wrong. We discuss a lot of things, but we don't stop them from happening when they happen right in front of us. Some may excuse themselves as, "Jaane do. Mere baap ka kya jaata hai?" But a dialogue is not something that should happen between two minds, it should happen within societies and communities. If one feels that something is wrong, then he or she shouldn't keep quiet when it happens in front of them.
That's why the wrong voices are becoming stronger and the right voices are becoming weaker.
The wrong is multiplied and the right is just dying a quiet death. Leaders are nothing but the ones who voice their opinions with strong voices, where they believe in what they say. Become a leader and change the world.
Jatin Sharma is a media professional who doesn't want to grow up, because if he grows up, he will be like everyone else.
(Picture courtesy aglaia.co.in)