M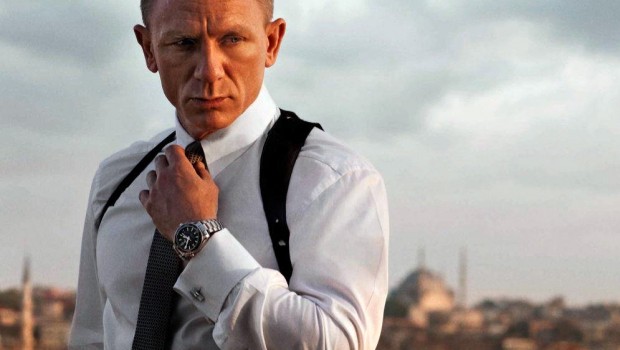 Published on October 26th, 2012
1
Will Bollywood ever get a Bond?
Or at least a super-successful series of spy movies? We're not asking for much, if you really think about it.
by M | M@themetrognome.in
With James Bond's 23rd instalment around the corner (releasing next week), I started to think – will Bollywood ever get its own series of good spy movies? We are the second largest film industry in the world, but we are still light years away from Hollywood in terms of owning a super-successful franchise that the world will watch.
I really don't get why we haven't been able to do it yet. We obviously have the talent – no, I am not counting Salman Khan or KJo – and we have reasonably good actors and directors. So why aren't we there yet?
The last attempt at making a spy thriller was Agent Vinod. It was nowhere close to the savoir-faire and panache that even the less-thrilling Bond movies carry. Saif Ali Khan as an undercover agent was the worst casting choice made in the history of cinema. I know many who liked the young baddie more in the film.
A series of spy films might be too much to ask for at this point, but a few good ones that bring us to the edge of our seats would suffice. So, what does it take to make a spy thriller? Let's break it down.
The James Bond series can be primarily credited to its creator, writer Ian Fleming. The compelling stories were adapted into gripping screenplays that captivated the audience. Fleming's style of writing and a set of characters so well-defined and well-embedded  in the audiences' minds, ensured that plotlines outside of the novels he wrote are still being explored – and Skyfall is a case in point. This simply means that James Bond is not about to holster the gun any time soon. Thank God for small mercies.
Lack of compelling stories keeps Bollywood from making good movies. Not. Recent whatever-you-call-it Student Of The Year proves this amply. We've already got great Indian spy stories that we have not tapped into – consider the magnificent detective series Feluda written by Satyajit Ray. The series of short novels and stories is a fascinating combination of Sherlock Holmes-style detection and Bond-like execution, and has all the ingredients for a Bollywood masala film – suspense, drama and action. There are a couple of films and telefilms based on detective Feluda, but these hardly translated into commercial success. These stories are denied of the distinction that they deserve and someone should re-visit them at the soonest.
Plus, the Bond films have the most admirable cast. All of the Bonds thus far –  Sean Connery, Pierce Brosnan, Roger Moore, Timothy Dalton and now Daniel Craig – have had one enduring quality each, and some were dreamier than others. M and Q, with Judi Dench playing the former and Desmond Llewelyn as the latter, have done a splendid job in each film. And what can be said about the Bond girls? With each film, they are just making temperatures soar higher. Even the bad guys are in a league of their own.
Okay, so Bollywood doesn't have too many options for a James Bond-inspired character, but I would still think Akshay Kumar is worthy of a chance. And we have stacks of bombshells to play his lady, or we can always import them.
Is it the money that keeps us from replicating a successful formula? I don't think so. Hindi film-makers are never shy of blatantly copying foreign films, even if it means bringing in the crew of The Matrix or The Terminator to reproduce the exact same scenes.  Ra One and Robot established that there is no scarcity of money in Bollywood. Bollywood films may seldom have a storyline, but exotic locations are exploited only for songs and dances and not on any pathbreaking scenes. Obviously, budget is not an issue for us.
I think the real problem is direction. I cannot remember the last Bollywood film that showcased the work of an outstanding director. The current crop of directors who film sequels largely comprises failed actors (Pooja Bhatt, who directed Jism 2) or directors who refuse to quit directing (Vikram Bhatt for everything he's ever made). We can only come up with a Farhan Akhtar who would take up the challenge of directing a spy thriller and do a decent job of it.
Dear Bollywood, man up and get cracking. Give us meaty spies, let our adrenaline flow, entertain us, and in the bargain, get acclaimed for making good cinema. Of course you'll make money, dummy!