M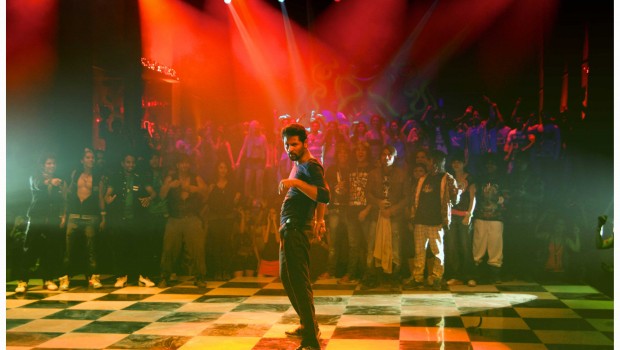 Published on January 23rd, 2013
0
Naach na jaane
Most Bollywood actors can't dance. Meanwhile, the girls are dancing their way into roles that require little else from them.
by M | M@themetrognome.in
Bollywood is synonymous with naach gaana. It is what defines Hindi cinema, and when done in foreign locales with local residents gaping in astonishment, it truly embarrasses us (the audience, not the filmmakers). In recent times, the gaana bit (read 'lyrics') has been reduced to a mockery, with popular numbers having words like 'Po, Po' (pronounced 'Paw, Paw') in them. Meanwhile, the naach hasn't been doing too well, either.
Choreographer Remo D'Souza's upcoming flim ABCD promises some good dance moves, at least in the trailers. Which makes me wonder: in a country of dancers, why has it taken so long for anyone to make a good dance film?
If Judson Laipply (of the The Evolution of Dance stand up act) were to do a piece on Bollywood dance, it would be called the Degradation of Bollywood Dance. And why not? In this particular sphere, comedians around the world have so much material to choose from. From Salman's inexplicable moves to Sanjay Dutt's (supposed) pelvic thrusts, there's enough and more to make one shut their eyes and never watch another Hindi film ever.
I was astounded at the dance steps assigned to a certain Ms Sharma in her last release, Matru Ki Bijlee Ka Mandola, which required a vigorous butt jiggle. I was even more astounded when the same steps were re-assigned to Pankaj Kapur. Anybody else in his place, veteran actor or not, would have been reduced to a caricature of himself with that dance, but to his credit, he can dance.
Which brings me to the many actors in the industry who hate to dance. I understand that they hate it, what I don't get is that they make no effort to learn dancing while being in a profession that requires them to move their feet. Some specimens that belong to this category are Ajay Devgn, Himesh Reshamiya and Saif Ali Khan and more. This bunch was highly active last year, and there will be a reprise in the near future.
The other interesting category of actors are the once who could dance, once upon a time, but now can't dance to save their lives. Some of them are now too beefy or too old to do anything more than a cursory hip shake. Salman Khan is the King of this club. It is painful to watch him dance these days. Equally painful to watch is Sanjubaba. He was no match for Madhuri in 'Tamma Tamma' (Thanedar), but he didn't have two left feet back then. Salman in Dabangg  with his ridiculous moves involving the belt is beyond rubbish. His attempts to keep up with the lissom Katrina Kaif in Ek Tha Tiger were actually funny.
Fortunately, the actresses these days can shake a leg. Well, they have to, or they wouldn't qualify for several roles if they didn't know how to move that waist and look pretty while doing so. But I won't lay blame only on the actors; choreographers need to work harder, too. Kareena Kapoor's latest item number 'Fevicol Se' in Dabangg 2 was a disaster. Farah Khan is one of the few dance directors who has consistently delivered. Among the men, Prabhudeva is reliable. We'll see him soon in ABCD. But can he save the last (good) dance for Bollywood?
Sharp as a tack and sitting on more hot scoops than she knows what to do with, M is a media professional with an eye on entertainment.
(Picture courtesy fillum.com)