Enough said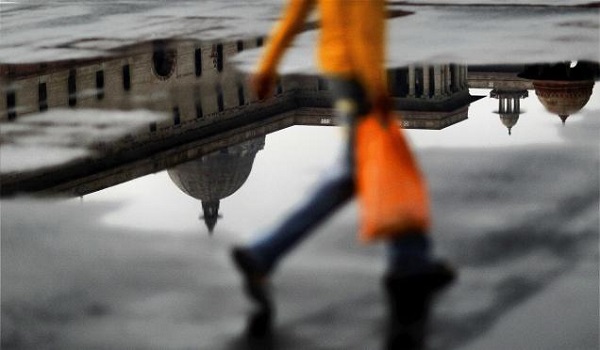 Published on July 27th, 2013
0
The capital bites the dust
Which development are we talking about, when the capital city cannot withstand an hour's rain without turning into a cesspool?
by Humra Quraishi
This Saturday was a nightmare, with rains not taking a break. I'd dared to step out in the rains without realising that I'd be caught in a disaster. If commuting from Gurgaon to New Delhi wasn't horrible enough, the scene in the capital city was shocking. Three South Delhi roads – connecting Hauz Khas with the Asiad Games Village and Green Park, also those leading to Malviya Nagar and Saket – were not visible in their long-winded glory; they resembled nullahs overflowing with garbage.
Autorickshaws were stuck in those waters, together with the danger of live wires. The only option was to stand on the roadside, with or without an umbrella and shoes, and await developments. Hundreds were stranded all over Delhi, which is not geared to combat even an hour's rain! The days will get longer (or seem to) as the rainy season continues. Even a mild shower is enough to cause horrifying traffic snarls here, in the capital city of India.
When I am stranded in the rain, I introspect on the complete mess Delhi is in, and what third class living conditions you can find here. This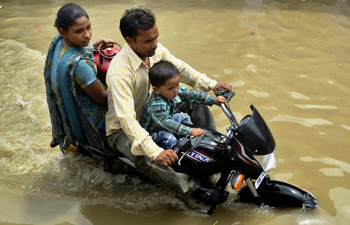 is a story that plays on loop, season after season. In the dark winter months, it's the fog that stands in the way, in the long summer, it's the heat that kills. But these are quirks of nature, not to be helped by man. What can be helped, however, is the heap of disasters we see every monsoon.
The dreaded dengue makes an entry every year, and kills several. Live wires abound on busy roads, becoming potential death traps. Then there are the nullahs that overflow constantly. No, let's not blame the rain gods and let's not host a fashionable climatic change conference. We've always had a monsoon season, but it wasn't treacherous like this, it was all fun and frolic and romance. After all, poets of this land have penned volumes of romantic verse on the rains.
Don't even think of going out for a meeting in this rain, for you are sure to reach the destination, that is if you reach at all, drenched to the bone, your make-up running in rivers all over your face, your clothes reduced to see-through rags, shoes or sandals almost gone, umbrella not holding out. You might even land up at your meet with chest pain or blood pressure, your blood sugar levels on the rise. No wonder there are so many nursing homes and private medical centres mushrooming all over the place! Our living conditions make their presence inevitable.
The State dare not talk of development in the run-up to the elections. What development does it speak of, when the average citizen cannot even commute when the weather changes? When every season drags along disasters, when your health infrastructure is third class and only the rich can afford private medical care? The rest of us have to queue up at those Government hospitals, which are as good as butcherkhanas.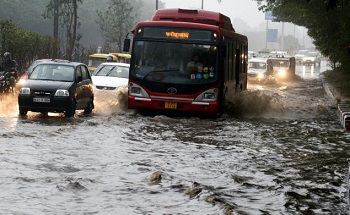 Can't we see the crux of these disasters? It's blatant corruption that is responsible. Even the naïve can understand that these roads full of pot holes are sinking and falling apart are made of bogus material. The only remedy is that our ministers and their babus should be made to take a walk on these roads. Every single day that it rains, they should be made to stand at crossings and lanes. They should be made to walk to their workplace. May be then they would see what their power and money prevents them from seeing – how those who elected them face life when the seasons change.
Humra Quraishi is a senior journalist based in Gurgaon. She is the author of Kashmir: The Untold Story and co-author of Simply Khushwant.
(Pictures courtesy www.thehindu.com, indiatoday.intoday.in)