Enough said
Published on October 8th, 2013
0
Revisiting Gandhi's present-day legacy
Would our politics be any different if Mahatma Gandhi's grandchildren had joined active politics? Or would things continue as before?
by Humra Quraishi
As I write this column a little after Gandhi jayanti this year, I have been recollecting several things about the Mahatma. The very crux of his philosophy was simplicity laced with truth. Nothing complicated or layered, just a subtle and direct way of communicating. Probably this is why we can so easily relate to the great man even today.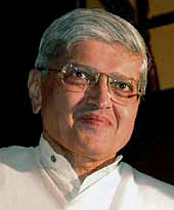 Every time I meet any of his four grandchildren, children of his son Devdas Gandhi, I get the sense the same sense of uncomplicated communication. Each time I've interviewed Ramchandra Gandhi, Rajmohan Gandhi, Gopalkrishna Gandhi (in pic on left) and Tara Gandhi Bhattacharjee, I've always got a sense of 'genuineness' in their words and views. Even when I visited Tara and Rajmohan's homes, I was struck by the simplicity. In fact, the late Ramchandra Gandhi had never even owned a home and lived all his life in a rented annexe in very tight financial conditions.
When I first visited Tara (in pic below) at her South Delhi home, I could see it was a very 'different' space. Huge hand-made dolls stood in the house, as did charkhas and khadi weaves. When I asked her about her grandfather, she'd said, "Bapu kept a very tight schedule so we couldn't interact for hours at a stretch, though I'd spent most of my childhood with him and Ba. He spoke on 'mulya'(values), taught us to value time, to focus on 'buniyadi usul'(fundamental values). I never saw him angry or cranky. But very often he'd looked sad. In fact, whenever he was upset he'd stop talking and fast or
keep a maun or roza and stop eating. When upset, he would sit at the charkha spinning for hours at a stretch."
Rajmohan described his relationship with Gandhiji thus: "As his grandchildren, we didn't have any special rights to his time. He belonged to the entire nation. At that time, I was a child so I couldn't understand it, but I later realised that the family had to pay a heavy price to achieve freedom. Looking back, I think even then I had some inkling of why we, his grandchildren, couldn't spend much time with him.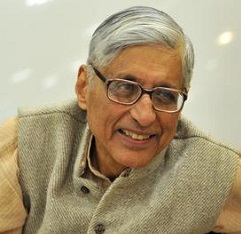 He recounted the values he inherited from his grandfather and father, "My father Devdas Gandhi brought us up on the same values – that money making was not to be the purpose of life, that service was to be part of life and that any service ought to be totally unconnected with personal advancement. He always stood for freedom of the Press and told us how important it was for the Press to be free."
There is much to share on the subject of Bapu and the many anecdotes of his life and times, but I have to share this one thought: I wish Gandhi's grandchildren had joined active politics. Who knows, the situation in the country could have been somewhat better with their presence? Rajmohan (in pic above), who had joined the Janata Dal briefly before leaving the party and politics after huge disillusionment, said, "Today, political parties have hardened their stance on questions of caste and religion. My inability to do that prevents me from finding a strong voice in any political party. As far as the Congress is concerned, the refusal of the party to fight out corruption keeps me away from it.
"The BJP is out of the question because of its ideology. I am too old to start a new party of movement. I would have done it years back but not now…today I find my skull too  fragile!"
Humra Quraishi is a senior journalist based in Gurgaon. She is the author of Kashmir: The Untold Story and co-author of Simply Khushwant.
(Pictures courtesy www.thehindu.com, www.zimbio.com, www.theguardian.com, www.hss.iitm.ac.in)