Enough said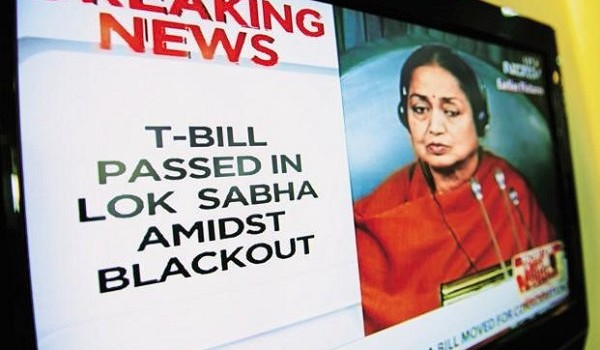 Published on February 22nd, 2014
0
Of blackouts and divided States
What could have been a crucial political debate was blacked out on Lok Sabha TV. We can only wonder why.
by Humra Quraishi
It was a crucial moment in the country's history – a debate preceding a process to carve out a new State in the country. The Lok Sabha TV, which has monopoly rights over the telecast of house proceedings, would have shown the country what transpired during those 90 minutes set aside for the exercise.
And what happened? There was a blackout!
At the end of it all, the expected result still stood – there was to be a partitioning of the erstwhile State of Andhra Pradesh. Yes, the Congress party managed to secure the Lok Sabha's nod for the creation of Telangana State, albeit amid an unprecedented TV blackout. Lok Sabha TV went mysteriously blank during the crucial 90-minute long debate.
Amidst the fury that citizens expressed over the blackout of the proceedings, also stood the rather apparent support of the BJP in the passage of the Andhra Pradesh Reorganisation Bill. Or did you not notice this? 
Any such division is like a divorce, causing innumerable fault lines to surface. And what stops others from demanding separate States – Vidarbha has been clamouring for a separate State from Maharashtra for a while now. Even before the actual divisions are announced and marked, we stand to divide people who earlier shared a common geography, as well as a history, as contentious as it may be!
There are too many loopholes in the system, which the top brass of leadership seems to take easy advantage of, but which common citizens like you and I can never hope to touch. It has never been tougher than the present time to fight the establishment, and tougher still is to fight it from outside the system.
You would have to be an Arvind Kejriwal to take to political recourse. I admire Kejriwal's idea of moving away from Anna Hazare and getting right into the thick of politics. This paved the way not just for his own success, but his ability to attack popular notions and emphasise his opinions. As an apolitical citizen, he couldn't have moved ahead – he would have been sidetracked for years to come, until at last he would run out of steam…
We're all still waiting to see what Kejriwal does next, now that he is no longer CM of Delhi.
Humra Quraishi is a senior political journalist based in Gurgaon. She is the author of Kashmir: The Untold Story and co-author of Simply Khushwant.
(Picture courtesy www.livemint.com)