Enough said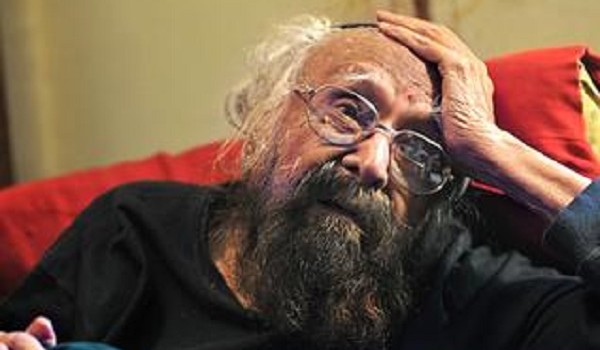 Published on February 8th, 2014
0
When LK Advani turned up for a birthday party
Writer, journalist Khushwant Singh recently turned 99, and all his friends, family and surprising acquaintances turned up to wish him.
by Humra Quraishi
Our grand old man of Indian literature, Khushwant Singh, turned 99 on February 2. It truly was a day to celebrate. Interestingly, the do lasted only one hour.
As several of Khushwant's friends reached his apartment at 7 pm sharp, they were more than surprised to see someone from the most unexpected quarters land up at the do as well – BJP's LK Advani turned up with his Black Cats. That somebody of his stature was arriving at the venue should have been obvious, actually – even before one turned towards Sujan Singh Park, there were ample signs of a VVIP presence. The place seemed overtaken by cops.
Though Advani's presence that evening caused quite a stir, the other guests in attendance were no less important. Others present that evening were several of Khushwant's close friends, including publisher Chiki Sarkar, Bubbles Charanjeet Singh, Bhaichand Patel, Dalip and Nandini Mehta, Kaamna Pradad, Harinder Singh, Narayani Ganesh and, oh yes, painter Vrindavan Solanki, who sat sketching Khushwant that evening.
Most of the guests seated themselves in the drawing room, and the guests also included such luminaries as the former Attorney General of India, jurist Soli Sorabjee. Khushwant's children – Mala and Rahul – and his granddaughter Naina were present all through the evening. In fact, Rahul had come down from Mumbai to be with his dad on his special day.
At 8 pm it was 'bottoms up' time – time for us to leave. We all wished Khushwant again and expressed the hope that he continued writing and reciting. It's remarkable that even at his age, Khushwant can recite all the couplets of Ghalib and Meer and Faiz. His favourite is Ghalib, and keeps several volumes at hand.
As I was leaving, I asked him what he was planning to do for the remainder of the evening. He quipped, "Like all evening, I will sit reading Ghalib. I have kept Ghalib volumes next to my bed and I'll read his verse for hours…"
Humra Quraishi is a senior political journalist based in Gurgaon. She is the author of Kashmir: The Untold Story and co-author of Simply Khushwant.