Enough said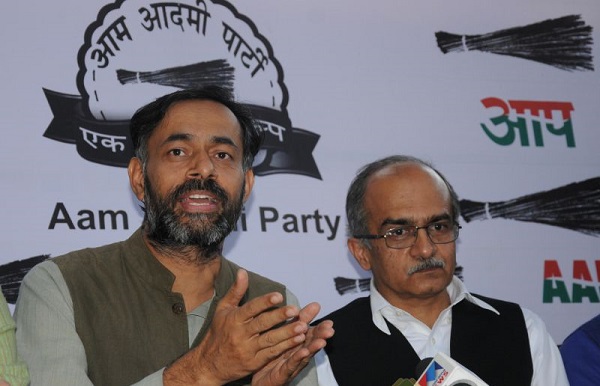 Published on December 15th, 2013
0
"If there is a re-election, we will get more votes"
Yogendra Yadav, strategist and one of AAP's key leaders, talks of getting more Muslim support if Delhi goes into reelection.
by Humra Quraishi
In 30 years of my journalism career, I have had the toughest chase on my hands only lately – I have been trying for the longest time to get an interview with the Aam Aadmi Party's (AAP) Arvind Kejriwal, and also Yogendra Yadav, but the party's functionaries have been working round the clock. Finally, I managed to get Yadav for an interview, and though the interview happened on the phone and well past midnight, he was his usual affable, forthright self.
I spoke to him after he and other members of the AAP had just finished their crucial meet ahead of Saturday morning's meeting with the Lt Governor of New Delhi. It now transpires that the AAP has sent the Congress party, which is willing to support it, an 18-point conditional letter prior to deciding on forming a Government with them.
Excerpts from the interview:
Late night TV news informed us that the Congress had decided to offer your party support to form the Government here in New Delhi. Will AAP form the Government?
Even we came to know of this news (of Congress's support to AAP) through the television! Anyway, you will soon come to know of our decision. As of now, all I can say is that we are not following those old political games, we are not into that type of politics. In fact, our strength lies in the fact that we are not following the usual rules of the game. AAP has already brought about a change.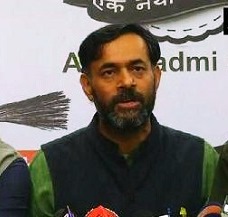 Comment on this latest spat between Anna Hazare and your AAP colleague, Gopal Rai. It's said to be one of those distracting strategies by your political rivals.
It could have been an avoidable distraction. Gopalbhai and our other colleagues had gone from here to lend support to Anna's fast, but after this incident, we advised them to return.
The general perception is that AAP is softer on the BJP than on the Congress…
Where does this perception come from? In fact, because of AAP's presence, it's the BJP which has suffered the most in the capital city. They are more angry with us because we have spoilt their game!
Will AAP take on Narendra Modi?
We will. We have been carrying out exposes vis-a-vis Narendra Modi, of his links with certain industrialists of Gujarat. Also, don't overlook the fact that in these Delhi elections, Modi was not a factor, but let the general elections come…we will bring out more exposes.
If there is a re-election in Delhi, will AAP have an advantage?
AAP will have an advantage on two fronts – lots of people who did not vote for us in these elections would now vote for us and we will get more Muslim votes. Also, we will be able to reduce the Congress to the position that it is reduced to in UP and Bihar and then we, the AAP, will take on the BJP.
Do you think the Muslims of Delhi voted for AAP in a major way?
Earlier, the Muslims of Delhi had no choice but to vote for the Congress but this time, the AAP made inroads. It takes time to make a dent or an inroad in a traditional stronghold, but a lot of the young and educated Muslims voted for the AAP.
(Pictures courtesy www.aninews.in, www.prokerala.com)