Enough said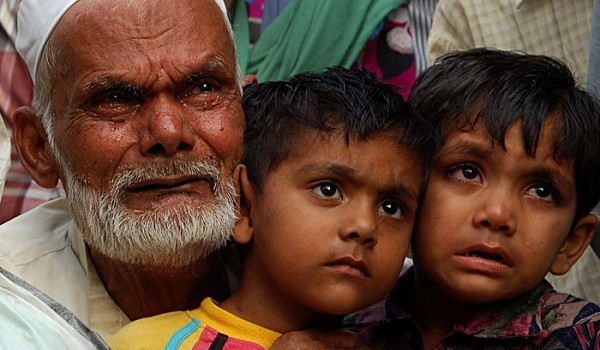 Published on January 11th, 2014
0
Back to Muzaffarnagar
How is a pogrom planned and executed? The riots of Muzaffarnagar and other subsequent developments are a recent, ongoing example.
by Humra Quraishi
Several people tell me I focus too much on Muzaffarnagar, but I'm in no apologetic mood. I'm trying to focus on and bring attention to what seems to be a genocide.
Yes, that's blunt. Equally blunt is my belief that today's politicians are using the age-old strategy of killing in a systematic way. First, riots are made to occur – no riot can start and spread without the knowledge of the police and the State machinery. Provocations are used to ignite an already charged atmosphere. The pogrom is allowed to go on, not stopped. And as research shows, the police play a partisan role.
If recruitment at the police constable level takes place on the basis of caste and community, then it should come as no shock to anyone that the police join the rioters when the riot goes against their own caste. The hapless victims are either killed or made to flee. 
At this stage, the land and political mafia grab the (forcibly) vacated lands and homes and fields. Meanwhile, nobody cares a damn if the affected riot victims die or live like third class citizens. If they dare to point fingers or accuse the wrongdoers, other strategies are used – encounter killings or terror charges are heaped on the victims' heads and they sit languishing in jails.
In Muzaffarnagar, though, Akhilesh and Mulayam Yadav have gone a step ahead. The riots went uncontrolled, were allowed to spread to the rural belt, and survivors were not allowed to survive. Even those tattered tents sheltering the victims were pulled off, killing most of them in these freezing temperatures.
The father-son duo is now playing a bigger game – first it was rioting, then  the hounding of the survivors, then an overnight removal of relief tents, then the bulldozing of the very
stretch where the survivors would sit and where the dead lay in fresh graves. Now, relief workers and activists and the media are being kept at a 'safe distance', by introducing a new 'terror angle'! And to complete this picture of apathy and sheer insensitivity, thick-skinned bureaucrats of the Uttar Pradesh sarkar quip, "Nobody dies of cold…people survive in Siberia"!
Can we ask these politicians and bureaucrats to step outside their heated offices, and head to these places in this biting cold, not wearing their sweaters and jackets and mufflers, amidst the fog and the mist and the intermittent drizzles? Will they do it? Can they?
It is with a sense of rage that I say: Shame these politicians! After terrorising a hapless population, they are pushing these people towards death – all out there in the open!
Humra Quraishi is a senior political journalist based in Gurgaon. She is the author of Kashmir: The Untold Story and co-author of Simply Khushwant.
(Pictures courtesy www.indianexpress.com)