Enough said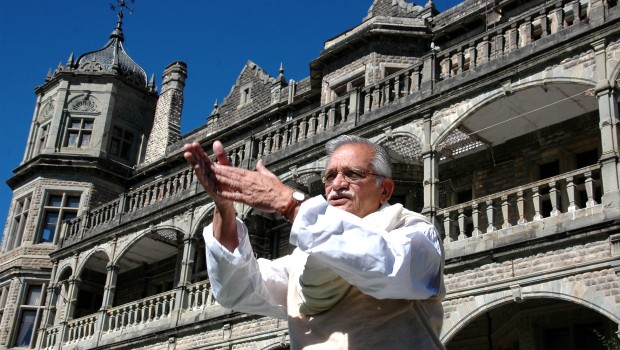 Published on November 3rd, 2012
0
A tryst with Gulzar
Gulzarsaab talks to Humra Quraishi about writing in Urdu, ageing and what gave him a complex when he was young.
I always bond with the emotional. Probably that explains why every time I have interviewed Gulzarsaab,  it's the emotional poet in him that has left an impact on me.
Once, during the course of an interview, I asked him about the Kashmir valley. I was taken aback to see tears roll down his cheeks, and he took some time to answer. Overcome by his emotion, he said  that  the Kashmir valley fascinated him and Raakhee (film actor, who he was married to for a while) so much that they'd chosen it  for their honeymoon. He'd said, "Kashmir is an integral  part of my emotions, it's a region  that is close to my heart. I was planning to make a film on Kashmir earlier. I'd  even named the film, it was to be titled Is Vaadi Mein and it was based on Krishna Chander's short story collection Kitaab Ka Kafan, but then the Kargil War broke out." He said that for now, he was only focussing on his writing.
"In fact, my colleague Salim Arif is keen to make a film on the Kashmir valley. If he decides to go ahead with it, I could do the script and story for that film," he told me then.
True to his word, Gulzarsaab is focusing only on writing these days. But ask him if he would be penning  his autobiography, and he says, "Kahaan gunjaish hai! You journalists have already written  every single detail of my  life. Nothing's hidden. Also, a few years ago, my daughter Bosky has written a book on me," he smiled.
And he is one of those rare Bollywood personalities who still concentrates only on Urdu, reading, writing, and conversing in Urdu. I asked him, "In the times we are living  in, is it tough to speak in Urdu? Did you ever suffer a complex on account of this?"
"No, never. I have always been very comfortable with Urdu," he replied. "In fact, the only thing I've suffered from a complex from was the fact that I couldn't complete my graduation. This bothered me for a long time, as in those days, a degree meant a lot. But I couldn't complete my graduation because of financial constraints. And perhaps to make up on that front, I took to reading and  writing." He added, "Writing has the capacity to absorb all upheavals, shocks, pains, and the  conditions you're going through. It is like driving along a road which could be rough or uneven or bumpy, yet you somehow manage to go along."
And I simply had to ask him this: "Gulzarsaab, you haven't aged in all these years. How is that?"
He simply smiled. "Of course I have…the hair is thinning. But if you insist on knowing the reason, then it is the joy brought into my life by my grandson, Samay. Every evening, I play with him, take  him to the park. Being with him is so rejuvenating, so very joyful…"
Humra Quraishi is a veteran journalist and author of Kashmir: The Untold Story and co-author of Absolute Khushwant. 
 (Picture courtesy Amit Kanwar, www.hillpost.in)