Trends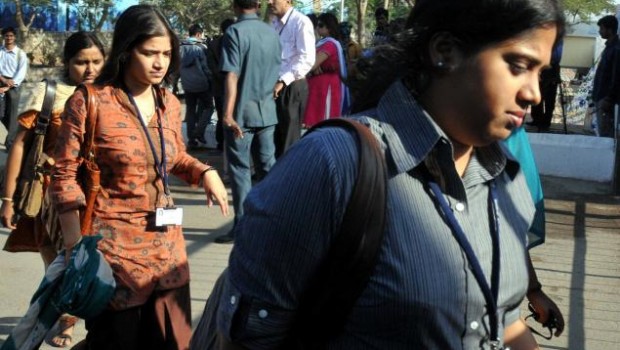 Published on February 11th, 2013
0
Women 'outsmarting' men at getting jobs: Survey
ASSOCHAM survey finds that more women are being shortlisted for interviews; women better at soft skills, more focussed, survey finds.
It's an increasingly slow economy and jobs are hard to come by across sectors, but if a recent survey by the Associated Chamber of Commerce (ASSOCHAM) is to be believed, women are doing better at men – at least in getting a callback for interviews and making it to the shortlists of companies.
"Women candidates are increasingly outsmarting men when it comes to shortlisting by HR managers for sending calls for interviews or written tests for jobs, and more and more Muslim women are making it to India Inc in areas like advertising, journalism, public relations, travel and tourism and private sector banking," the study points out.
Based on the feedback received from 110 Human Resource heads of leading companies all over India, the study found that the ratio for receiving interview or test calls is 1:1.20 in favour of women. This is fast resulting in women from business schools, journalism institutions, travel and tourism courses filling more vacancies than their male colleagues, at least in select but key sectors of the service sector, the study found.
The survey results were released last week. ASSOCHAM President Rajkumar Dhoot says, "The study also found that however much the HR managers in some of the companies may try to balance the number of female candidates with male candidates, they end up finding more women on the final roll-call for the job. The main reason for these trends is that women are becoming  more focussed and are navigating their career paths more professionally than they used to. Besides, they are found to be more suitable than boys when it comes to soft skills like spoken English."
The study found that in certain areas like television news anchoring, including the business channels, the males are finding themselves in a minority. "Besides being photogenic, the women reporters and anchors are found to be adept at taking questions, be it related to stock markets or car launches," a Pune-based HR manager said. Additionally, in fields such as corporate communications, advertising, human resource management and personnel management, women are increasingly being preferred by several companies.
"The point to be noted is that female candidates are not only competing well with their male counterparts for the lower hierarchy jobs like those of receptionists and house-keepers, but also for management trainees and senior positions. The trend is quite visible in banks like ICICI Bank, HDFC Bank, Yes Bank, Axis Bank and other private sector banks," the study finds.
However, the issue of security for women employees is being taken seriously, and top level corporate managements are asking their HR and logistics divisions to see that women are, as far as possible, not assigned late evening or night duty. Interestingly, feedback from HR personnel indicates that this may, in the long run, adversely impact the women's job prospects, as corporates may employ women staff for night duty only as a last choice. "However, industries like the media, particularly television, are coping with the situation rather well," the survey notes.
(Picture courtesy thehindu.com)