Trends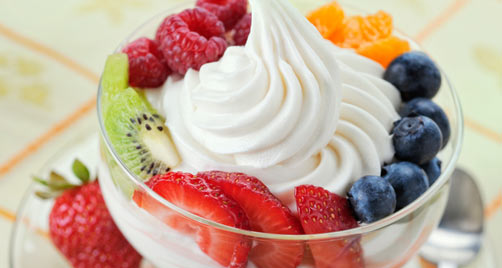 Published on April 17th, 2013
0
Summer cheer for yoghurt industry
Frozen yoghurt industry growing rapidly in metros and Tier II cities; is an alternative to ice cream and soft drinks.
by The Editors | editor@themetrognome.in
This is sweet news for the Indian frozen and flavoured yoghurt industry – as per a study conducted by premier commerce body Associated Chamber of Commerce (ASSOCHAM) and released yesterday, the frozen and flavoured yoghurt industry is tipped to grow by 40 to 45 per cent annually, and may touch Rs 1,200 crore by the end of year 2015, up from the current Rs 750 crore.
The study reveals that Indians are waking up to frozen yoghurt, especially its low-fat and no-fat variants, due to rising health consciousness, rising disposable incomes, quality dependence and more awareness about the product and its supposed benefits. Titled Yoghurt Market in India, the study says that the factors that have fuelled this industry's growth are the wide availability of raw material (milk), a growing willingness among consumers to experiment and increasing disposable incomes.
While releasing the paper DS Rawat, Secretary General ASSOCHAM said, "In India, yoghurt has positioned itself as a healthy dessert option, so the increasing health and wellness awareness will help it gain popularity with some momentum. The branded yoghurt market in India has huge potential with consumers increasingly demanding greater hygiene and quality. The flavoured yoghurt is rapidly becoming a part of regular grocery purchases for many affluent urban households in tier-II and tier-III cities."
Consuming yoghurt may compete with flavoured milk drinks and fruit/vegetable juice, whilst fruited spoonable yoghurt may emerge as a competition for ice cream as a dessert, the paper finds. Low/no fat and low/no sugar yoghurts are new trends in the market, added Rawat.
Mango, strawberry and pineapple variants, which are common to all brands, are finding takers. Frozen yogurt (plain and flavoured) has already started to replace ice cream to a certain extent. "Companies are also tying up with corporates to target office employees to increase consumption by making it a quick, convenient and healthy substitute for meals. The demand of frozen yoghurt market will see a growth of 70 to 80 per cent each year over the next three years," adds Rawat.
(Picture courtesy groupon.co.in)