Trends
Published on April 28th, 2015
0
Self-cleaning stones for buildings in Mumbai
Lapitec stone slabs imported from Italy are slowly beginning to make an appearance in exclusive building projects in the city.
by The Editors | editor@themetrognome.in
There's a new type of stone slab being used in a few premium construction projects in Mumbai, and the makers claim, it is a self-cleaning one! Apparently, Lapitec slabs are the largest in the world. They have a 'self-wash' feature, under which the stone cleans away germs and bacteria by itself. These slabs are normally used where very high standards of cleanliness are required.
We spoke to Akash Chavan, Executive Director for India Operations of Globus Procon Pvt. Ltd, the company which deals with importing the stone in India.
What is Lapitec stone ?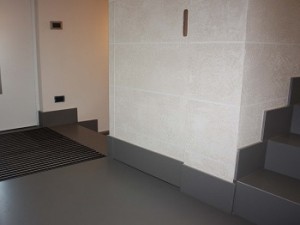 Lapitec is a natural inorganic ceramic material composed of 100 per cent natural materials, sintered at 1200 ° Celsius, produced in full body slabs using an exclusive technology developed by Breton S.p.a.
Where do you source it from ?
We import it from Italy. We are the sole importers of Lapitec in India.
Why did you decide to associate with this product ?
When we started out with this company, we always wanted to do something new and exciting. When we came across Lapitec during our extensive travels in Europe, we were convinced with the product and the various aspects associated with it that made it something to aspire for. As a result of the product's novelty and the value of its features, we were honored to be associated with them.
How can one use Lapitec stones in their homes, offices or other usage spaces ?
Lapitec is the ideal solution for interior and exterior cladding, kitchen and bathroom surfaces, exterior paving and furniture and engraving application. With some imagination, its uses are virtually limitless.
Is the stone costly ?
Considering it is an extremely exclusive product and very futuristic, it is priced premiumly starting from around Rs 1,000/sq ft.
How popular is it in Mumbai ?
The potential of the product can be gauged by the fact that we are already working on projects before even officially launching the product.
Do you foresee a huge demand for it in the near future ?
We foresee amazing growth for this product as even the mindset of the Indian buyers is changing. The awareness among the buyers is growing due to extensive travels globally. We plan to tap the growing demand for lifestyle products among the people. Lapitec shall redefine the exclusive luxury stone market within the coming few years.
(Pictures courtesy Globus Procon Pvt. Ltd)