Trends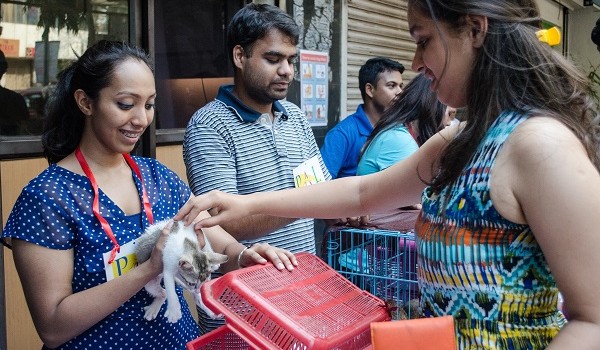 Published on April 29th, 2014
0
'Pet pooja' in the city
Animal adoption camps are picking up pace in Mumbai and surrounding cities and suburbs, as one in Thane recently proved.
by The Editors | editor@themetrognome.in
As each day passes in Mumbai, stories of animal cruelty and abandonment of pets are on the rise. While such tales pain most of us, only dedicated animal lovers decide to do something about it.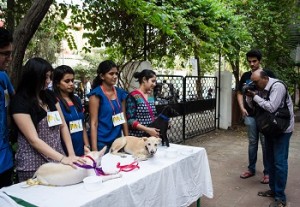 Hence,while some rush to the aid of an injured animal on the street and treat it for free or facilitate its adoption, others set up dedicated camps where those wishing to add a pet to their families can come and adopt a suitable dog or cat. Mumbai and Thane are increasingly seeing more and more such adoptions in the last few months.
A Thane-based NGO, PAL Thane, which has been working in the field of animal welfare since 2010, held a pet adoption camp – Pet Ok Please – in Thane on Sunday, April 27, where over 500 people showed up for a look at the animals on offer. "The adoptions were done free," explains PAL's Aditi Nair. "The focus of the event was to spread the word about adoptions, helping pet owners and making people awere in general about animals. Of the 20 animals which were up for adoption, 15 found homes."
Aditi added that the event is likely to be a monthly or quarterly feature in Thane, and it introduces the common public to concepts such as adoption and most importantly, free adoptions.
The animals in such camps are normally a mix of dogs, cats, kittens and puppies. Some of them are rescued from abuse or injury, while others are victims of abandonment and lack of care. "
Rise in the number of animal adoption programmes
Aditi says that this was the first ever adoption program in Thane, while Mumbai has a couple of NGOs who have regular programmes. "We request people to do a registration for the animal they are interested in and then we contact them in the next couple of days to reach the animals to them. We do not do over-the-counter adoptions as people tend to take the animals home on an impulse and many a times they end up coming back in a few hours or the following day. The registration method gives them more time to mull over the decision they took the previous day."
Says Gayatri Sarang Patkar, a city-based baker who uses social media to highlight cases of foster homes needed or impending adoption programmes, "I think there is a lot more awareness, and I think social media has gone a long way in ensuring that. NGOs like World For All and Yoda brought animal rights movements to Facebook in a big way. So someone, who earlier wouldn't even have known that adopting was an option, now suddenly sees all these shares on their feed. A lot of first-time adopters find out that way."
Why adopt?
Adds Sneha Shetty, who is studying to be a vet, "Since many people today live in nuclear families with stable incomes, they can afford to have a pet. Children, especially, insist on adding a pet to the family. Besides, the awareness about adopting an animal instead of buying a puppy has gone up, which is a great sign. There are several animals needing a home, and it is better to adopt an abandoned or injured animal that needs love and care, than to buy one."
But, Aditi cautions, it's not an easy decision to make and should be considered carefully. "Animals are taken home many a times just because they are cute or because the children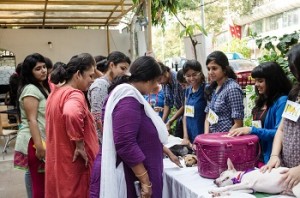 of the family want something to play with. The fact of the matter is that it is not just a furry looking cute living thing. They have to be fed the right things, watered, walked regularly, vaccinated, taken to the vet regularly, potty trained, trained to do the right things in the house in the right ways, etc. There comes a huge responsibility with an animal. And people should be very clear on this. Such programmes encourage people to interact with animals and understand the factors involved and then take an informed decision about taking an animal home."
A question of abuse
However, the numbers of animals either abandoned by their masters or left injured owing to abuse and cruelty have also seemingly gone up. Gayatri says, "I think cruelty and abandonment cases happened just as frequently earlier, too, it was just that few recognised it as that." Aditi adds, "The general apathy of people has increased these days. When people do not do anything and watch girls being raped on the streets in our country, you cannot really expect the general public to raise their voice when they see cruelty to animals. There are a lot of wrong practices as well in the field of animals which are encouraged without being aware about the consequences.
"For example, people readily pay Rs 20,000 and purchase a breed animal from a breeder. They do not check if this breeder is registered with the Animal Welfare Board of India or not. They do not check if the puppy is a result of inbreeding. They do not ask even to see the parents. They are not told by anyone about the responsibilities which go into adopting an animal. They take the puppy home and within a week, it dies maybe because it was sick from the very beginning or because the family had no guidance on what to do and what not to do. The vets many a times get commissions from these breeders if they recommend them, and this results in them recommending the same vet back to the customers for business. It is a vicious cycle and this can be broken only if more correct awareness is generated about all kinds of animals."
She also explains why animals are being increasingly abandoned. "If the family was not prepared from the very beginning to have a pet and not guided well, the chances of abandonment are very high. We need to break all these intersecting circles and make the non-animal loving as well as the animal-loving public aware. Many a times, being an animal lover is not enough. Anyone can be an animal lover, you need to know the right things to be able to actually help animals." 
(Pictures courtesy PAL)