Trends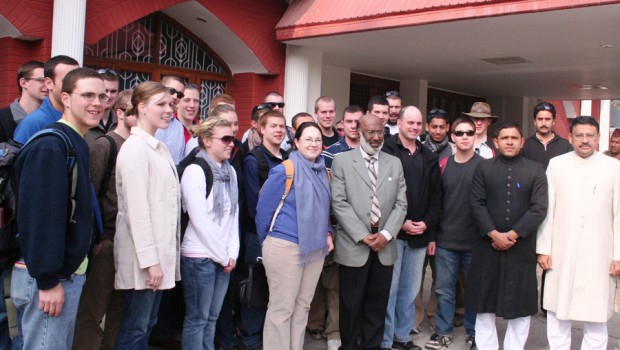 Published on November 16th, 2012
1
More Americans studying in India
12 per cent increase in numbers of Americans studying in India; however, India sent fewer students to US last year.
by The Diarist | thediarist@themetrognome.in
The numbers of foreign students coming to India and its metros to pursue education are only increasing every year. And while the US still remains the destination of choice for most Indians wishing to pursue a post-graduate degree, a new trend to emerge in recent times is the rise in numbers of American students coming to India for studies.
As per the Open Doors 2012 report for 2011-2012, published by the Institute of International Education, a not-for-profit educational and cultural exchange organisation in the US, 273,996 American students studied abroad for academic credit, an increase of one percent from previous years. The report says, "US students studying abroad increased in 17 of the top 25 destination countries. Five per cent more students studied in China and 12 per cent more students studied in India than in the prior year."
Open Doors further reports that while the United Kingdom was still the top destination for American students , as also Italy, Spain, France and China, an increasing number of Americans were opting to study in "several non-traditional destinations outside Europe, such as Brazil, Costa Rica, India, and South Korea." The increase in numbers of Americans coming to India in the 2011-2012 academic year has thus made India the 11th leading destination for away studies.
Further, in an effort to increase opportunities to study abroad in priority countries, the "State Department's Bureau of Educational and Cultural Affairs awarded 10 grants to expand capacity of American institutions to send US students abroad, and the capacity of host institutions overseas to receive them."
Says Adam J Grotsky, Executive Director, United States India Educational Foundation (USIEF), "US universities are making strategic efforts to engage in India, which include comprehensive initiatives on India at their home campuses. US universities and study-abroad consortiums have developed more programmes in India, and I believe more American students are attracted to India because of the efforts made at their home institutions to teach about the economic, strategic and cultural importance of this region of the world."
But Indians going to US have decreased
As per the report, there were increases in the numbers of students going to the US to study from 12 of the top 25 places of origin such as Brazil, China, France, Indonesia, Iran, Mexico, Russia, Saudi Arabia, Spain, the United Kingdom, Venezuela, and Vietnam. "At the same time, numbers declined from several major sending countries, including India (down by four per cent), South Korea, (down one per cent), and Japan (down six per cent). The factors driving these declines may include global and home country economic factors, growing higher education opportunities at home, and stronger employment opportunities at home after graduation."
(Picture used for representational purpose only. Picture courtesy www.nvonews.com)