Trends
Published on November 6th, 2013
0
Four Campa Cola residents go on hunger strike
Campa Cola building society is about a week from demolition; residents want CM Prithviraj Chavan to intervene in the matter.
by The Editors | editor@themetrognome.in
With just one week to go before the demolition of their homes, four Campa Cola residents today went on an indefinite hunger strike till Maharashtra Chief Minister Prithviraj Chavan intervenes to save them from being homeless.
The Campa Cola demolition issue is about to take centrestage once again as the demolition date nears. The apartments were constructed on land leased to Pure Drinks Ltd in 1955, which was permitted by the BMC in 1980 to develop it for residential purposes. Without getting the plans approved, Pure Drinks, along with builders Yusuf Patel, BK Gupta and PSB Construction Co. erected seven buildings, two of which were high-rise buildings of 17 and 20 stories. During the construction period, the authorities issued notices to the builders to stop work. The builders were fined and they paid the penalty and resumed work. After the construction was completed nobody prevented the buyers from occupying their apartments or the buildings from forming co-operative housing societies.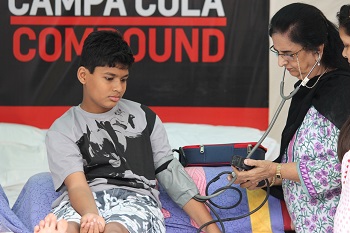 Unaware of these violations, the residents bought the apartments believing that they would get the occupation certificates in due course, as was the norm 25 years ago. Since 2005 the residents have been in litigation with B.M.C. trying to defend their homes and save their families from being thrown on the streets.
The four residents who are on hunger strike are Kamal Parikh, (42), Surendra Kumar Daga (49), Vinaychand Hirawat (67) and Kapoorchand Daga (67). The residents have also requested CM Chavan to intervene in the matter and come up with a solution to save the homes and lives of hundreds of residents.
Vinaychand Hirawat said, "So far the Chief Minister has been very cooperative with us and everyone here is expecting a positive response from him. We have taken this drastic step as we do not have much time and we don't know what lies in store for us. As days are passing by, our fear and heartbeats are rising. We are unable to sleep and neither we are able to concentrate on our daily routine work. This is our last attempt to save our homes."
Apart from these four residents who are on a hunger strike, other residents are planning a one day relay hunger strike.