Learn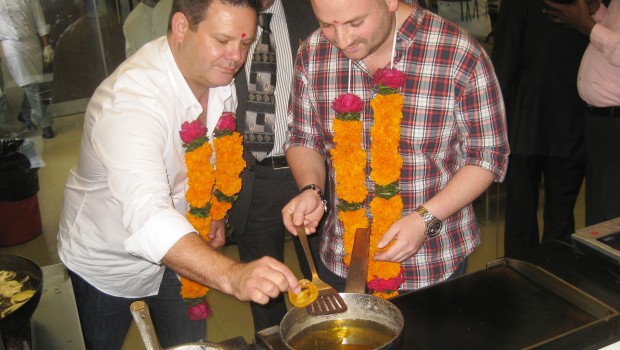 Published on October 23rd, 2012
1
When I met Gary and George
Our writer had a ringside view of Masterchef Australia's Gary Mehigan and George Calombaris doing the judging – in Mumbai!
by Pooja Palani
"Indian food has still not made that niche that it deserves in Australia as yet. Indians should come up with more variety in their cooking internationally. There are very few famous Indian restaurants in Australia," he said. Then he added, "I love the flavours in Indian food, I love the spices that dominate Indian recipes.  The only thing I miss in the Indian food we get in Australia is the ethnicity."
I was speaking to Gary Mehigan. And George Calombaris. Of Masterchef Australia. In person. In Mumbai.
I was at an event where Gary and George were judges for food cooked by the Kohinoor International Management Institute's School of Hospitality Management students, for the Oz fest conducted by the Australian consulate General Mumbai at Hotel Kohinoor Elite. The popular duo was more than friendly, and very encouraging of the food presented to them.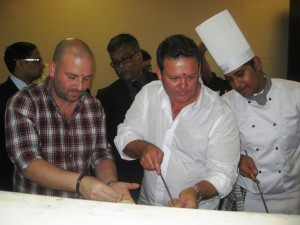 Admitting that they were "amazed" with the food put up for their judging, they spent a long while telling the students how to improve on certain aspects of their cooking. Given George's track record of breaking into a big sweat when eating anything spicy, I waited to see how he would react to the tandoori chicken. But surprisingly, he was very happy with it, and when I suggested that he was probably 'bazzled' (his favourite word, that he uses freely on Masterchef Australia), he broke into laughter. "You've been watching the show!" he exclaimed.
When asked about their judging style on Masterchef, Gary said, "We don't believe in de-motivating students by shouting and demoralising them, unlike other celebrity chefs like Gordon Ramsey." Ouch.
The two also tried their hand at making naan in the hotel's tandoor, apart from being very impressed with jalebis and rabri, which the students served for dessert. George even said he would include the dishes in his restaurant in Australia. I asked him about Matt Preston, the third portly component of their famous trio, and who is very familiar with Mumbai street food. "Yeah, I really miss him in today's food fest," he said.
A student asked about international audiences' expectations of Indian food and how it should be presented. Gary simply said, "Be aesthetic and traditional. The food should be served and eaten the way it is traditionally done at home. There is no need to add frills and fancy to the dish if it doesn't demand it," here he picked up a drumstick wrapped in foil, considerately served that way so nobody would get their hands dirty. "The recipe should do the talking," he said.
I wanted to know more about Indian influences on Australian food – which, curiously, is not an identifiable cuisine but a mix of several cultures – having been in Australia myself for a year. "India is an important trading partner for Australia, and there are many Indians living in Australia for several generations," Gary explained. "But Australia is a multicultural country, it has a bit of an Indian influence in the cooking style. For example, the barbeque is very widely used to cook in Australia, as well as in India, but here you just call it a tandoor." Both the men spoke at length about how Masterchef Australia had been a stepping stone for many of the Indian contestants who were in the show.
"It's great, how we get to taste various cuisines. But Indian food should get more publicised in Australia, like the other Asian cuisines like Thai, Chinese and Vietnamese food. We want Indian street food to go international. I am a big fan of south Indian food and I wish they start dosa bars in my country," said Gary. George, on the other hand, loves the buttery garlic naans and parathas.
George could barely contain his glee as he explained his tour itinerary. "We are very excited to try the street food of Mumbai and Delhi. I am waiting to have the chicken bhuna masala and the mutton seekh kebabs from Bademiya and Khan Baba's," he grinned. The media asked if they would be visiting again, to which both men said they would come whenever invited. "Follow us on Twitter, you can suggest great foodie joints for us!"George said. After Mumbai, the duo were set for a tour comprising Delhi and Bangalore as well.
Overall, I had the greatest time. And it was made all the more better when I smiled at George, and he winked at me!
(Pictures by Pooja Palani)