Learn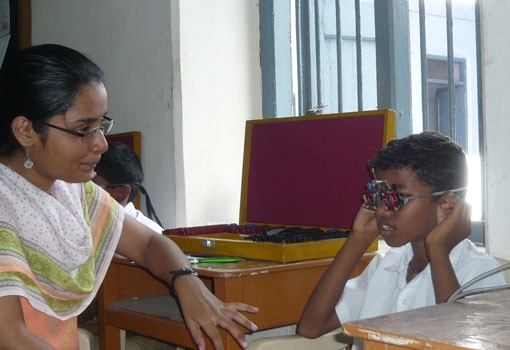 Published on February 8th, 2013
0
Undetected eye problems taking toll on city's children
A field study shows that 10% of Mumbai students have undetected refractive errors. Lack of awareness is a major problem.
As many as 20 per cent school going children in Mumbai and Thane suffer from refractive errors and amblyopia, as per a field study (titled 'Children's Refractive Error and Eye Ailment Management, CREAM) conducted by Aditya Jyot Foundation for Twinkling Little Eyes (AJFTLE).
"Over 25 per cent of the country's population is of school-going age (six to 14 years). Refractive errors and amblyopia (lazy eye disease) are the commonest and most serious eye diseases (153 million patients as estimated by WHO, 2006) in this age group. It affects nearly seven to 12 per cent children in the community. It is more common in urban areas and in our pilot study on 15,000 children in the schools of Thane and Mumbai, we found a prevalence rate of 20 per cent," says their study report.
Ironically, the Foundation adds, 10 per cent of these are either not recognised or not appropriately treated. "The early detection and treatment of these eye diseases can very effectively prevent the visual impairment. The diagnosis of both these conditions is simple and the results of the treatment are dramatic.
As many as 10 per cent of the children in the schools of Mumbai were found to have uncorrected refractive errors. This is because the children usually do not complain due to lack of recognition of their poor vision and lack of awareness amongst the parents or school teachers, and a lack of a regular vision screening strategy. This is why only a handful of cases are detected at an early stage where appropriate treatment is helpful. The affordability of the spectacles is also an issue for socio-economically deprived class of students."
The AJFTLE recently partnered with the Small Industries Development Bank of India (SIDBI) to undertake awareness building and eye screening camps for underprivileged children mainly in rural and urban slum areas for prevention of avoidable blindness, and wants many more partners to work with them on the project.
Sushil Muhnot, CMD of SIDBI, said, "As part of our CSR initiative, we are associating with Aditya Jyot Foundation for Twinkling Eyes, which is planning to work for slum children and parents in Mumbai and Maharashtra and create awareness about avoidable blindness. Today, India needs an affordable healthcare industry model. There are three growth models—primary, affordable and luxury – and in the eye care industry and finance from institutions can flow into the industry provided there is a business model with an appropriate revenue stream. The proposed Government plan to impose two per cent compulsory spending on CSR will make it easy for NGOs and Foundations to augment financial resources for social services."
(Picture courtesy omlog.org. Image used for representational purpose only)