Learn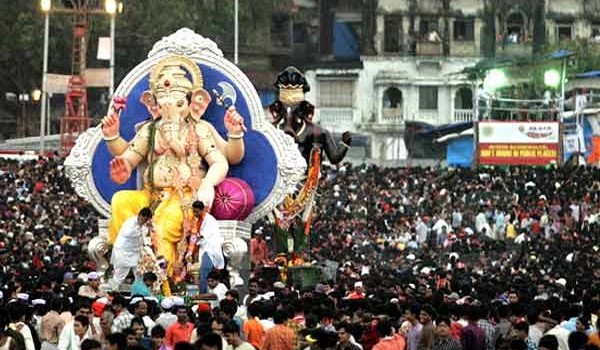 Published on July 8th, 2013
0
SMSes to remind Mumbaikars on eco-friendly Ganpati
BMC is, once again, stressing on eco-friendly Ganesh idols and less banners this year. Question is, are the citizens listening?
by The Editors | editor@themetrognome.in
Ganesh Chaturthi is still two months away; September 9, to be exact. But preparations for the Raja of Mumbai are already underway, with idols being prepared and readied for private residences and public pandals all over the city.
And like every year, the Brihanmumbai Municipal Corporation (BMC) is exhorting citizens to opt for eco-friendly idols, not Plaster of Paris (POP) ones.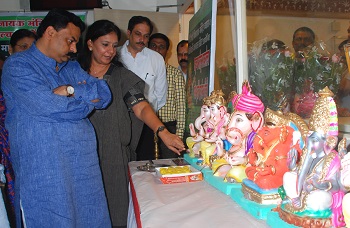 To this effect, says Mayor Sunil Prabhu (in pic on left, inspecting eco-friendly idols in Vile Parle), the BMC will also send out regular text messages to people in Mumbai to create awareness of the issue – recently, the Chief Minister and Deputy Chief Minister of Maharashtra, Prithviraj Chavan and Ajit Pawar, had taken the phone route to send personalised voice messages asking people to save water during Holi. Prabhu says, "Apart from sending text messages, we are hoping to create awareness about the many benefits of purchasing eco-friendly Ganesh idols.
Not only do these idols dissolve completely during visarjan, thus sparing us the horrifying spectacle of half-dissolved POP idols still left behind in the city's major water bodies, but these idols afford employment to several women's groups and marginalised sections in society. We are even charting out a plan to go door-to-door in the city to ask people to buy eco-friendly idols – they are just as beautiful without any of the environmental hazards associated with POP idols."
Interestingly, despite repeated requests every year, the city's major Ganpati pandals still boast of POP murtis.
The BMC is also going to insist on only two banners announcing each sarvajanik Ganpati in the area, and will take strict action against those who festoon the streets with lots of banners.
(Pictures courtesy festivals.iloveindia.com, BMC)