Learn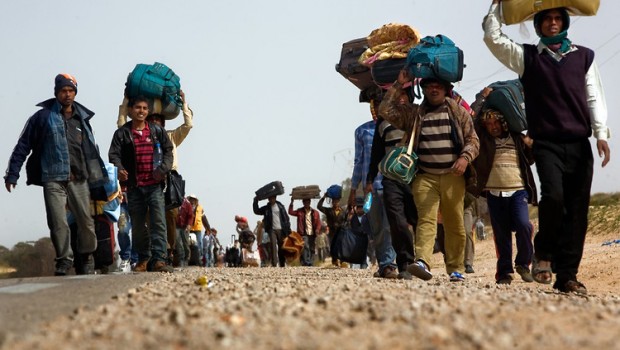 Published on November 15th, 2012
0
Illegal Bangladeshis working on infrastructure projects
1,121 illegal Bangladeshis arrested this year; Special I Branch has carried out drives at major Mumbai construction sites and malls.
by The Editors | editor@themetrognome.in
Where are the necessary security checks when they are needed the most? Though terror attacks keep striking the city with alarming regularity, and even as the Mumbai police and State Government admitting that the illegal entry of Bangladeshi migrants into India poses a major security hazard for the state and country, the police have rounded up Bangladeshi migrants illegally working in the city from – surprise! – two big-ticket infrastructure project sites in Mumbai.
In a special drive conducted by the I Branch of the Mumbai police last week on November 8, the cops raided the monorail project site undertaken by L&T, a site where beams for an MMRDA flyover were being made by the J Kumar company, and a 50-acre project being developed by L&T and Lodha Builders in Wadala. Of the 2,200 workers rounded up and questioned, 48 were found to be illegal Bangladeshi migrants.
The four contractors working on these sites and who had hired these migrants have been arrested. The incident raises concerns about valid security checks that major companies are supposed to undertake before hiring help on their projects – such as issuing ID cards after verifying the workers' credentials, checking their antecedents, etc. With such lapses occurring on major infra projects, it is little wonder then, that the city's housing societies are often guilty of not verifying security personnel's credentials before hiring them.
A question of security
The I Branch had, earlier this year, identified the problem of Bangladeshis entering the country illegally and taking up work on construction sites, factories and malls, and started conducting regular drives from June this year. In the period from June 2012 to November 8, the Branch picked up 734 illegal migrants from various spots in BKC, Ghatkopar, Kurla, Pant Nagar, Byculla, Parel, Dadar, Worli and Vikhroli. Till date, 1,121 such illegal migrants have been arrested in 2012, and 250 more have been deported to Bangladesh.
As per a press release issued by the Branch, "India's security is at stake with the entry of illegal Bangladeshis. These migrants have also been found to part of several fake currency rackets operating in the country, and in helping terror outfits." The release adds, "Bangladeshis enter the country via West Bengal, and the contractors over there send them for work purposes to Mumbai. They are paid very little wages, and since they are here illegally, they cannot complain about the low wages they are paid."
(Picture courtesy www.hollypickett-com.photoshelter.com. Image used for representational purpose only)