Learn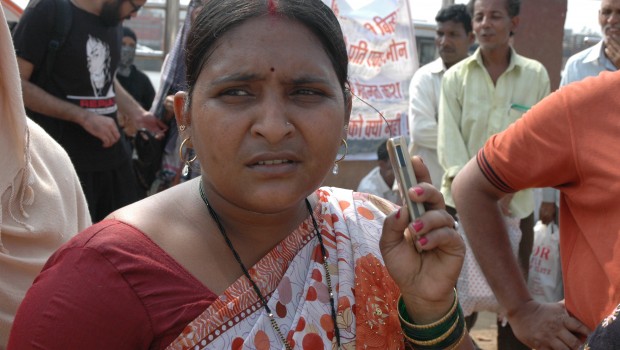 Published on January 3rd, 2013
0
'Don't snatch our shelter'
A woman whose home has been demolished often, tells a story of constant battle with the authorities and endless devastation.
by Nidhi Qazi
Mankhurd: The year was 2004. Susheela Patel, a resident of Sathe Nagar, Mankhurd, lost her house. "Our slums were called illegal and one day, without any prior notice, they were demolished," she said.
Ambedkar Ground: The year is 2013. The Ground was the starting point of a two-day road march which ended at Azad Maidan yesterday. The Ground bustled with the energetic sloganeering of more than a 100 protestors including slum dwellers, students and activists.
Susheela is high on energy too, as she continues to battle it out with the authorities who come, demolish homes, and go. The only difference is that this time, she is not alone. Susheela is part of a larger agitation called the 'Ghar Bachao Ghar Banao' Andolan (GBGB) under the aegis of the National Alliance of People's Movement (NAPM).
Dressed in a sari, hair neatly plaited, the 40-something Susheela greets me with a smile, holds out her hand in an excited handshake and tells me her story with all the enthusiasm and grit of a seasoned activist. "In the last one decade, our houses have been demolished more than thrice. They (the demolitions) continue to devastate us. This is despite the repeated requests to give us notice," she says. A part of the movement since 2004, Susheela has been there, seen that. "We are always under the fear of demolition. They (the authorities) don't even bother to listen to us. They throw away our belongings, too."
Susheela's problem points to a bigger issue which the city is currently engulfed in: the State-builder nexus. Activists openly allege that Mumbai is one of the hubs of corruption perpetrated under the garb of infrastructure development projects. "The big players of this nexus include MHADA (Maharashtra Housing & Area Development Authority), MMRDA (Mumbai Metropolitan Region Development Authority), Adarsh housing, Hiranandani group, developers in areas like Golibar, Sion-Koliwada. A number of irregularities happen in the name of slum eviction drives and slum rehabilitation projects," a housing activist says.
The Andolan has started a renewed agitation called 'Mumbai Ke Gareebon Ki Nayi Jung' which began on Tuesday, the first day of this year. Susheela is one of the members at the front. "We not only want freedom from the ever-lurking fear of our houses getting demolished any time, we want the Rajeev Awas Yojana to be implemented," she says. The scheme has already been approved from the Delhi government, but the Maharashtra government is still sitting on it, informs Susheela.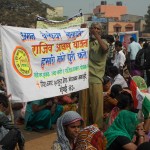 The Andolan has raised these issues along with other peoples' organisations in Mumbai, and demanded Rajeev Awas Yojana (RAY) as self-development towards right to shelter. However, it is the builders-politicians nexus, with bureaucrats and police force to support, that is preventing RAY from being implemented.
The area near Mankhurd is home to a large number of rag pickers who earn their livelihood from the Shivaji Nagar dumping ground. Because of the everyday fear of slum eviction, people like Susheela, many a days have to miss work (rag picking) and thus their livelihood suffers. "Most of the people here are daily wage earners but are not able to earn a decent living thanks to these authorities," she alleges. The livelihood problem apart, the children's education suffers, too. "We have to start from scratch; from collecting material for a new house, to building it. In all this, our children suffer."
She breaks away for a while to join small clusters of women to help them raise a voice. While everyone assembled there is equally angry and agitated, people like Susheela help them channelise their distress during protests like these. I watch as Susheela rushes to a group of volunteers, helping them with simple logistics such as microphone arrangement, banners and placards.
Moving away after helping others, she then barges into another cluster of people surrounding activist Medha Patkar. They both whisper to each other, and Susheela comes away.
She greets me again with the same enthusiasm and chats awhile before concluding, "We don't want big buildings. We don't want anything. But don't snatch our shelter. Just assure us a simple, decent life which is free of fear."
(Pictures courtesy Nidhi Qazi)