Learn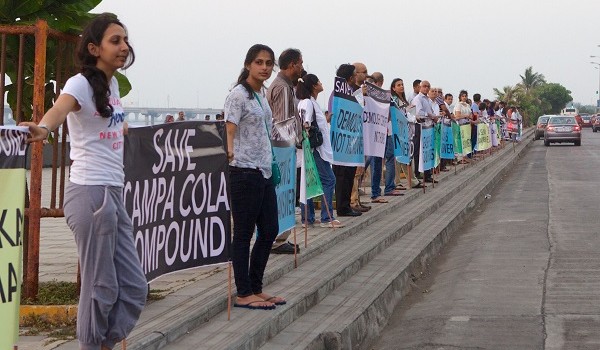 Published on October 30th, 2013
1
Campa Cola residents form human chain to protest
Faced with demolition of their homes, residents are thinking up new ways to get the Government's attention to their plight.
by The Editors | editor@themetrognome.in
In an attempt to save their homes from demolition and to protest the demolition orders, Campa Cola residents and their supporters yesterday came out in large numbers and formed a human chain at Worli Sea Face, starting from Flora Signal to Bandra-Worli Sea Link.
"We do not want our families to become homeless with no roof over their heads. We will continue to protest in whatever way possible to save our homes," said a Campa Cola resident.
Nandini Mehta, another resident said, Campa Cola said "Today the residents are faced with a situation that they have to demolish not only the homes that are beyond the permissible limit but 46 per cent of what has been asked to demolish is within the FSI limit, which as per the laws of the State, can be regularised with a penalty. The residents are therefore requesting the Chief Minister through this demonstration that he exercises his discretionary powers as the head of the legislative machinery and pass an ordinance to save the homes that are within the permissible FSI."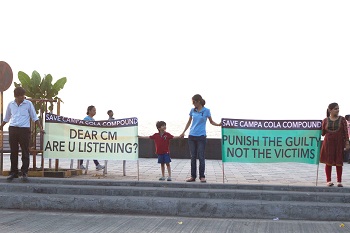 The residents of Campa Cola have found support from various political parties and people across religious faith supporting their cause.
What's happening at Campa Cola? 
The Campa Cola apartments were constructed on land leased to Pure Drinks Ltd in 1955, which was permitted by the BMC in 1980 to develop it for residential purposes. Without getting the plans approved, Pure Drinks along with builders Yusuf Patel, BK Gupta and PSB Construction Co. erected seven buildings, two of which were highrises of 17 and 20 stories. During the construction period, the authorities issued notices to the builders to stop the work. The builders were fined and they paid the penalty and resumed work. After the construction was completed, nobody prevented the buyers from occupying their apartments or the buildings from forming co-operative housing societies.
Claiming ignorance of these violations, the current residents bought apartments in the building believing that they would get the occupation certificates in due course, as was the norm 25 years ago. Since 2005, the residents have been in litigation with the BMC, trying to defend their homes and save their families from being thrown to the streets.
What do you think of the Campa Cola demolition issue? Tell us in the comments section below.