Learn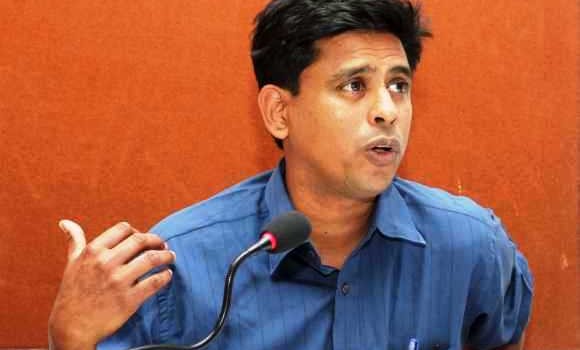 Published on February 25th, 2013
0
'Anti-terror laws should be scrapped': Arun Ferreira
Activist, alleged Naxal Arun Ferreira feels that special laws like POTA and charges like sedition should be done away with.
by Nidhi Qazi
He was jailed for four years on charges of being a Naxal operative, then released after no substantial evidence emerged to give credence to the charges against him. Arun Ferreira, who admitted to having Naxal literature in his possession, speaks freely about his prison experiences, and is forthcoming with his views on the Government's anti-terror laws and the way it treats its prisoners, among other thing.
"Arrests have become a trend, an unhealthy one for our democracy," Arun said as a guest speaker for the workshop 'State, Displacement and Naxalism: Is the Republic under siege?'  organised by St Xavier Institute of Social Research. Speaking on the topic, Arun gave his opinions and narrated his experiences to explain how the development paradigm of India is class-ridden. "Development has diverse interpretations in a society comprising classes with antagonistic class interests," he said.
He also spoke about the "lop-sided development" that has been taking place since independence. He said, "The State, ruled by the most powerful, economically-dominant class also becomes the politically-dominant class and thus acquires a new means of exploiting the oppressed classes. Thus, development serves its (powerful) class interests."
More importantly, he pointed out the response of the State in the case of people's struggle against development that harms the greater majority, through examples he gave on special laws to the state of our prisons, to human rights violation, to the response of the State.
"Special laws like POTA (Prevention of Terrorist Activities) and Unlawful Activities (Prevention) Act [UA(P)A] are unnecessary. They are meant to victimise people and activists and thus suppress voices," Arun said. Banning organisations, arresting people on charges such as sedition and using special laws show "the State's intolerance for dissent," he added.
Prison anecdotes
Arun was released from jail last year, after serving four years. During the talk, he had several experiences – both torture-related and otherwise – to share. Since he has always been an avid cartoonist, he drew a lot of cartoons while being incarcerated, which mirrored the reality around him in prison, while also maintaining a personal diary.
He spoke of punishments inside prison and how prison authorities behaved with inmates. "They used to beat us on the soles of our feet. That is deliberate done, as beating the soles doesn't leave behind marks. Thus we don't have any evidence to put in front of the Court," he said.
He mentioned a few ways in which he was tortured, such as when ice would be put in his underwear, or when he would be given solitary confinement in the anda barrack for a year. "Maharashtra is the only State in the country where undertrials are forced to wear uniforms. In other places, these are meant for the convicted only," he informed.
He also said that he was kept in company with death-row convicts, as the State saw him as a "security threat". He said, "One of the pretexts on which I was arrested was the literature on Naxalism in my possession."
Speaking on what goes on inside prisons, he said, "They are overcrowded, they violate human rights and of late, they are seeing an increase in the number of political prisoners." He referred to the most recent National Crime Records Bureau (NCRB) report, alleging that it underreported the number of prison deaths. "In reality, inmates are injected on the way to hospital and then they are declared dead-on-arrival (DOA), thus signaling death outside the prison, and thus projecting no prison death," he said. He also added that high walls of the prison were a strategic move to prevent the noise of jailers' beatings from going out of the prison.
On Naxalism
On the issue of Naxalism being a security threat, Arun said, "I do not think Naxalism is a threat to the Indian people. In fact, Naxals have stood up to resist mega-projects and potential displacement of tribals. However, it is definitely a challenge to the pro-corporate development accompanied with MoUs for mineral extraction and SEZs. It is the question for the State to decide on whose side they choose to stand. If it is with the corporates, as it seems to be, then they would be viewed as a threat."
He was also of the view that "laws cannot be seen as the only solution to combat an insurgency. There has to be a drastic change in the development model currently pursued by the State. Only such socio-economic and political solutions can bring about a lasting change to eliminate the need for the people to take up to insurgency." Further, "as a first step, I feel that the present special anti-terror laws such as UA(P)A or AFSPA (Armed Forces Special Protection Act) should be immediately scrapped," he said.
(Feature image courtesy rediff.com)