Learn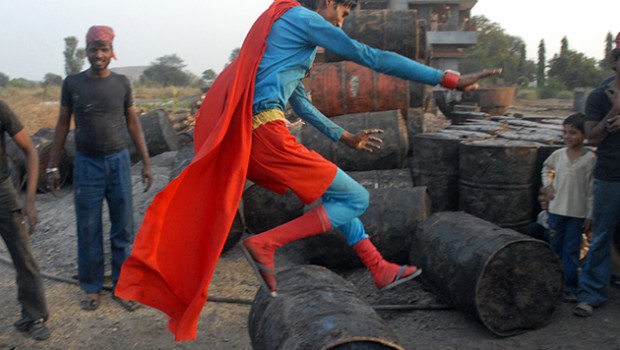 Published on October 30th, 2012
0
A Superman even in death
Shafique Shaikh, the 'Superman' in 'Malegaon ka Superman', is the new poster boy for the Voice of Tobacco Victims campaign.
by The Diarist | thediarist@themetrognome.in
Some people inspire even in death. Shafique Shaikh (28), the actor who got rave reviews for his entertaining portrayal of Superman in the film Malegaon Ka Superman, died an untimely death last year after a battle with mouth cancer. However, he is now the poster boy for the ongoing Voice of Tobacco Victims, a country-wide campaign by doctors and victims of oral cancer caused by chewing tobacco.
The campaign yesterday released its new public awareness poster, featuring Shafique in his best-remembered Superman avatar. The poster attacks the gutka lobby, which it says is upset with the ban on sale of gutka in 14 states in India, of which Maharashtra was the first to implement the ban. The poster (see pic) displays Shafique and identifies him as a victim of gutka addiction, and states that 6.5 crore Indians like the late actor are slowly becoming cancer patients.
Speaking to The Metrognome, Dr Prakash Gupta, of the Mumbai-based Healis Sekhsaria Institute for Public Health (which launched the campaign) and who is affiliated with Action Council Against Tobacco India, said, "In the film, Shafique was shown fighting tobacco, but in real life, he lost the battle to cancer. His story inspired us to take the campaign forward and let more people know that an individual like him was also lost to the evil of gutka. Gutka manufacturers are asking if it is fair to ban gutka in 14 states when other substances causing addiction are still being sold. We ask: is it fair that crores of Indians are losing their lives due to cancer caused by gutka?"
The campaign was initiated in May 2008, and is the brainchild of Dr Pankaj Chaturvedi, who is an associate professor at Tata Memorial Hospital, Mumbai. The campaign is driven by victims of tobacco themselves, who the campaign projects as the face of its initiatives. "Our most notable success has been in getting gutka sale banned in 14 Indian states. We made representations to all major Parliamentarians, Chief Ministers of several states, such important politicians as Sushma Swaraj, and several Cabinet Ministers. However, we plan to use this latest poster to strengthen the Tobacco Control Policy in India," Dr Gupta explained.
Know more about The Voices of Tobacco Victims campaign here. As of now, over 30 renowned cancer surgeons, doctors, about 30 institutions and tobacco victims from all across the country are an active part of the campaign. 
(Featured image courtesy newsbeats.in. Poster courtesy Healis Sekhsaria Institute of Public Health, Mumbai)