Become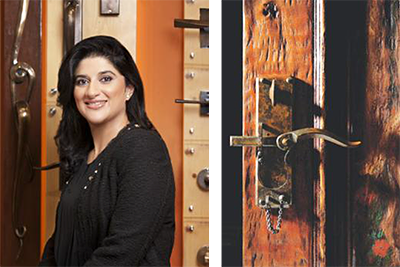 Published on November 28th, 2012
0
She crafts beautiful door handles…
…and hardware that make a home's interiors go from great to wow! Anagha Dandekar's work is literally crafted by hand.
by The Editors | editor@themetrognome.in
Anagha Dandekar (46) is beautiful, successful, and scion of one of the country's premier business families – her grandfather, DP Dandekar, founded the Camlin Group of companies, and father Subhash made the brand a household name. Despite being an heir to a powerful business that has impacted generations of Indians, Anagha chose to chart her own route; she runs and manages Hardware Rennaissance, a firm that makes hand crafted hardware for homes.
She started her business at Santa Fe, US, where she resides, but the former Mumbai girl recently started retailing in the city of her birth and in Delhi, too. Anagha spoke to The Metrognome about the business that changed her life, how her early grounding with Camlin helped, and what it takes to be in a position of power in business.
What are your earliest memories of your father when he was with Camlin? 
From when I was a few years old, I remember going with my father to our offices and factory in Andheri. My brother and I loved going there, we would always be excited. My father would show us new machines and how products were being made. I especially loved watching wax crayons being made – the way molten wax was poured into the mould machines, and how the crayon sticks would start coming up like magic.
How far has the presence of Camlin been instrumental in honing your creative instincts? Also, how important has the home atmosphere been? 
Camlin and the home atmosphere have been pivotal in making me the person I am today, in awakening and honing my creative and business instincts. Growing up, my parents would take us to art galleries to see the best of Indian artists and we would often meet and talk to them. My mother is a very creative person and I was just five years old when she got me started on Bharatanatyam. My father encouraged me all the way through my arangetram and till I came to the US.
My guru, the great Sucheta Bhide Chapekar, instilled in me a love and appreciation of dance, movement, form, and expression. I also learned Indian classicial singing for some years, and I was active in school plays. I guess you could say that I was immersed in all forms of the arts while growing up!  But even through all that, I always knew that my career would be in business, and ideally combining it with art.
How did the idea for 'Hardware Renaissance' come to you? 
I happened to meet a creative, energetic person named David Coe, who used to make beautiful doors. Together, we explored the
idea of making a line of exceptional hand-crafted hardware as good as his doors, and Hardware Renaissance was born. I learned all the technical aspects of hardware from him. Unfortunately, he passed away from cancer several years ago.
What was your parents' reaction when you started your own line of work and did not return from your studies in the US to join the family business? 
My parents were certainly disappointed, because that meant I would not be back home, and not be a part of Camlin. But I was always brought up to think independently and be my own person, so I guess that was the downside!  However, as they got to learn more about my plans, and as they saw the unfolding vision and strategy for Hardware Renaissance, they were very supportive and have given me their guidance and support throughout.
What was the initial period of setting up your business in Santa Fe and later, promoting it, like? 
Since our hardware line is so unique, and since it involved working with blacksmiths in India and the USA, it took about two years to develop the initial, small hand-forged iron range. We launched it through four dealer showrooms in Santa Fe and in neighboring Colorado. It was a very exciting time, full of creative energy and business planning. We had to really educate customers about the way the hardware was made, why it was unique and special, because it was totally new to the market.  Architects and interior designers were not familiar with hand-crafted hardware. They had never seen such unique finishes either!
How has the US largely responded to the 'handmade' concept that is such a big feature of your work? 
High end customers in the US appreciate hand craftsmanship tremendously. Labour being so expensive there, most items are machine-made. So the response to our hardware has been very enthusiastic. I have had architects and designers as well as high end homeowners tell me many times that they still cannot find hardware with such a high degree of hand craftsmanship anywhere in the world. It is a source of great pride to them to be able to have something made entirely by an artisan adorn their doors. And the fact that it works so precisely too is invaluable.
What were some of the challenges you faced in sourcing material and labour in the US?
We manufacture and distribute our hardware through 80 showrooms in the US, Canada, Mexico, and Bermuda. They are our dealers who display and sell the hardware. The main challenges were in getting the products developed to our satisfaction. Then we needed to hire and train patina artists in the US to develop and perfect our unique hand applied finishes for production. Creating something entirely new, involving a high degree of hand craftsmanship, and across two continents, was a challenge for sure!
Why did you feel the need to retail in India? What is the market like, for products such as yours? 
At this time there are no plans to open our own stores here, because we want to evaluate the best way to sell the hardware. Each market is different in the dynamics of customer tastes, of selling and distribution, and we are working closely with several top Indian architects and designers to ensure that we give the high end Indian market what it wants, and the way it wants it. The Indian market is maturing in the high end, with customers more aware than ever of world class luxury goods. I feel that our hardware offers a compelling choice since there is nothing like it in India. The concept of high end, exclusively manufactured hardware with unique finishes and precision working is exciting and new in India, and with our association with Camlin, the Indian customer has a high trust factor also.
Is Camlin in any way associated with the daily working of Hardware Renaissance?  
In the USA, where Hardware Renaissance is head quartered, there is no linking of working with Camlin. In India however, there is close daily working with Camlin Fine Sciences Ltd., my brother's company. Manufacturing, as well as marketing and distribution activities for India, are all operated through this Camlin offshoot. That gives us a tremendous position of strength with deep resources and the implicit faith of the Indian customer in the Camlin name and legacy. My father, though retired as Chairman of Camlin, is my advisor and supporter, and my brother is also behind Hardware Renaissance all the way. I am extremely grateful for this family support that I have.
What keeps you motivated and challenged? 
My goal of creating a high end brand that truly stands for hand crafted quality world-wide is what keeps me motivated and challenged. Creating beautiful hardware is energising – it is something that customers touch and use in their homes all day long, it is the jewellery of their home. Yet for hardware to be exceptional, it not only has to look beautiful but it must also work with precision. The marriage of art and engineering is a constant challenge, but very satisfying when the result is a good one!
Where do you see yourself five years from now? 
I see myself working hard to take the brand to greater heights in design and in market reach. My vision is to add line extensions, and to see the brand launched in many countries around the world.