Become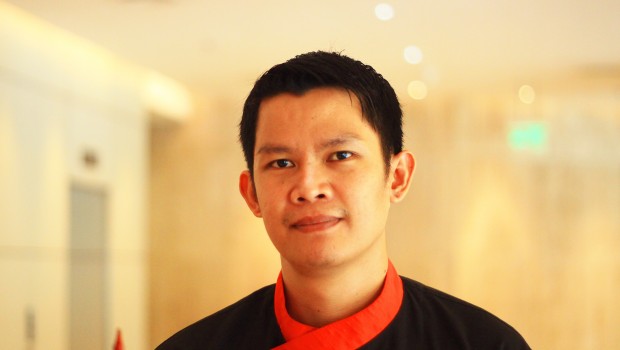 Published on October 16th, 2012
3
'Masterchef Australia is great for housewives'
…because it teaches the basics, says chef Phongthorn Hinracha, who's recently started working at the Red Zen, Courtyard by Marriott.
by The Editors | editor@themetrognome.in
He admits to a torrid love affair with food, adding that people are becoming careful about the nutritive value of what they're putting into their mouths. The executive sous chef at pan Asian restaurant Red Zen has had an illustrious career backing his foray on Indian shores – he has worked with Parisa Resorts in Phuket, Thailand as the executive sous chef, and in some of the finest hotels such as Meritus Pelangi Beach Resort (Malaysia), Koyao Island Resort and Spa Phang-Nga (Thailand) and IOI Palm Garden Hotel (Kuala Lampur). He began his career with the Kohchand Grand Lagoona Resort in Thailand as a sous chef.
In his own words, the famous chef talks about his food journey, retaining the taste of India and what aspiring chefs must do if they have a food dream.
What is your earliest fond memory of food?
My mom's steamed fish. I remember [the first time] when mom had cooked it, when I was back from fishing. It is eaten with ginger and soya sauce. The dish has a very natural taste of fresh fish. The sauce used is locally made, not factory made. Even now when I go to back to Thailand, I ask my mom to make it for me.
What was the first dish you ever cooked? Whose recipe was it?
Thai omelette is the first dish I ever cooked. It contains fish sauce, meat and pepper. It goes well with rice. Singles in Thailand generally cook such food. [When I cook it now] I like to improvise by adding some curry paste and basil.
Please describe the moment when you decided that food was your calling, and that you wanted to make a career in food.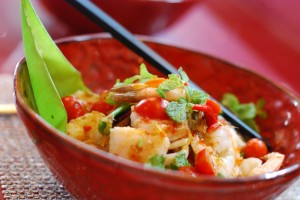 My family is very involved in every aspect of food. Many of my family members are chefs. There are some perceptions about adult life that are created during childhood, for instance, when a person grows up he has to work, or has to get married, or simply that a person has to become tall! Because of my family's involvement in food, I had the perception that when I grow up, I have to become a chef. Hence I started working and helping my dad in his restaurant business since the age of 10. My passion started increasing every day, seeing people getting happy eating food. My creativity started developing. At the age of 16 or 17, I asked myself, 'Is this what I want?', and do you know what the answer was? The answer was, 'This is not a want, but an involuntary need just like eating food, or the heart beating or breathing'.
Tell us what your favourite cuisine is.
Chinese is my favourite cuisine. It's again because of my family. I've been eating Chinese food since childhood. I like it may be since I'm habituated [to it]. It has a real taste of fresh ingredients. The taste is very clear, with no complexity.
What was your first job like? For how long did you work there?
If you're asking [about] my first paid job, then it was at the age of 17 at the Marina Hotel. I was a kitchen apprentice. My father's friend was an executive chef there. I worked there for six months. But I've been working and helping my father in his restaurant business since the age of 10.
What differences do you see in the food industry from the time you started out, and now?
When I started off, people loved to eat food that was great in taste. But now, people care about healthy food. They worry about the intake of calories, carbs, proteins, vitamins etc.
Have you ever worked in India before? What has your experience been like till now?
No, this is my first ever visit to India. It's been a great experience with [a] new culture. I used to never eat Indian food earlier. Now, I've started eating Indian food, especially butter chicken and chicken tikka masala with garlic naan.
Coming to work in India, with its defined palate of spices and flavours, have you had to do things differently since you came here?
I have preserved the authenticity of the food, except when my guests request me to adjust the food to their tastes.
What qualities should a sous chef possess?
The ability to judge the quality of food, extremely high levels of hygiene and proper planning are the three keys to being a good sous chef. (In his current role, amongst other things, chef Hinracha is involved in preparing menus and designing daily specials as required. He is responsible for the quality of the food, hygiene matters and monitoring the kitchen.)
Please describe how a person can set up his/her own restaurant. What are the skills, technology, knowledge, funding required? How did you plan the setting up and opening of your own restaurant?
Not anyone can open and run a successful restaurant. Budget planning, location setting, equipment selection, manpower hiring, marketing, know-hows of current trends of that area are all necessary, and if he possesses cooking skills,  it's an added advantage. Service skills are also very important. I planned my restaurant in the same way. During the operating hours, I don't be in the kitchen, but instead I be in the guest area. I get regular customers by chatting with them.
What is your opinion of the various cooking shows on television these days? Even non-cooks are interested in shows like Masterchef Australia.
These shows are very helpful for housewives. They show a good amount of the basic skills required for cooking. It's a stage for inspiration.
How can one build on a new trend in the food industry? Also, how can one start their own trend in the food world?
People should keep a tab on food science. News [about and] from food science helps a lot. Earlier not many people drank green tea, but now a lot of them do drink it. Also, once you become  a celeb chef, then it's easier to start your own trend as celebs will start talking about your food.
Do you wish you had done a few things differently in the beginning of your career? What would you do differently?
Due to my passion for food, I started working at a very early age. I had a romantic relationship with food. I wished I had completed my degree. May be it could have helped me.
What is your advice to aspiring chefs in India?
Taste a lot. Read a lot and make sure the food trends around you, you jot!
Chef Hinracha owns Maha Sarakham, a restaurant 300 kilometres from Bangkok. He has won many carving competitions in Phuket. His culinary flair earned him the sixth place in the Best Asian Chef category at the Hospitality Asian Platinum Awards 2010-2011 held in Malaysia. He has also participated in the series, 'Thai Ultimate Chef Challenge 2011-2012' held in Bangkok. When he's not cooking, he enjoys fishing, food photography and food carving.