Bombay, bas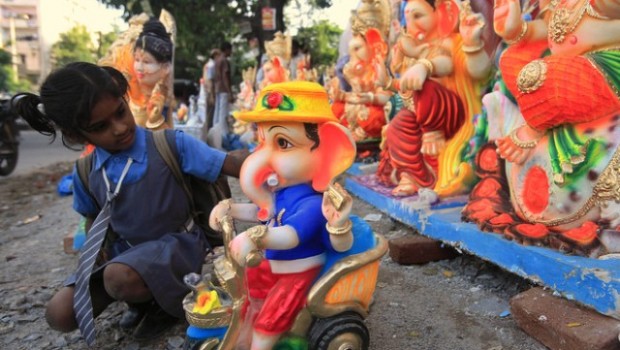 Published on August 29th, 2014
0
What does Ganesh Chaturthi do for us city slickers?
It is a festival that brings the community together. And we sorely need community spirit in our busy city lives.
by Dr Pooja Birwatkar
The festival season has begun and Mumbai is in the grip of preparations for its most spectacular festival – the Ganesha festival.
The building where I stay keeps Ganpati every year. However, till the last moment every year, it is a dicey situation for all concerned, as we debate on whether we can host the Elephant God this year or not. Most people are too busy to take the initiative and fear the responsibility. Our ultra-busy lives do not give us the confidence that we would be able to not just welcome Ganpati but also actively participate to make the festival a success.
And every year, things fall into place at the last moment and we manage to have a beautiful celebration. Once the preparation begins, everyone joins in with full enthusiasm. It makes me reflect on one fundamental fact: we actually want festivities to happen.
Sure, celebrating festivals leads to spending a lot of money, harming the environment and myriad other things, but you can't deny that our festivals also offer us some much-needed solace. Despite our busy lives, or despite being atheists or being strongly opposed to wasting resources, we always look forward to festival season.
Why do you think this is?
The patterns of our lives have dramatically changed over the years. Our channels of socialisation have slowly reduced. We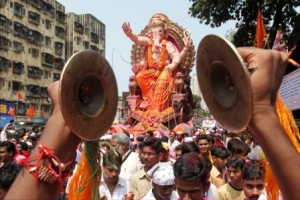 have lesser and lesser people to interact with. As the daily grind goes on, we hardly know how to celebrate our relations, be it our immediate families, friends or even neighbours. Naturally, all of this leads to feelings of loneliness, and a sense of longing for a simpler time, when life was less structured. Our emotions haven't dried up; it is just that we now struggle to find channels of expression.
Community festivals like Ganesh Chaturthi provide a platform for socialisation. The beauty of our festivals is that we become very humane when celebrating them. Everyone is welcomed in the home of God. The beats of the devotional music, the chants, prayers, the entire gamut of rituals evokes the pious and humane sides of our personalities. As we stand and pray, we solemnly resolve to become better humans. We reflect on our past conduct and examine our follies, decide to transform and for some moments, reach a meditative state. Even if we don't work on half the things we resolved to work on, those few moments help us reach a stage of self-actualisation, and move away from the usual  Maslow's need hierarchy tiers of fulfilling basic needs and bothering about safety needs.
Days before our festivals actually begin, most of us have a purpose in life and we are thrilled with thoughts of the upcoming festivities. It's a great time to bond with family as well. Besides, we clean up our homes thoroughly before festivals before decorating our homes, making sweets and shopping for clothes.
So like every year, Ganesh Chaturthi will mean bringing the Elephant God in our building and also opening up communication with our neighbours. As we all gather for the daily aarti, we also get a chance to interact, make new friends, catch up on gossip with our neighbours. We can definitely use festivals like Ganpati for community experiences. Give your building kids a chance to make a team and organise events and games. This way, they will learn not only how to plan and organise, but will also learn about group dynamics, leadership and other soft skills like communication.
I agree that amidst all this we do harm our ecosystems through the bursting of crackers,blaring of music and wasting of resources, but on the positive side, our festivals give us a break in our monotonous lives. Whatever said and done, festivals do make our lives joyful, happy and something to look forward to year after year.
Dr Pooja Birwatkar is currently pursuing post doctoral research and working in the area of science education. She has been associated with the field of education in the past as a teacher educator, and her area of interest is research in education. 
(Pictures courtesy archive.indianexpress.com, blogs.wsj.com)