Bombay, bas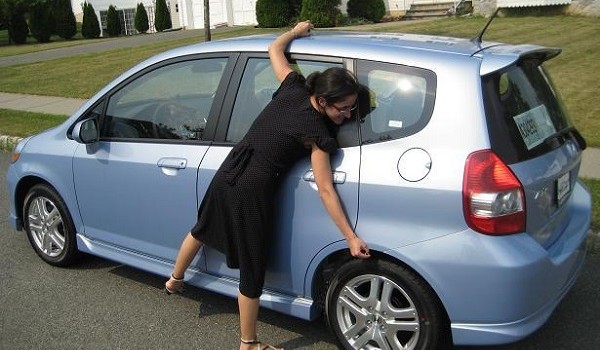 Published on November 27th, 2014
0
So long, Santro…
A Mumbaikar gets nostalgic about her first car and the feelings of friendship, joy and even sadness associated with it.
by Shifa Maitra | @ShifaMaitra on Twitter
She was my first car…actually my first big buy, the symbol of my independence. My parents were excited, my father amused that I was taking them for a drive, my mother got me a beautiful Ganpati and my brother was relieved that he would have the family car all to himself.
It was another time, I was another person, the city was still Bombay and petrol was cheaper! The joy of driving, singing along with the song on the stereo and sitting in the car till the song got over, even after you reached your destination.
It was 1998 I think, the traffic was not so bad and you never thought twice before going alone for a drive at 2 am. It was also a time for growing up, to have fun times and some not so fun times. My silver Santro silently saw it all.
From the late night chats parked at Carter Road with gal pals, to driving back from work at Saki Naka and hoping Bani, my colleague and pal, would offer to drive! Feeling like I had arrived the morning I parked at the airport and flew out for a day trip and came back to the airport and drove myself home…but it was my first, so it felt special.
Looking back today, I also realise that somewhere my sense of independence and responsibility grew with my Santro. No more letting random people drive my car, no more drinking and driving…my friendship could not be put to test because, yes, I valued my car and it was there whenever I needed it, unlike you know who…
It gave me a lot of 'me' time and perspective. In fact, it even helped me decide, watching a gorgeous sun set at Madh Island, that I was going to be driving back alone. I don't know how the other person got home, and if he is reading this, I still do not regret what I did.
Back to fun memories, the drive through the fog to Karjat one New Year 's Eve, to the time we drove to Pune for my sister's fun wedding, to mom and me taking off to World Trade Centre almost every weekend to shop and do lunch in town…
…to the times I patiently explained to my car that she had to stay home when I went on a date because sometimes it made sense to let the guy feel important! Or that I would always have a silver car, a promise that I have kept.
Sometimes I still miss those days and that car, that was home to CDs and magazines, shoes that were always there in case I felt like going for a walk, the beer cans and soft drink bottles that had to be disposed off before we got home – those days were fun!
I now have a fancier car and I guess a lot more, but whenever I look back at my Santro days, I smile and that is how it will always be. As the car gets phased out, I just want to say a huge, heartfelt 'thank you' from a friend!
Shifa Maitra calls herself 'a true blue Bambaiya'. She is currently a creative consultant with Balaji Motion Pictures. When not gritting her teeth at the traffic, she reads, writes, and watches movies, plays and people.
(Featured image courtesy jessicapuente.com. Image is used for representational purpose only)