Bombay, bas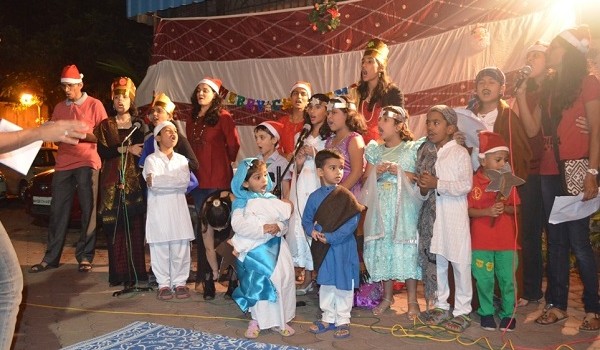 Published on December 25th, 2014
0
How a Mumbai housing society became a joint family this Christmas
A busy Mumbaikar describes how a simple act of putting together a Christmas celebration became a unifying labour of love.
by Dr Pooja Birwatkar
The title of this piece may not make much sense to people who live outside Mumbai, where the concept of housing societies has still not gained much popularity. But for us Mumbaikars, housing societies define our habitats. A few years ago, the building where I live formed a housing society and christened it the Blue Bell Housing Society. The formation of this society naturally brought its residents in close contact with each other, as meetings and agendas required frequent participation. Slowly, it gave way to bonding and many residents became friends.
Most families in Mumbai's building societies are nuclear ones. It is not possible for people like us who live in nuclear families to always rush back home to near and dear ones in times of crisis and celebrations. Our fast lives leave us with no choice but to spend our free time within the confines of our homes – often leading to feelings of loneliness. The loneliness is pronounced at times of festivities. Fortunately, our building found a solution to this grave problem – by starting a small community Ganapati celebration, which later led us to organise many small scale celebrations like Children's Day.
This year, our building decided to celebrate the spirit of Christmas in a big way. A few parents led the idea and religiously trained the building's children and a few volunteer moms for almost a month in carol singing. Like all big things that start with a small idea, this celebration too started on a lighter note – but soon assumed the guise of a professionally-arranged event.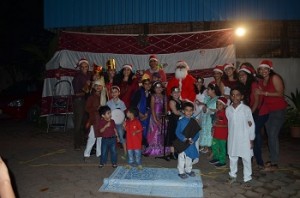 Every day, children of all ages from 2 to 13 years, regardless of their religion, gathered to learn carols. As they practiced the carols every day, we saw some unique transformations taking place among them. They started to share and support each other, a group feeling and discipline crept in among these children who hadn't been socialising with each other that much prior to their practice.
As adults, we feel that we are the ones bogged down by daily pressures, but we don't realise that changing times are also taking a toll on our children, and that they need stress-busters also. But we completely ignore the fact that with changing times even kids have started to experience stresses of all kinds and they need some stress busters too. In this case, music proved therapeutic for our children; it pepped them up and made them happier.
Even more pronounced was the effect that the entire activity was having on the mothers who were organising the event. Most of them were stay-at-home moms who previously had rewarding careers, which they had given up for raising families. These women proved to be storehouses of talent when it came to putting the event together.
On the day of the event, everyone was understandably nervous but excited. We had decided to do the event on a shoestring budget, and the costumes had been put together (creatively) at home. I must add that the children outdid their previous efforts and left all of us awestruck. The audience comprised the building's residents and their friends and families. All of us had a merry time feasting, enjoying the music and taking part in the fun activities arranged.
But more than the actual event, what all of us enjoyed was the run-up to it – in just a few days, we learnt so much about each other as we worked together for a common goal. Most of us have been living next to each other for years. But it took one event to bring us all closer in the true sense of the word.
I feel all Mumbai housing societies should plan such activities periodically. There can be no better way to become secular than to act and behave like a large joint family. There is so much to learn from each other. Ever religion, every festival, every culture teaches us in its own unique way humanity, love and respect for all, and definitely makes us better individuals. We Mumbaikars are too pressed for time to fully inculcate family, cultural and ethical values in our children, but we can come together as a group and try to jointly teach our children all of that which we alone can't.
Today, I am happy that my son has a large joint family in his building, and that he will have many wonderful childhood memories. As a parent, what more can I ask for?
Dr Pooja Birwatkar is currently pursuing post doctoral research and working in the area of science education. She has been associated with the field of education in the past as a teacher educator, and her area of interest is research in education. 
(Pictures courtesy Dr Pooja Birwatkar)