Big story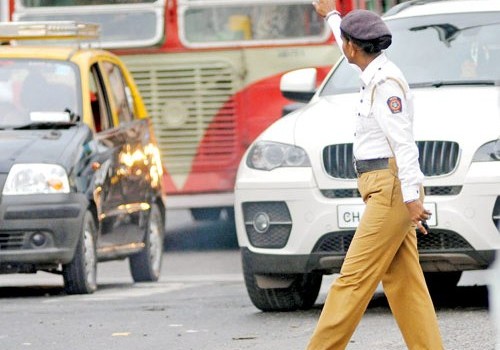 Published on January 22nd, 2013
0
Women traffic personnel taking self-defence classes
Rising incidents of men passing lewd comments and even assaulting female traffic personnel prompt Traffic Police to conduct self-defence classes.
by The Editors | editor@themetrognome.in
The next time you get into an altercation with a woman traffic cop, you might have to face more than just a fine. Don't entertain any bright ideas of assaulting her just because she's a woman, or molesting her, or slanging her out and driving away, unless you want a karate chop. What's more, you can get pulled up by said cop if you harass another woman on the street and a traffic cop's on duty.
Taking cognizance of recent incidents where a woman traffic constable was physically assaulted by a man she had caught for speeding, and the rising tendency of the city's men to eve tease these women posted on duty, Mumbai's traffic cops are arming their women constables with self defence knowledge.
Under the stewardship of Joint Commissioner of Police (Traffic) Vivek Phansalkar and Additional Commissioner of Police (Traffic) Brijesh Singh, classes imparting training in physical and mental fitness through self defence have been started two days ago for women personnel. The training is imparted by experienced commandos and physical education instructors, and is a five-day module that will include the 315 women currently employed on the Force.
As per a press release from the Commissioner of Police's office yesterday, "It has been seen that women traffic personnel are sometimes obstructed from performing their duties and laying down the law by indisciplined male drivers of vehicles. Some men have been found to indulge in indecent behaviour and speech with the women traffic personnel, with a recent incident of a women constable being physically attacked on the street. Such incidents affect the morale of the women personnel."
In view of this, the women traffic personnel at the Naigaon police HQ were selected for training in increasing physical fitness, and learning such martial arts as judo and karate.
Interestingly, the purview of traffic cops' on-field duties has now been widened to include stepping in to nab persons molesting or harassing young girls and women on the roads, in which case the presence of trained women personnel will be an added bonus. "Several crimes these days – ranging from chain snatching to eve teasing to even thefts of vehicles – happen on the roads and hence, traffic police must be alert at all times to prevent such crimes. By increasing the physical and mental strength of the women traffic personnel, it is hoped that they will be able to perform their duties more fearlessly and help bring crime on the streets under control," a traffic police official says.
(Picture courtesy mid-day.com)