Big story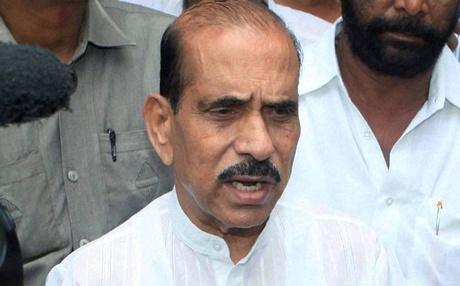 Published on November 26th, 2012
0
Why not on Kohinoor Mill land, Joshi sir?
Congress alleges that Manohar Joshi doesn't want the proposed Bal Thackeray memorial to come up on the Kohinoor Mill land.
by The Editors | editor@themetrognome.in
It has been just days after Shiv Sena chief Bal Thackeray's death, but the political mudslinging is plumbing newer deaths. The demand that a memorial dedicated to Thackeray be set up at Shivaji Park, where the Sena founder was cremated on November 17, 2012, has attracted its share of controversy already. The latest is the State Congress' allegation that Manohar Joshi is insistent on the Shivaji Park site because he doesn't want it to be set up at Kohinoor Mills, a land which he owns.
It may be remembered that the demand for a Bal Thackeray memorial was first mooted by Joshi, a senior Sainik and ex-Chief Minister of the State. While the demand was upheld by the Shiv Sena and approved in principle by the NCP, the Prithviraj Chavan-led State Government maintained that while it had no opposition to the memorial being built, the Shivaji Park site could not be immediately approved in lieu of several legal tangles.
To this, Joshi said that the Shiv Sena was prepared to "even take the law in its hands" over the memorial issue.
'Why insist on Shivaji Park?'
Joshi's comment drew a sharp response from the Maharashtra Pradesh Congress Committee (MPCC), whose spokesperson Sachin Sawant issued a statement yesterday. "Manohar Joshi has been a former Lok Sabha Speaker. Such language (of taking the law in their own hands) is not expected of him," Sawant said. "It is difficult to understand why Joshi sir is insisting on Shivaji Park for the memorial. Many have voiced their opinion that the memorial can also be built on the Kohinoor Mill land. We feel that Joshi does not want the memorial to come up on the 'Kohinoor' of his wealth, which is why he is trying his best for Shivaji Park," he added.
Sawant also said, "The Shiv Sena played its politics in the name of Shivaji, for 46 years. However, even Balasaheb Thackeray would not have been pleased with the tussle over his memorial, and the insistence on it being at Shivaji Park and nowhere else." He added that the Chief Minister had made the position on the issue very clear. "If anyone insists on going against people's wishes (Shivaji Park residents have consistently opposed the idea of the memorial), the State Government will have to take stern action against them," he said.
(Picture courtesy PTI)