Big story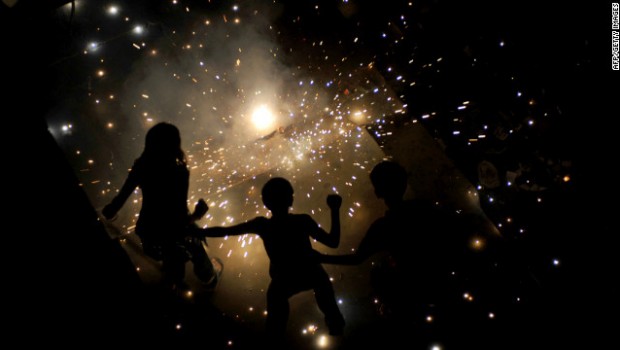 Published on November 11th, 2012
0
Don't buy these crackers
27 brands of firecrackers tested in Mumbai; most of them violate sound limits and do not mention their chemical composition.
by The Editors | editor@themetrognome.in
The firecrackers you may have bought this Diwali might harm you and your family. Read on to know why.
On November 7, the Maharashtra Pollution Control Board (MPCB) tested firecrackers available for sale in Mumbai. The testing was done thus: samples of crackers of different types from various companies available in the market were procured. They were tested where open space was available with a concrete surface. The noise measurements were made at a four metre distance from the fire crackers.
As many as 27 brands and types of firecrackers sold in Mumbai were tested at Carter Road in Bandra, and several of the brands sold were found guilty of not mentioning the sound limit specified for that cracker on its packaging, or its chemical composition. Of the 27 varieties, 17 had not mentioned the noise level limit, while 21 had not mentioned the chemical composition.
The crackers were tested in two categories, Single and Series. In the Single category, five crackers were found to exceed permissible decibel levels of 125 dB. In the Series category, all the eight crackers tested were found to exceed permissible decibel levels.
Loud and dangerous
In the Single category, the crackers tested were Vulcano sutali bomb, Giant crackers, 7 Up shots, Saddam Dhamaka, 2 Sound Crackers, Flower lady, Gutter balls, Italy, Double Sound, Triple Sound, Nazi green, Thunder bomb, Aerial Out, Crackling king, Thriller bomb, Kargil bullet, Bada bing bada boom and Musical mala. Of these, Thriller Bomb, Thunder bomb, Nazi green, Saddam Dhamaka and Vulcano Sutali bomb exceeded permissible decibel levels. However, these five did specify the chemical composition of the bomb on the packaging, but noise level limits were specified only on Nazi green.
In the Series category, none of the eight brands tested mentioned chemical composition. The brand names were 600 wala, 1,000 wala, 2,000 wala, 50 shots marvel, Red Fort 1000 shell, Speed 100, Dilkhush 50 shots and 5000 shell.
(Picture courtesy AFP/Getty Images)