Big story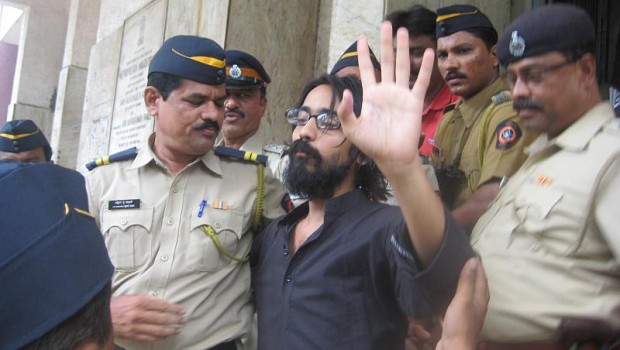 Published on September 27th, 2012
0
Did Aseem Trivedi issue threats?
Complainant Hanumant Upre alleges that cartoonist called him on his mobile phone and threatened him to withdraw the complaint made against him
By The Editors/ editor@themetrognome.in
The Aseem Trivedi case refuses to die down. Just days after the jailed cartoonist was released from judicial custody, the complainant in the case that brought the spotlight on the cartoons Aseem had posted on a website last year, Hanumant Upre, has alleged that the former threatened him to withdraw the case.
Hanumant is a social activist who heads the Maharashtra state unit of the Satyashodhak OBC Parishad. He had registered a criminal complaint against Aseem at Beed police station on December 26, 2011, but the cartoonist was arrested only in September this year, following a complaint registered at Bandra Kurla police station. According to a complaint Hanumant filed before Beed's superintendent of police on September 24, the activist has alleged that Aseem called him on his mobile phone on September 17 and threatened him to withdraw the complaint.
The complaint reads, 'Shri Trivedi personally spoke to me on my mobile bearing no. 9________ on 17/09/2012 for about 20 minutes during the period between 11.25 am to 11.45 am within few days of his release on bail by the Hon'ble Bombay High Court. Shri Aseem Trivedi initially tried to persuade me to withdraw the complaint; however I refused to do so. Shri Trivedi went on giving threats and exerted pressures to withdraw the complaint lodged against him stating that nothing would turn as a result of the complaint  the Hon'ble High Court of Bombay had already released by giving clean chit. I did not budge or succumb to the pressure exerted by him.'
However, Alok Dixit, Aseem's friend and fellow campaigner in Trivedi's NGO Save Your Voice, has said that Aseem has never contacted Hanumant on the number that the latter has provided in his written complaint. A local TV channel, meanwhile, flashed the phone number and Alok said that he had received several threatening calls on that number.