Big story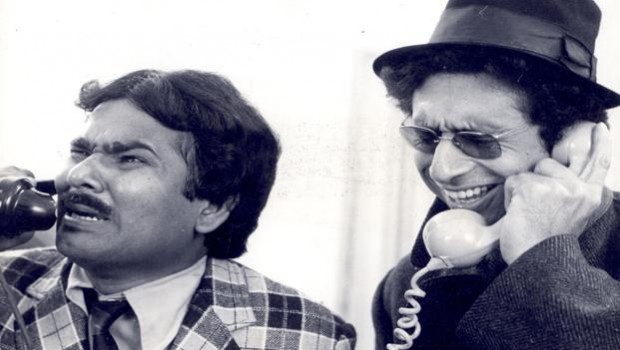 Published on November 2nd, 2012
0
Cult classic: At a PVR near you
Digitally restored Jaane Bhi Do Yaaron opens for the public today at PVR Cinemas in 10 cities. Go watch it!
by The Diarist | thediarist@themetrognome.in
Jaane Bhi Do Yaaron is the classic. You remember most of its dialogues, you chortle at all the jokes you've already replayed in your head, and you just can't get that iconic Mahabharata play (and what really happens to it) scene out of your head, ever. But most of us have watched this film on TV. If you want to relive this gem of a film on the big screen, today's your big chance.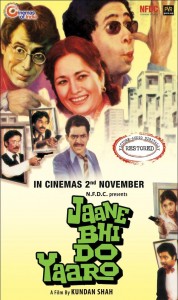 The Worli-based National Film Development Corporation (NFDC) has re-released this film in association with PVR Cinemas in 10 cities in India – Mumbai, Delhi, Kolkata, Chennai, Bengaluru, Pune, Surat, Chandigarh, Vadodara and Ahmedabad. The film – directed by Kundan Shah and starring Naseeruddin Shah, Vivek Baswani, Bhakti Barve, Om Puri, Satish Kaushik, Neena Gupta, and Pankaj Kapur in his first film role – has been digitally restored and can be played on a 2K projection. This is NFDC's first film restoration project for a theatrical release – previously, the organisation has only restored home videos.
"It took about six months to restore the film entirely, and this included cleaning up the sound, colour and picture quality, too," said a member of the team that worked on the project. The entire restoration work was done in-house. "We had to be careful to select the film – it had to have a mass appeal, it had to have a connect with today's audiences, and it had to be entertaining. Jaane Bhi Do Yaaron ticks all these boxes."
However, NFDC is only testing the waters with the release of this film, and will wait to see audience response to the experiment before turning to other, equally important films. "The thing about these films is, and especially with Jaane Bhi Do Yaaron, is that the current generation has not seen it and don't know what it is about. It is important for the youth to watch this film in the present time – not only have they missed out on a fantastic film, but they must see it because it is so relevant in today's times as well," the official said.
In Mumbai, Jaane Bhi Do Yaaron will be showcased at PVR Juhu, PVR Phoenix Mills, PVR Goregaon and PVR Mulund.
(Pictures courtesy www.boxofficeindia.co.in, NFDC)